Hamilton Presents Intelligent Ventilation Solutions at Arab Health 2023
By HospiMedica International staff writers
Posted on 01 Feb 2023
Hamilton Medical (Bonaduz, Switzerland) is returning to this year's Arab Health exhibition where it is showcasing its intelligent ventilation solutions from mobile to clinical ICU.
At Arab Health 2023, Hamilton is demonstrating HAMILTON-C6, its next generation intelligent ICU ventilator that offers all state-of-the art ventilation modes and therapies for all patient populations. Featuring a wide range of diagnostic tools, it provides all important ventilation data, including over 50 monitoring parameters and 72-hour trends at a glance on a 17-inch detachable touch screen. With its high-performance turbine, the HAMILTON-C6 is completely independent from a high-pressure air outlet and external compressors, thus providing maximum mobility to move freely around the hospital. With an average of 35 dB, HAMILTON-C6 is the company's most silent ICU ventilator and does not disturb patients.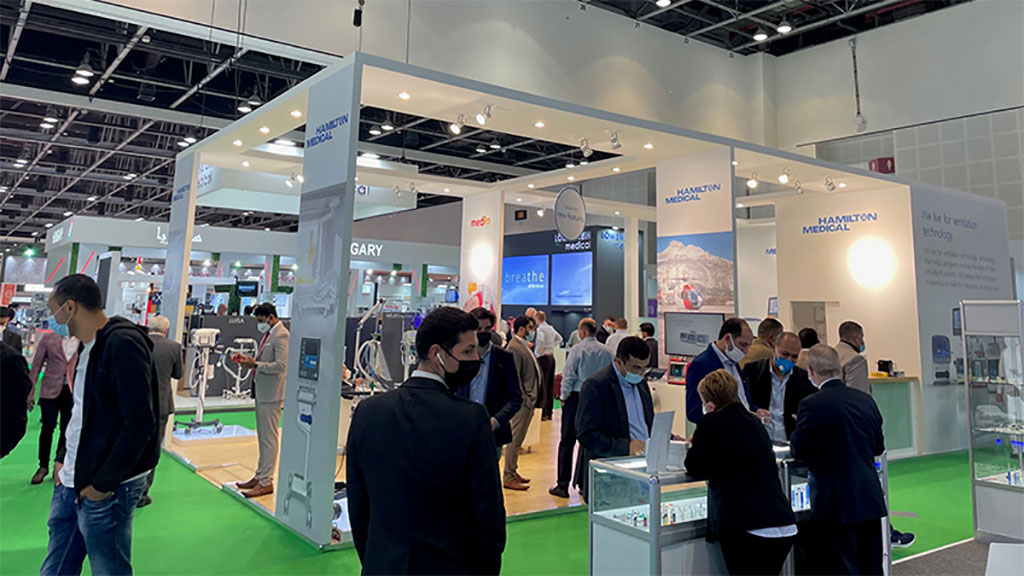 Hamilton is also showcasing HAMILTON-T1, a transport ventilator that combines the functionality of a fully featured ICU ventilator with the compactness and ruggedness required for transport. The HAMILTON-T1 is the first high-end ventilator designed for the unique needs of transport situations. With advanced features and a durable construction, it performs like a full featured intensive care ventilator while reliably accompanying patients in mobile environments. The onboard, high-performance blower allows the ventilator to operate independently from compressed air, reducing weight and saving space during transport.
Among its other ventilation solutions being showcased at Arab Health 2023 is the HAMILTON-MR1 that guarantees uncompromised continuous ventilation care from the ICU to the MRI scanner and back. Its reliability and high performance, with advanced lung-protective strategies and patient-adaptive modes, make the HAMILTON-MR1 the ideal choice for any critical care department that needs to transport ventilated patients to the MRI department.
Related Links:
Hamilton Medical
Other channels