AI Technology Retrieves Similar Cases in CT Database
By HospiMedica International staff writers
Posted on 07 Sep 2017
Fujitsu Laboratories Ltd. (Kawasaki, Japan), in collaboration with Fujitsu R&D Center Co., Ltd., has developed an AI-based technology to retrieve similar cases of abnormal shadows expanding in a three-dimensional manner from a computed tomography (CT) database of previously taken images. The technology automatically separates the complex interior of the organ into areas through image analysis, and uses machine learning to recognize abnormal shadow candidates in each area. By dividing up the organ spatially into periphery, core, top, bottom, left and right, and focusing on the spread of the abnormal shadows in each area, it becomes possible to view things in the same way doctors do when determining similarities for diagnosis.
In joint research with Professor Kazuo Awai of the Department of Diagnostic Radiology, Institute and Graduate School of Biomedical Sciences, Hiroshima University, this technology was tested using real-world data, and the result was an accuracy rate of 85% in the top five retrievals among correct answers predetermined by doctors. The technology is expected to lead to increased efficiency in diagnostic tasks for doctors, and could reduce the time required to identify the correct diagnosis for cases in which identification previously took a great deal of time. The technology could be applied not only to the diagnosis of diffuse lung diseases, but also to other imaging diagnostic techniques, including head CTs and stomach CTs, as well as MRIs (Magnetic Resonance Imaging) and ultrasounds.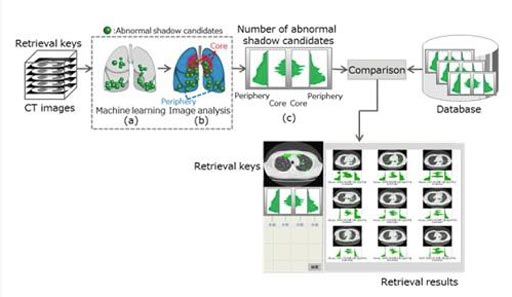 Fujitsu Laboratories plans to conduct numerous field trials using CT images for a variety of cases, while additionally aiming to contribute to the increased efficiency of medical care by deploying this technology with related solutions from Fujitsu Limited.
"Moving forward, this technology has the potential to provide doctors with clinically useful information by retrieving similar CT images from cases that were difficult to diagnose and treat, and we can anticipate that this will improve the accuracy and efficiency of medical care," said Professor Kazuo Awai. "By grouping morphologically similar images and investigating whether there are any common genetic abnormalities within these groups, the technology may present new ways of thinking about diseases and offers the possibility of numerous clinical applications-it's a technology that we have great expectations for in the future."
Related Links:
Fujitsu Laboratories

Latest AI News