AI-based Interpretation Tool Receives CE Certification
By HospiMedica International staff writers
Posted on 07 Jun 2018
qXR, an AI-based chest X-ray interpretation tool that detects 15 of the most common chest X-ray abnormalities with an accuracy of more than 90%, has received CE certification. Developed by healthcare AI start-up Qure.ai (Maharashtra, India), qXR has been trained on more than one million chest X-rays and uses a heat map or bounding box to point out abnormalities to the clinician, aiding rapid confirmation in just milliseconds.
Qure.ai's deep neural networks can understand and interpret medical images with unprecedented accuracy and enable machines to perform routine diagnostics, thus improving healthcare outcomes and costs. The company has developed qXR as part of its line-up of deep learning products for radiology, which include automated interpretation algorithms for head CT scans, brain and musculoskeletal MRIs.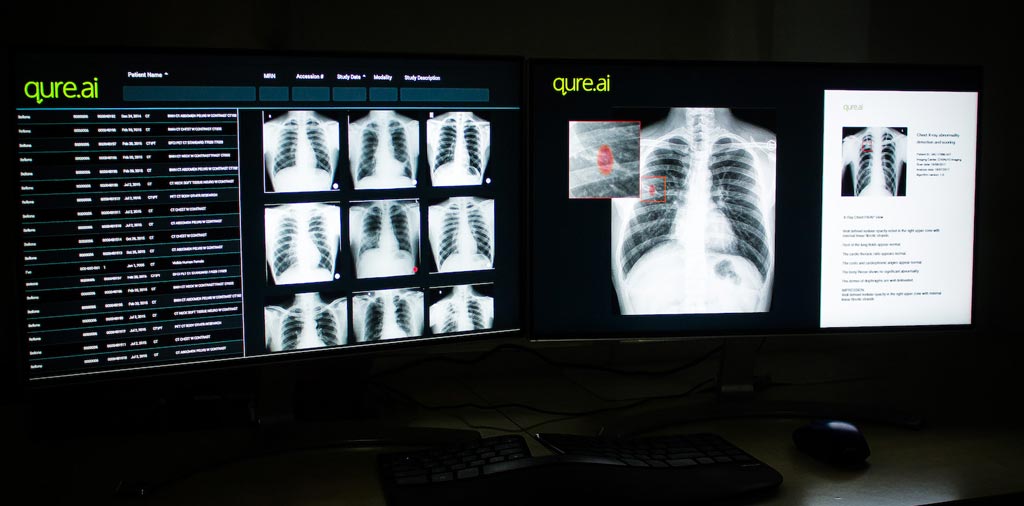 qXR is already being used globally as a screening tool for tuberculosis in settings without trained healthcare professionals. qXR can significantly speed-up the tuberculosis diagnosis protocol by screening chest X-rays in milliseconds. Qure.ai has also released a web-based interface at scan.qure.ai that allows radiologists to test the performance of qXR by providing users with real-time interpretation of chest X-rays.
"The chest X-ray is the most commonly performed radiology investigation, but one of the toughest to interpret," said Dr. Shalini Govil, Quality Controller for the Columbia Asia Radiology Group. "Qure.ai's solution could serve as a radiology assistant, providing a draft report that can be validated by a physician or radiologist. They've also come up with technology to visualize what the algorithm sees - a way to 'see through the computer's eyes.' I think this will be a game-changer on the road to building confidence in AI."
"We're excited to announce this certification, which clears our path to market in many geographies," said Prashant Warier, Co-Founder and CEO of Qure.ai. "qXR can help doctors quickly and accurately detect and highlight abnormalities, reducing the chances of a missed diagnosis."
Related Links:
Qure.ai