New AI Algorithm Makes Liver Cancer Surgery Safer
By HospiMedica International staff writers
Posted on 07 Jun 2018
Researchers at the Fraunhofer Institute for Medical Image Computing MEVIS (Bremen, Germany) have developed algorithms that analyze patients' imaging data and calculate surgical risks, making liver cancer surgery safer and easier to plan. Researchers at Fraunhofer have been working on image-processing algorithms for use in medicine since 1998. The method is now widely known among physicians as MEVIS analysis and has become established in practice.
Surgery continues to offer the best chance of recovery among patients with liver cancer or those with liver metastases caused by other cancers. However, the complex, entangled human vascular anatomy makes it difficult to reconstruct mentally based on CT or MRI images alone. The new software analyzes a patient's radiological images, and generates a detailed three-dimensional model of the liver and its vascular systems. It calculates the supply and drainage areas of the blood vessels and helps to determine the risks of possible tumors resection strategies. The information can be used by surgeons to prepare their surgery accurately by planning the optimal resection virtually. The analysis of vascular anatomy in the vicinity of the tumor also helps locate critical sections of the planned procedure. The surgeon receives a risk map of the resection path and knows where there is little room for deviations from the optimal cutting plane, such as where the planned resection corridor is particularly narrow.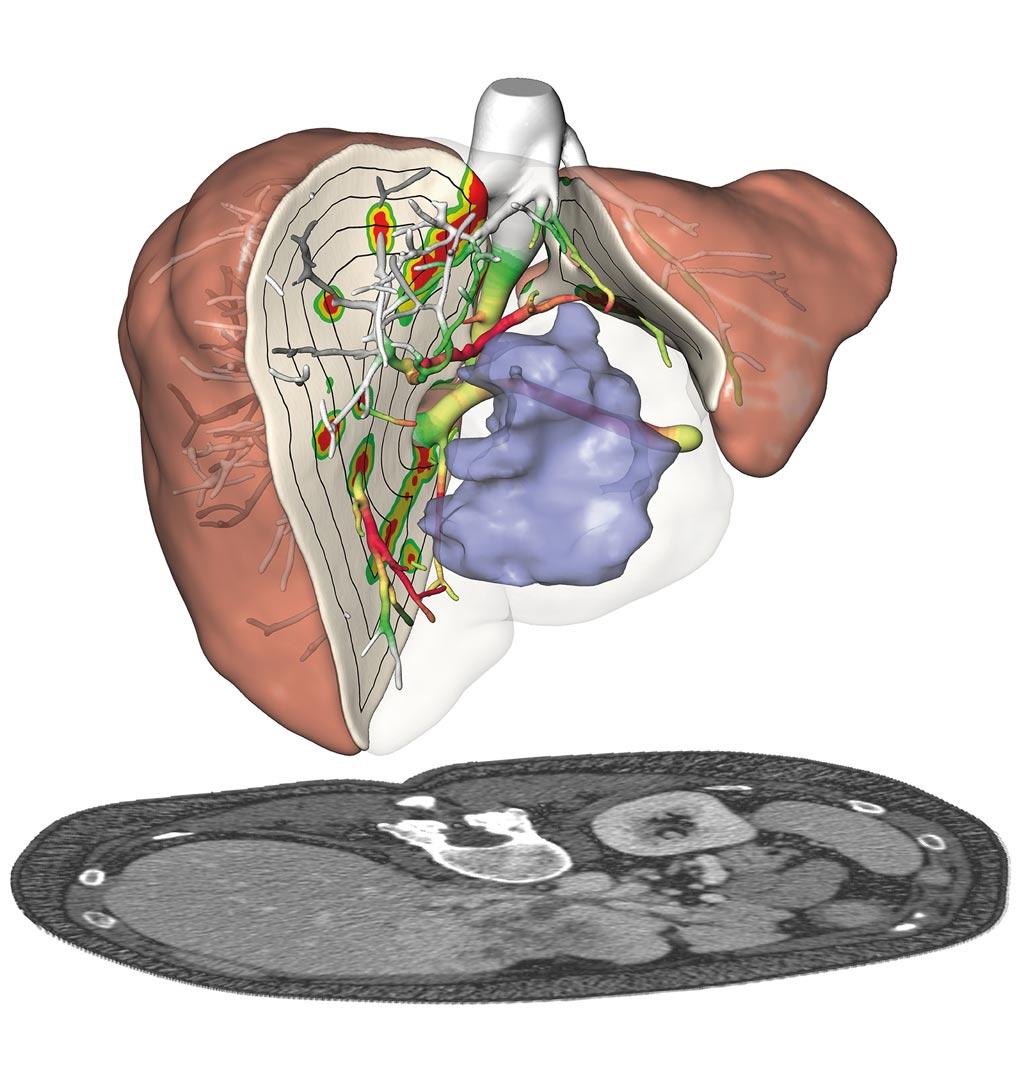 The researchers have also developed an iPad app that combines the planning data with augmented reality. When the doctor turns on the iPad camera and directs it at the patient's liver, the three-dimensional image of the patient's liver, previously generated using the algorithms, is superimposed onto the image of the camera and shows the position of the blood vessels and tumors beneath the liver surface.
According to studies, liver surgery is more efficient and safer with the MEVIS analysis. Additionally blood loss can also be reduced. In some cases, the analysis algorithms allow surgeons to safely perform even delicate operations, which would have been considered too risky without the software. The software also generates suggestions for performing resections. "However, these are only proposals. Ultimately, the decision has to be made by the surgeon," said Dr. Andrea Schenk, Head of Liver Research at the Fraunhofer MEVIS.
Related Links:
Fraunhofer Institute for Medical Image Computing MEVIS