AI Technology Automates Obstetric Ultrasound Workflow
By HospiMedica International staff writers
Posted on 31 Dec 2018
The SonoScape Medical (Shenzhen, China) S-fetus algorithm, designed for the S60 ultrasound system, has been designed to simplify a standard obstetric ultrasound procedure by reducing it to just scanning the patient for a cine loop and pressing the touch screen button, without the need to navigate through menus or press different buttons. S-Fetus simply selects the best section image and automatically performs the various measurements required to monitor fetus growth and development, such as biparietal diameter (BPD), head circumference (HC), abdominal circumference (AC), and femur length (FL).
S-Fetus can reduce each measurement by at least 40 seconds by eliminating 10-11 keystrokes at a time. And for sonographers using the S60 that wish to perform part of the process (or all of it) manually, S-Fetus can deliver the desired selection plane alone. Sonographers can manually adjust measurement parameters or the image itself after it has been automatically selected. The system can also help users develop their technique by informing them if the performed scan did not result in any adequate section images. Thus, not only does S-Fetus grow and improve with each examination, but the sonographer using the S60 also improves along the way.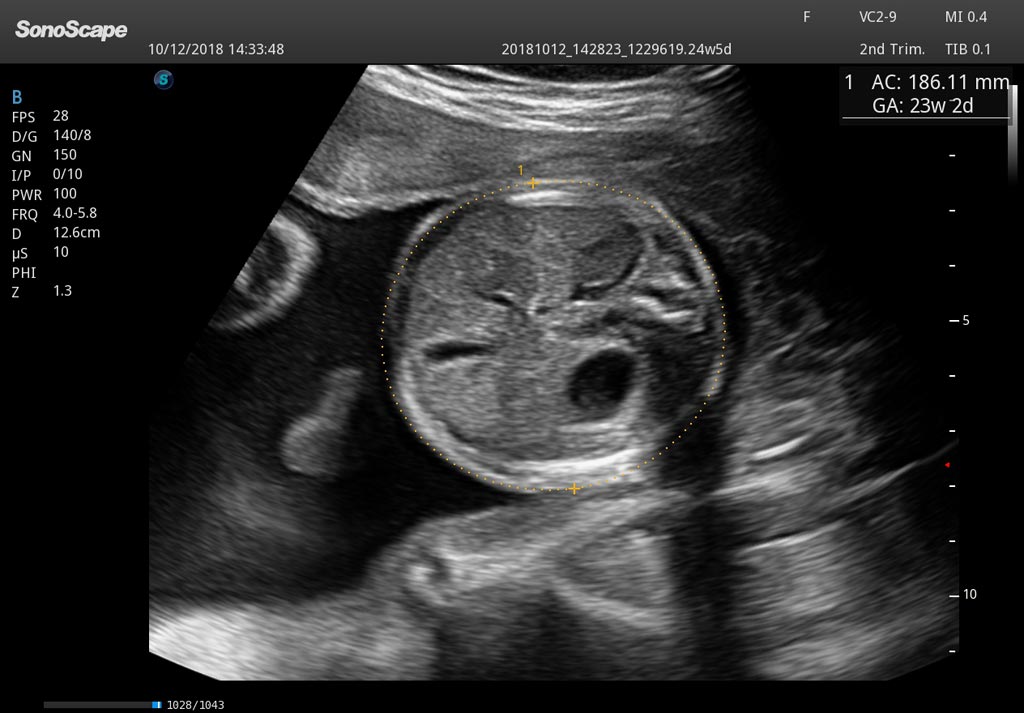 To create the S-fetus AI algorithm, it was exposed to a massive repository of images and reports from thousands of ultrasound records. With the knowledge from this data base it grew, learning to identify the key factors needed for clear and accurate ultrasound images, as well as how to perform the select measurements based on a given image. The system also learns from every additional exam it performs, continually evolving and improving as it encounters more and more real-world situations, while making decisions on its own in real time.
"For obstetric scanning, many fetus physiological indexes should be measured in order to evaluate fetal growth and development. Freeze, press measure button, move track ball, set and reset cursor, slight adjustment, all of those procedures are time consuming," said Dr. Annette Cheng, an ultrasound clinical application specialist at SonoScape. "We believe that with the help of AI we can not only make the examinations easier and faster, but also more consistent and accurate, giving doctors more confidence and parents more assurance in the knowledge about their precious fetus."
Obstetric ultrasonography is a standard part of prenatal care in many countries. The first primary exam is the nuchal translucency scan (at 11-14 weeks) to assess the quantity of fluid collecting within the nape of the fetal neck to detect chromosomal and cardiovascular abnormalities. The second major scan is the anatomy scan (at 18-22 weeks) to confirm pregnancy timing, measure fetus diameters and lengths so that growth abnormalities can be recognized, and to assess for congenital malformations and multiple pregnancies.