Neural Interface Uses Thoughts to Controls Medical Devices
By HospiMedica International staff writers
Posted on 18 Apr 2019
New neural interface technology could restore communication in patients with severe paralysis due to debilitating diseases.
The Synchron (Campbell, CA, USA) Stentrode system is based on a platinum electrode array designed to record electrical frequencies emitted by the brain in people paralyzed due to stroke, motor neuron disease, amyotrophic lateral sclerosis (ALS), and spinal cord injury. The signals are streamed wirelessly to specialized artificial intelligence (AI) and machine learning algorithms that can interpret them and predict brain activity. Mounted on a nitinol endovascular stent, the array is small and flexible enough to be delivered via cerebral angiography, obviating open brain surgery.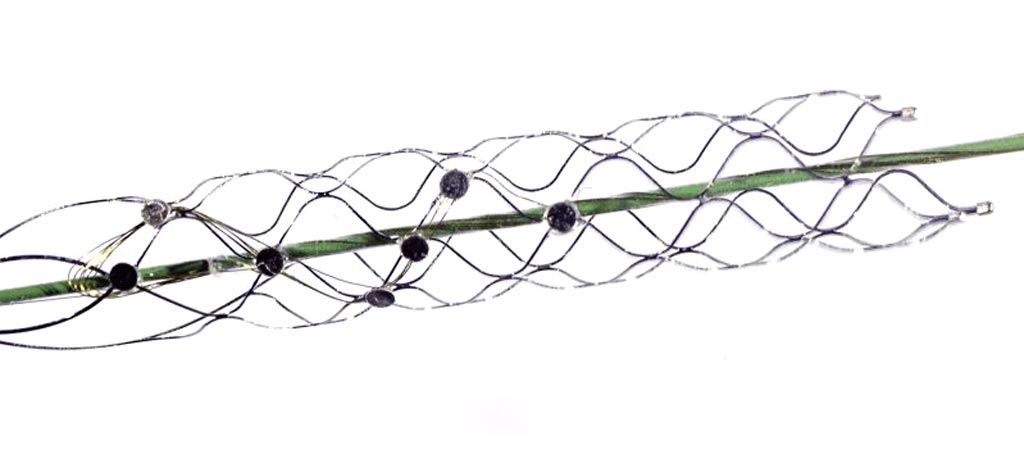 Implanted via the jugular vein, the Stentrode is placed inside the brain in the motor cortex. The electrical brain discharge signals are captured and sent to a wireless antenna unit implanted in the chest, which are forwarded to an external receiver. "Thought-to-Text" technology, based on proprietary BrainOS AI modular training software, is then used to teach the patient how to control a digital human application programming interface (API) in order to operate 3rd party assistive devices. The first clinical trial of Stentrode will take place at The Royal Melbourne and Bethlehem Hospitals, both in Melbourne (Australia).
"The initiation of this trial is a milestone for the technology industry and points towards a new form of treatment for people with paralysis. There is currently no means for recovery for patients beyond the natural healing process," said neurointerventionalist Thomas Oxley, MD, PhD, of Mount Sinai Hospital (New York, NY, USA), and CEO of Synchron. "The coupling of the Stentrode with our BrainOS technology represents a potential solution to enable people to regain control of their world, but with digital means. For people who have lost the ability to communicate, this technology could be life changing."
Direct electrical stimulation and recording of brain activity requires invasive procedures, such as the removal of a portion of the skull or the drilling of a burr hole. Also, electrode implantation into tissue can cause inflammatory tissue responses and brain trauma, and lead to device failure.
Related Links:
Synchron