AI Solution for Echocardiography to Revolutionize Diagnosis of Heart Failure with Preserved Ejection Fraction
By HospiMedica International staff writers
Posted on 07 Dec 2022
Heart failure with preserved ejection fraction (HFpEF) is a type of heart failure often associated with co-morbidities and tends to be caused by increased pressure within the chambers of the heart. The ejection fraction, or the volume of blood ejected from the left ventricle at each heartbeat, however, remains in normal ranges. This makes it exceedingly difficult to detect using traditional diagnostics, which can miss up to 75% of cases. HFpEF accounts for 50% of the 64 million cases of heart failure worldwide and has overtaken heart failure with reduced ejection fraction (HFrEF) as the most prevalent form of the deadly disease. Current approaches include time-consuming and often inconclusive diastolic function assessment, and require a highly specialized, increasingly rare skillset, and often invasive testing. There is an urgent need to develop predictive tools to help diagnose HFpEF patients. Now, an AI solution for echocardiography has the potential to revolutionize the diagnosis of HFpEF.
EchoGo Heart Failure, a clinical and technological breakthrough, was developed by echocardiography and AI experts from Ultromics (Oxford, UK), in collaboration with Mayo Clinic (Rochester, MN, USA). The device analyzes millions of pixels within a single echocardiogram to deliver precision detection of HFpEF, marking a huge leap forward from traditional diagnostic algorithms for HFpEF. EchoGo Heart Failure aims to prevent HF hospitalizations and reduce mortality through better detection of HFpEF.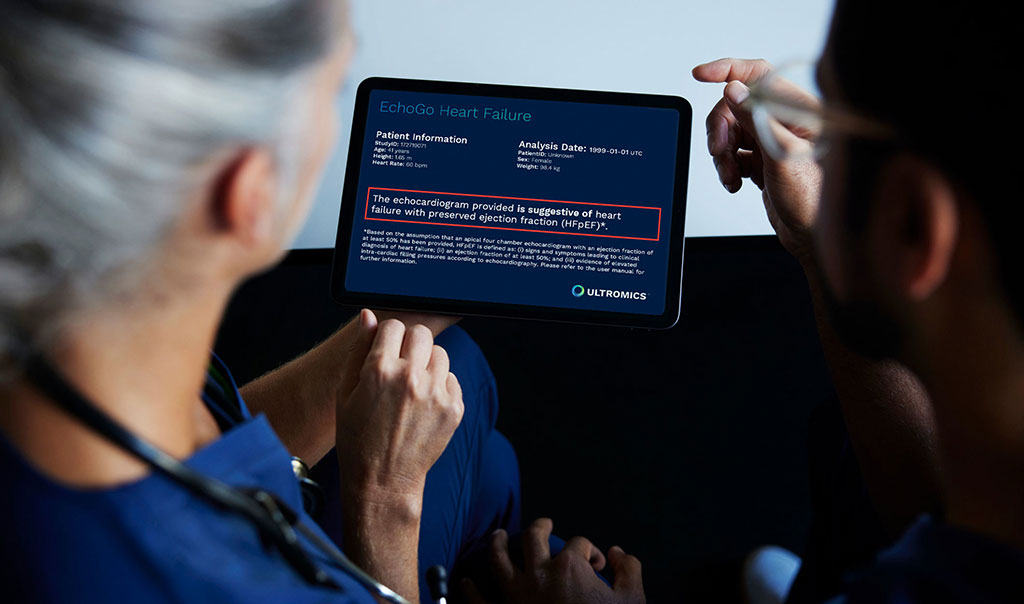 EchoGo Heart Failure has received US Food and Drug Administration (FDA) clearance. The platform is the first HFpEF detection algorithm that will help support diagnosis and patient selection for therapy, ultimately improving quality of life and reducing the significant burden HFpEF has on healthcare. Patients can now benefit from new therapy drugs, such as SGLT2is, which has been shown to significantly reduce both hospitalizations and potentially fatal adverse events. The simultaneous clearances of EchoGo Heart Failure to improve HFpEF detection and SGLT2 to improve treatment, represents a giant leap forward in addressing the biggest unmet need in cardiovascular medicine.
"We are delighted that the FDA has recognized EchoGo Heart Failure as a breakthrough device and has cleared the technology to provide reliable detection of HFpEF," said Dr. Ross Upton, CEO and Founder of Ultromics. "The technology improves the accuracy of HFpEF detection, enabling more patients to receive treatment which will reduce the significant burden on patients and healthcare systems alike."
"It has been a pleasure to collaborate with the team at Ultromics to develop and test EchoGo Heart Failure," said Patricia A. Pellikka, MD, Vice Chair, Department of Cardiovascular Medicine at Mayo Clinic. "This novel solution applies AI to cardiovascular imaging to greatly simplify identification of patients with HFpEF, a diagnosis that can be challenging to make, and allow more expeditious treatment. HFpEF currently is associated with high rates of hospitalization and mortality. By facilitating early diagnosis and treatment, we can improve the lives of many."
Related Links:
Ultromics
Mayo Clinic