GE Healthcare to Implement First AI-Powered Hospital Command Centers
By HospiMedica International staff writers
Posted on 15 Oct 2018
GE Healthcare (Chicago, IL, USA) is collaborating with hospital service providers in Europe and the US for implementing an artificial intelligence (AI)-powered command center to effectively and efficiently synchronize all elements of a patient's hospital experience. The AI-powered system will support caregivers to enhance patient safety, orchestrate seamless care delivery and get patients back home sooner.
In the first of its kind in Europe, GE Healthcare is collaborating with Bradford Teaching Hospitals NHS Foundation Trust to build the command center at the Bradford Royal Infirmary (BRI) that will provide a clear, instant, and real-time overview across the 800-bed hospital and help staff make quick and informed decisions on how to best manage patient care. Up to 20 Trust staff based in the command center will monitor a "wall of analytics" that constantly pulls in streams of real-time data from the multiple systems at the hospital. Advanced algorithms will help staff to anticipate and resolve bottlenecks in care delivery before they occur, recommending actions to enable faster, more responsive patient care and better allocation of resources. The data will be displayed on multiple high definition screens in the command center - as well as on tablets and mobile devices, providing 24-7 support to busy medical teams across the hospital.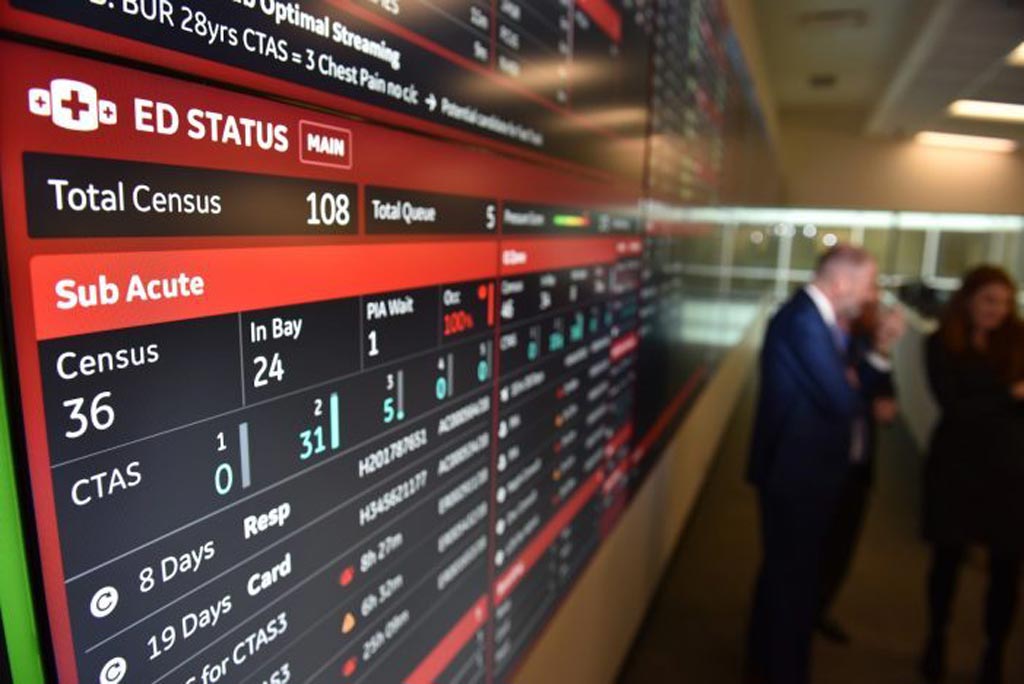 In the US, GE Healthcare has joined forces with CHI Franciscan Health to implement a NASA-style "Mission Control" command center, making it the first hospital system in the state of Washington – and the fifth globally – to utilize the leading-edge technology for improving patient care. The mission control center will use the power of AI and predictive analytics to optimize care coordination, speed care delivery, and improve the patient experience, while maintaining patient privacy. The powerful system works by looking at each individual hospital as part of a larger system, continually examining real-time data and using machine learning to recommend actions that can predict and prevent risk, balance staff workload, and streamline the discharge process so patients can get home sooner.
From the mission control center, licensed providers will monitor and leverage analytic apps, or "tiles," to optimize patient care operations at each facility, and trigger actions to best leverage resources across the system. Each tile is carefully crafted to solve a specific issue, taking into account the highly nuanced real-world challenges of caregivers and patients. For example, one tile will help streamline the discharge process by monitoring all patients scheduled for discharge and identifying and addressing "pinch points" that can cause significant and preventable delays. The key is that the real-time data in the tiles is predictive and actionable.
"Hospitals are increasingly looking to boost the efficiency of their operations so they can continue to deliver high quality care as patient volume increases. Command centers help to orchestrate the delivery of care across the organization, bringing consistency to processes, prioritizing actions, eliminating waste and predicting tomorrow's pressure points," said Mark Ebbens, European Command Center Lead at GE Healthcare.
"The purpose of any new technology in health care is to enable providers to deliver better care, bringing doctors and nurses closer to their patients," said Ketul J. Patel, CEO, CHI Franciscan Health. "Mission control's powerful predictive analytics identify potential issues and allow our care teams to proactively solve problems and improve care rather than react when issues arise. With the AI focusing on the important nuts and bolts of operational efficiency and care logistics, our caregivers can devote more time to providing the best care and delivering the best outcomes for our patients."
Other channels