Hologic Showcased Latest Advances at Virtual ECR Congress 2020
By HospiMedica International staff writers
Posted on 20 Aug 2020
Hologic, Inc. (Marlborough, MA, USA) showcased its latest advances and shared its new innovations on its virtual booth at the online ECR 2020 event held on July 15-21.
ECR 2020 was the first ever online congress to be held by the European Society of Radiology (ESR) due to the COVID-19 pandemic and attracted a record 15,265 professional delegates from over 130 countries. The Virtual Exhibition was attended by 216 companies which demonstrated their products, hosted webinars and invited attendees to visit their very own digital booths. Hologic also used its virtual booth at ECR 2020 to demonstrate how the company's clinically proven, integrated solutions incorporating artificial intelligence (AI) can support management of patients across the breast health continuum of care.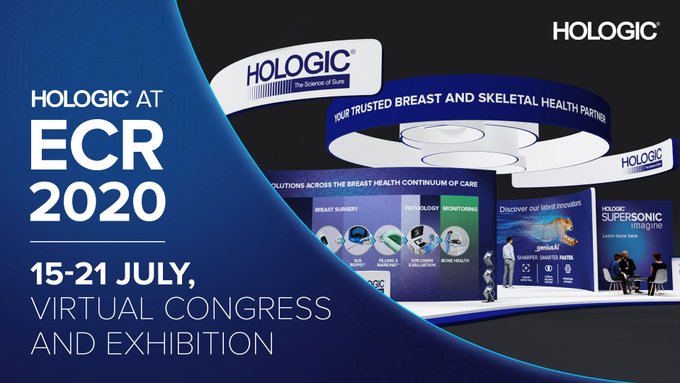 At ECR 2020, Hologic demonstrated its Unifi Workspace solution which integrates reading of MRI, ultrasound and mammography into one dedicated platform, and is designed to allow for more efficient review of breast images. The company also showcased its 3DQuorum Imaging Technology, Powered by Genius AI, which significantly reduces mammography exam reading times without compromising image quality, sensitivity or accuracy.
Also on display at Hologic's virtual booth at ECR 2020 was the company's Faxitron Path+ Specimen Radiography System which enables pathologists to image a wide range of specimens of varying sizes and have immediate access to high-definition X-ray images, directly in the pathology lab. Hologic also demonstrated its Faxitron Trident HD Specimen Radiography System which delivers enhanced image quality, improved workflow and instant sample verification during breast-conserving surgeries and stereotactic breast biopsies.
Among other innovations showcased at ECR 2020 by Hologic was the LOCalizer Wireless Radio Frequency Identification (RFID) Breast Lesion Localization System, a non-radioactive, radiofrequency localization system designed for precise marking and targeting of lesions in breast-conserving surgery. Attendees to Hologic's virtual booth at ECR 2020 also got a glimpse of the company's new Aixplorer Mach 30 Breast Ultrasound System which provides fast, high quality imaging and is the first to offer an intuitive touchpad control and large adjustable touchscreen display.
Related Links:


Hologic, Inc.
Other channels