New AI-Driven Tool Mines COVID-19 Research for New Treatments and Vaccine
By HospiMedica International staff writers
Posted on 22 May 2020
A free visual text analysis environment uses artificial intelligence (AI) and machine learning to quickly search tens of thousands of research articles on COVID-19 and deliver potentially lifesaving answers to scientists working for new treatments and vaccine.
The COVID-19 Scientific Literature Search and Text Analysis has been developed by analytics company, SAS (Cary, NC, USA). Leading research groups have gathered and released to the public more than 50,000 full-text scientific research articles on COVID-19 and other coronaviruses through the COVID-19 Open Research Dataset (CORD-19). The articles include studies on treatment effectiveness, vaccine development, mitigation efforts, genetic analysis, economic impact and more. With so much scientific literature available, it's impractical – if not impossible – to analyze it all manually.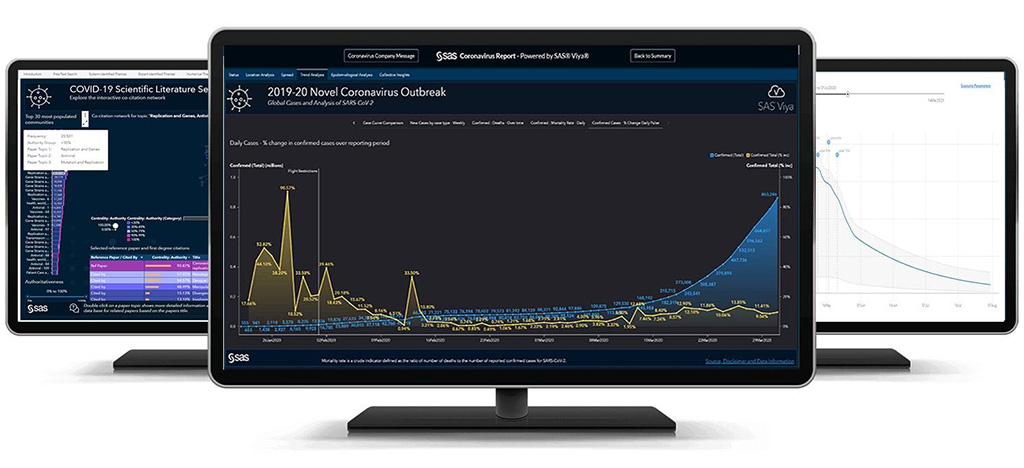 Drawing on AI, natural language processing, linguistic rules and sophisticated modeling techniques, SAS' COVID-19 Scientific Literature Search and Text Analysis environment enables quick and intelligent extraction of relevant text and numerical data from CORD-19. The free and publicly available environment aims to quickly and efficiently connect the global research community with the most relevant scientific literature through its self-guided, cloud-based system. With SAS' new visual text analysis environment, users can interactively explore relevant research on coronavirus topics such as incubation period, genetic variations, risk assessment and more. They can also visualize extracted keywords and summarized quantitative data, quickly identify co-citations and the authority of papers using network analysis visualization, and search for key terms in free text.
SAS Viya powers the interactive environment through advanced analytics and AI methods that help researchers explore the CORD-19 dataset. Using SAS Visual Text Analytics and SAS Visual Data Mining and Machine Learning, SAS augments the dataset with models developed by linguists and health and life sciences experts. Researchers can explore topics such as PPE effectiveness, social distancing efficacy and the transmission environment. The models also extract and visualize quantitative data, such as the incubation period and reproduction number of COVID-19.
As part of its COVID-19 response, SAS has also released the COVID-19 Epidemiological Scenario Analysis, an interactive environment that builds on medical resource optimization models. These models run different virus-projection scenarios to predict the impact of a disease outbreak and quantify the effectiveness of public health mitigation strategies. Additionally, SAS' dedicated COVID-19 Data Analytics Resources Hub includes free analytical models, a public dashboard to monitor the spread of the pandemic, a data-discovery environment built on SAS Viya, and access to free training.
"SAS is committed to using advanced technology in innovative ways to help customers across every industry combat the pandemic," said Bryan Harris, Senior Vice President of Engineering at SAS. "Our new AI-powered environment goes beyond current offerings in the market and provides an intuitive, visual way to find complex connections in research. Because we're not only relying on machine learning, but also human-in-the-loop approaches, users can view different data slices to find exactly what they need to support their own research needs."
Related Links:

SAS