Beckman Coulter's SARS-CoV-2 IgG Antibody Test Granted FDA Emergency Use Authorization
By HospiMedica International staff writers
Posted on 30 Jun 2020
Beckman Coulter (Brea, CA, USA) has received Emergency Use Authorization (EUA) from the US Food & Drug Administration (FDA) for its Access SARS-CoV-2 IgG assay.
Among the tests developed by the top four in vitro diagnostic manufacturers capable of delivering high-volume testing to the US, Beckman Coulter's test is the only SARS-CoV-2 IgG assay which targets antibodies that recognize the receptor binding domain (RBD) of the spike protein which SARS-CoV-2 uses to bind to a human cell receptor. This is significant as antibodies which target the RBD have the potential to be neutralizing and thus prevent future infection by blocking the virus from entering the cell. It is for this reason many vaccine developers are also targeting the RBD of the spike protein in their vaccine development.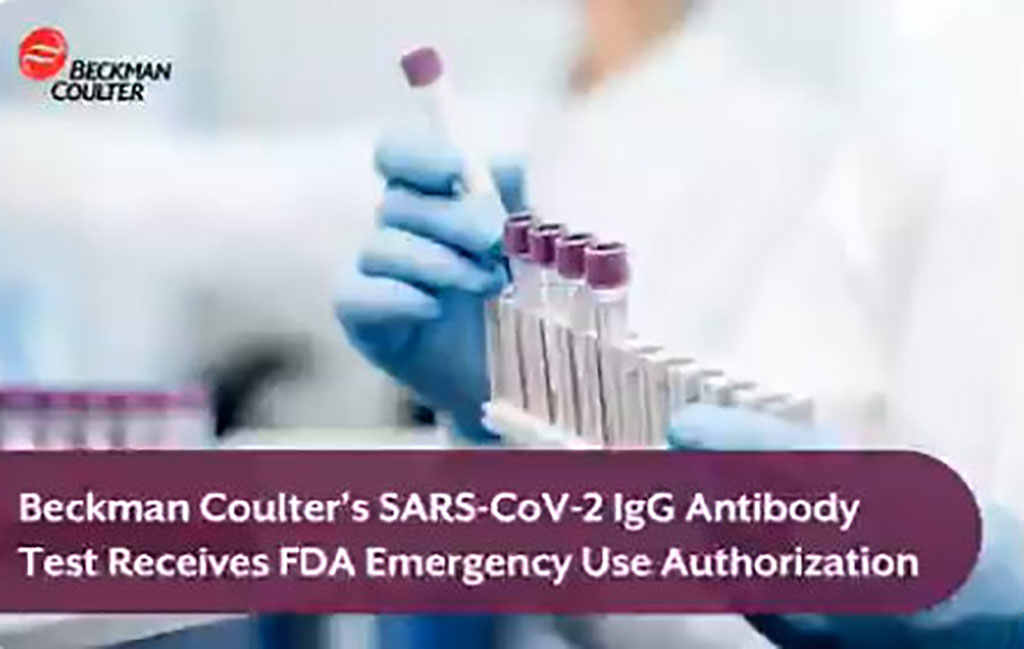 Beckman Coulter has more than 16,000 immunoassay analyzers worldwide, 3,500 of which are in the US. Many of Beckman Coulter's analyzers can deliver up to 400 routine tests an hour. A large number of analyzers are connected to hospital information systems, enabling laboratories to automate the reporting of serology test results. The Access SARS-CoV-2 IgG test can also be run on Beckman Coulter's Access 2 analyzer, a compact table-top analyzer enabling high-quality serology testing to be carried out in small hospitals and clinics. The test seamlessly integrates into laboratory workflows making it easy to add serology testing to routine blood tests performed during inpatient and wellness testing. This type of testing can enable health systems to comprehensively determine the immune status of their communities and potentially identify individuals that are eligible for future plasma donation.
Beckman Coulter has already shipped tests to more than 400 hospitals, clinics and diagnostics laboratories in the US, and has begun distribution of the new antibody test globally to countries that accept the FDA EUA and CE Mark. The company is able to deliver more than 30 million tests a month.
"At a time when significant confusion was created by the initial influx of poor-quality antibody tests, our team worked meticulously to develop a highly sensitive and specific assay," said Julie Sawyer Montgomery, president of Beckman Coulter. "With 100% Positive Percent Agreement and 99.6% Negative Percent Agreement, our test significantly reduces the risk for false positives, delivering the results that health care providers and their patients can trust. A lot has been written about accuracy issues with the initially launched antibody tests, but a test at this level offers positive predictive values greater than 90% even in very low prevalence communities. And, in areas hardest hit by the virus, the positive predictive values of our assay are greater than 98%."
"We anticipate that understanding the immune status of communities and convalescent plasma donation will play important roles in the fight against COVID-19 before a vaccine is widely available," said Shamiram R. Feinglass, M.D., MPH, chief medical officer Beckman Coulter. "While there is more to learn regarding how long an individual's immune response to the SARS-CoV-2 virus lasts, this test may be crucial to determining the portion of the population that may already be immune."
Other channels