Electronic Field Device Extends Glioma Survival
By HospiMedica International staff writers
Posted on 18 Apr 2017
An energy-emitting device that generates tumor-treating fields (TTFields) significantly improves newly diagnosed glioblastoma survival, according to a new study.
Developed by researchers at University Hospital Zürich, Northwestern University, the TTFields device emits low-intensity alternating electrical fields at 200 kHz via patient-operated transducer arrays that are worn on their shaved scalp for about 18 hours a day, and which must be continuously worn for as long as they receive treatment, in addition to standard chemotherapy. The alternating electric fields are thought to disrupt the cancer cells' microtubule assembly, thus inducing cell-cycle arrest and apoptosis.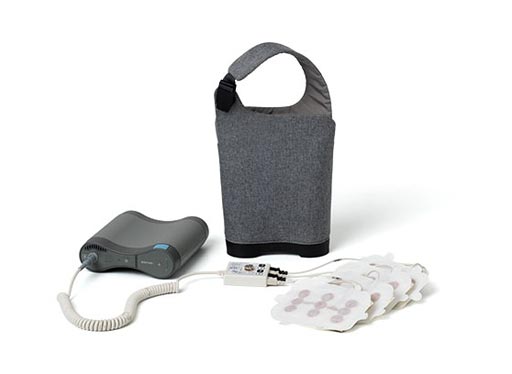 An international trial involving 695 patients at 83 sites in the United States, Canada, Europe, Israel, and South Korea with newly diagnosed grade IV glioblastoma who underwent surgical resection or biopsy randomized the patients on a 2:1 basis to chemoradiation with adjuvant temozolomide plus TTFields or to temozolomide alone. The results showed the TTFields group had a two-year survival of 43%, versus 31% for the temozolomide-only group. Survival at 3, 4, and 5 years was 26% versus 16%, 20% versus 8%, and 13% versus 5%, respectively. The study was presented at the AACR annual meeting, held during April 2017 in Washington (DC, USA).
"No therapy had improved survival in glioblastoma since the introduction of temozolomide more than a decade ago, which improved two-year survival to 27% when added to radiotherapy, as compared with 10% for radiotherapy alone," said lead author and study presenter professor of neurological surgery Roger Stupp, MD, of USZ. "TTFields are safe and can be combined with temozolomide chemotherapy; toxicity is limited to local skin irritations and cutaneous reactions. TTFields should be considered part of the standard of care for patients with newly diagnosed glioblastoma."
The Optune TTFields device, a product of Novocure uses four adhesive transducer array patches connected to the device and a battery power source. Transducer array placement is determined based on each patient's magnetic resonance imaing (MRI) results in order to help maximize the effect that TTFields have on the tumor.
Latest Critical Care News
Other channels