Increased Thrombosis Casts Doubt on Bioresorbable Scaffolds
By HospiMedica International staff writers
Posted on 18 Apr 2017
A new study reveals that bioresorbable scaffolds are associated with a fivefold higher incidence of thrombosis than a metallic stent following routine percutaneous coronary intervention (PCI).
Researchers at Academic Medical Center, Albert Schweitzer Hospital conducted an investigator-initiated, randomized trial that randomly assigned 1,845 patients undergoing PCI to receive either a everolimus-eluting bioresorbable vascular scaffold (BVS; 924 patients) or a everolimus-eluting metallic stent (921 patients). The primary end point was target-vessel failure, a composite of cardiac death, target-vessel myocardial infarction (MI), or target-vessel revascularization. Median follow-up was 707 days.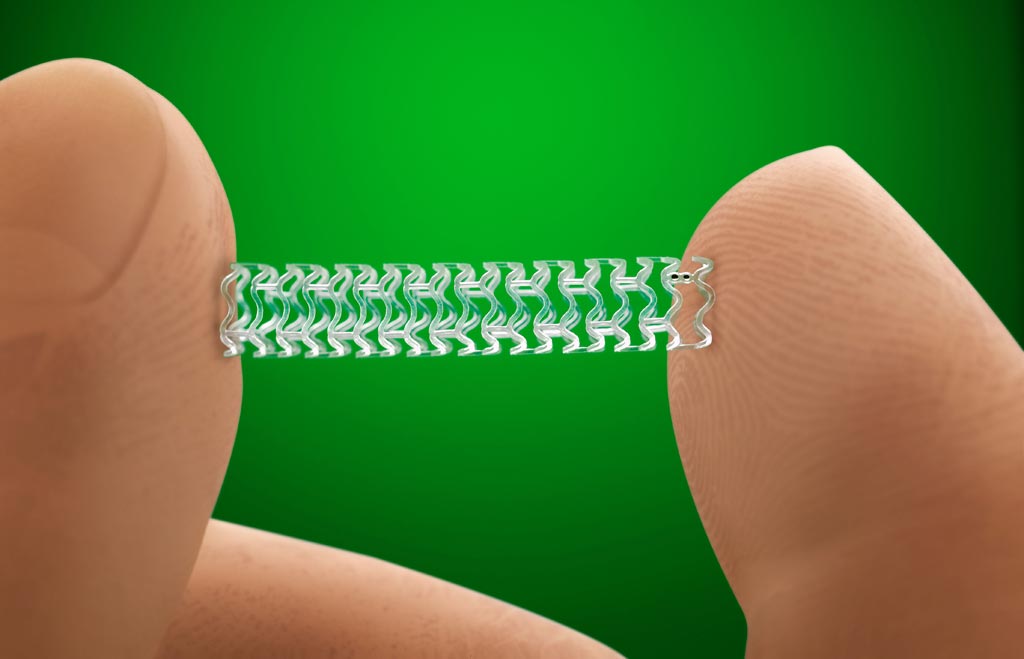 The results showed that target-vessel failure occurred in 11.7% of patients in the BVS group and in 10.7% patients. Cardiac death occurred in 2% of patients in the BVS group and in 2.7% of patients in the stent group. Target-vessel MI occurred in 5.5% of patients in the BVS group and in 3.2% of those in the stent group, and target-vessel revascularization occurred in 8.7% of patients in the BVS group and in 7.5% of patients in the stent group. Definite or probable device thrombosis occurred in 3.5% of patients in the BVS group, compared with 0.9% of patients in the stent group. The study was published on March 29, 2017, in the New England Journal of Medicine (NEJM).
"I certainly don't think that it's a workhorse stent in clinical practice. There are concerns about the risks of scaffold thrombosis and these have now been seen in several trials," said lead author Joanna Wykrzykowska, MD, PhD, of AMC and ASZ. "So, if anybody uses it, it should be, perhaps, in fairly simple lesions with very careful lesion preparation and guidance to reduce the risks as much as possible. You also have to make sure that your patient can take long-term dual antiplatelet therapy."
"Given the lack of an advantage with respect to clinical efficacy, the challenges in delivering the device (including longer procedural times), and the higher rate of device thrombosis with the bioresorbable scaffold, there is little justification for routine use of the everolimus-eluting bioresorbable scaffold over the everolimus-eluting metallic stent," commented Debabrata Mukherjee, MD, of Texas Tech University Health Sciences Center (El Paso, USA), in an accompanying editorial.
For the study, the researchers compared the Absorb GT1 BVS scaffold, made of a biodegradable poly-L-lactic acid (PLLA) and a poly-D,L-lactide (PDLLA) polymer coating that controls the release of the anti-proliferative drug everolimus--a derivative of sirolimus--which functions as an inhibitor of mammalian target of rapamycin (mTOR). Everolimus is currently used as an immunosuppressant to prevent rejection of organ transplants and stents and as a treatment of renal cell cancer and other tumors.
Latest Critical Care News
Other channels