Mobile Airway System Improves Patient Lifestyles
By HospiMedica International staff writers
Posted on 15 May 2017
A novel mobile respiratory care solution provides high frequency chest wall oscillation (HFCWO) to people suffering from long-term pulmonary issues.
The Hill-Rom Holdings Monarch Airway Clearance System is intended for patients suffering from a variety of issues that cause chest congestion and which cannot be cleared by conventional therapies such as drugs, chest physical therapy, special coughing techniques, or cough-assist aids. The wearable vest device has a sporty design, stylish shells, and a customizable, personalized fit. HFCWO is delivered via pulmonary oscillating discs (PODs) that provide targeted kinetic energy to the lungs in order to thin mucus and move it up and out of the lungs.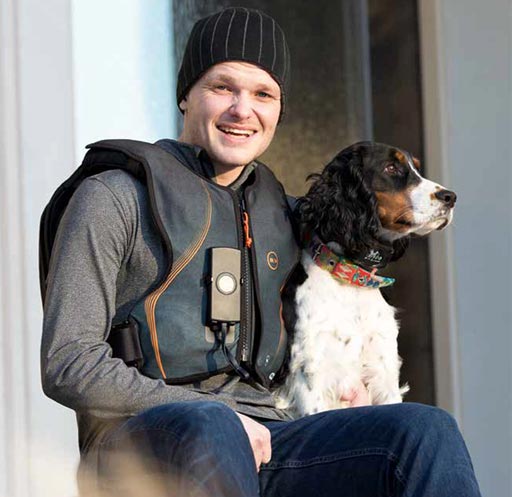 Designed to treat issues such as bronchiectasis, chronic obstructive pulmonary disease (COPD), cystic fibrosis (CF), muscular dystrophy, cerebral palsy, and chest congestion associated with more than 400 different medical conditions--including neuromuscular and immune disorders--the Monarch system also incorporates LTE and WiFi technology to keep patients wirelessly connected to their care team via the Hill-Rom VisiView Health Portal, a secure, cloud-based system that automatically receives information from respiratory care devices in a patient's home.
The secure therapy adherence data is then displayed on a user-friendly dashboard that facilitates data and trending information, which can then be used to enhance communication between health care teams and patients. The VisiView Health Portal thus supports informed care decisions and reduced risk of respiratory infections, hospitalizations, and medical costs. The Monarch Airway Clearance System has been approved by the U.S. Food and Drug Administration (FDA).
"I wanted to create a portable, long-lasting battery-powered device that clears the lungs so patients are free to be outside, go camping, live a fuller, higher quality of life," said inventor Marten DeVlieger, a CF patient who collaborated with Hill-Rom to design the Monarch system. "It is exciting to see my vision for mobile therapy come true."
HFCWO assist devices generate either positive or negative trans-respiratory pressure excursions to produce high-frequency, small-volume oscillations in the airways. The oscillations can lead to changes in mucus volume of 15–57 ml and in flow up to 1.6 L/s, which can generate minimal coughing to mobilize lung secretions. Typical treatments last 20–30 minutes, and consist of periods of compression at different frequencies, separated by coughing.
Latest Critical Care News
Other channels