Antiseptic Scanner Provides Feedback on Hand Hygiene
By HospiMedica International staff writers
Posted on 10 Oct 2017
A small scanner provides immediate digital evaluation of hand hygiene under non-invasive ultraviolet (UV).
The HandInScan (Budapest, Hungary) Semmelweis Scanner provides real-time feedback on the efficacy of hand hygiene by combining UV-A, digital imaging, and artificial intelligence (AI) software. After logging into the scanner with a radiofrequency identification (RFID) card, the user disinfects the hands using an alcoholic handrub that contains UV dye. Both hands are then placed in the scanner. UV-A light is shone on them and captured with a digital camera, and image analysis software detects both disinfected and non-disinfected areas, displaying them on the built-in screen; disinfected areas are shown in green.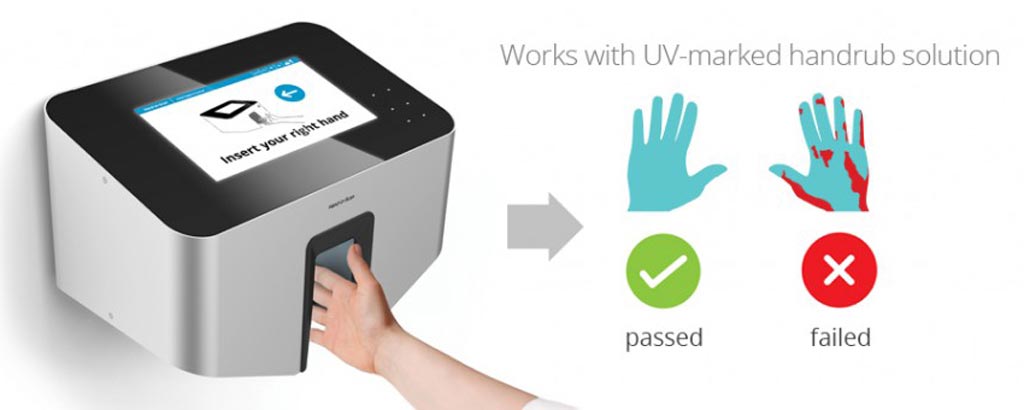 An objective score is calculated based on the percentage of the covered area versus missed area, and is reported it via automated software, which also creates periodical reports and statistics. The scanned images are saved in the scanner's memory and are connected with the unique user ID. The scanner has an integrated Wi-Fi and a mobile phone 3G unit, which are used to upload all data to the cloud, where it can be analyzed. Performance data and statistical analysis can be used to teach and validate staff members' skills both on a regular basis, as well as during hand hygiene trainings.
"Hand-in-Scan is the only system applying control over the practice of point-of-care hand hygiene. Implementing the experiential learning theory, the user learns the correct hand washing technique while performing it in front of the device," said the company in a press statement. "Hand-in-Scan provides immediate feedback on hand washing performance, resulting in healthcare worker's hand hygiene compliance and technique improvement. The system eliminates the blame factor, and helps to avoid the boss-subordinate conflict."
Following effective hand hygiene practices has long been recognized as the most important way to reduce the transmission of pathogens in healthcare settings. Many studies, however, have shown that adherence to hand hygiene recommendations is poor, and that improvement efforts frequently lack sustainability. The World Health Organization (WHO), the U.S. Centers for Disease Control and Prevention (CDC), and others have issued guidelines for health care workers that specify a wide range of hand hygiene behaviors, but despite this, adherence by healthcare workers remains staggeringly low.
Related Links:
HandInScan

Latest Critical Care News
Other channels