Flexible Sensors Detect Movement in Digestive Tract
By HospiMedica International staff writers
Posted on 24 Oct 2017
A new study describes how an ingestible sensor could help diagnose problems caused by a slowdown of food flowing through the gastrointestinal (GI) tract.
Researchers at the Massachusetts Institute of Technology (MIT, Cambridge, MA, USA), and Brigham and Women's Hospital (BWH; Boston, MA, USA) have developed an ingestible, flexible, piezoelectric device that senses mechanical deformation within the gastric cavity. The sensor is based on electronic circuits printed onto a polyimide joined to PZT--a piezolelectric material--and set between two electrodes that provide power to the sensor by using gastric acids to generate electricity.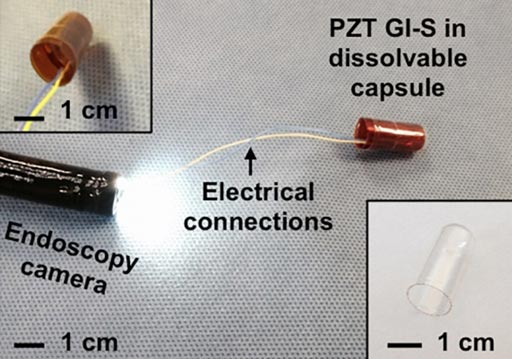 The ingestible sensor, which measures 2 by 2.5 centimeters, can be rolled up and placed in a capsule that dissolves after being swallowed. The sensor then adheres to the stomach wall or to intestinal lining, where it measures the rhythmic contractions of the digestive tract by tracking the voltage generated when the PZT is mechanically deformed. Through external cables, the voltage data generated by the can be used to calculate how much the stomach wall is moving, as well as distinguish when food or liquid are ingested.
The capabilities of the sensor were demonstrated in both in vitro and ex vivo simulated gastric models, which were used to quantify key behaviors in the GI tract using computational modeling, and validated in ambulating swine. According to the researchers, future ingestible piezoelectric devices might safely sense mechanical variations and harvest mechanical energy inside the GI tract for diagnosis and treatment of motility disorders, as well as for monitoring ingestion in bariatric applications. The study was published on October 10, 2017, in Nature Biomedical Engineering.
"This type of sensor could make it easier to diagnose digestive disorders that impair motility of the digestive tract, which can result in difficulty swallowing, nausea, gas, or constipation," said lead author Giovanni Traverso, MD, PhD, of MIT. "Having a window into what an individual is actually ingesting at home is helpful, because sometimes it's difficult for patients to really benchmark themselves and know how much is being consumed."
Related Links:
Massachusetts Institute of Technology

Brigham and Women's Hospital
Latest Critical Care News
Other channels