Cyclic Oxygen Therapy Effective for Chronic Skin Ulcerations
By HospiMedica International staff writers
Posted on 06 Jun 2018
Adjunctive cyclic oxygen therapy devices help close chronic wounds, including venous, diabetic, and pressure ulcers.
The AOTI (Oceanside, CA, USA) range of single-use Topical Wound Oxygen (TWO2) extremity chambers are used to apply pressurized oxygen (O2) directly to wound sites in cycles of 5 and 50 millibar (mb) within a sealed, humidified environment created by an inflatable plastic chamber and managed by an electro-mechanical therapy controller unit. The blended therapies provide a far greater tissue O2 diffusion gradient, resulting in increased tissue oxygenation. The cyclical nature of O2 pressure also creates sequential compression that reduces peripheral edema and stimulates wound site perfusion.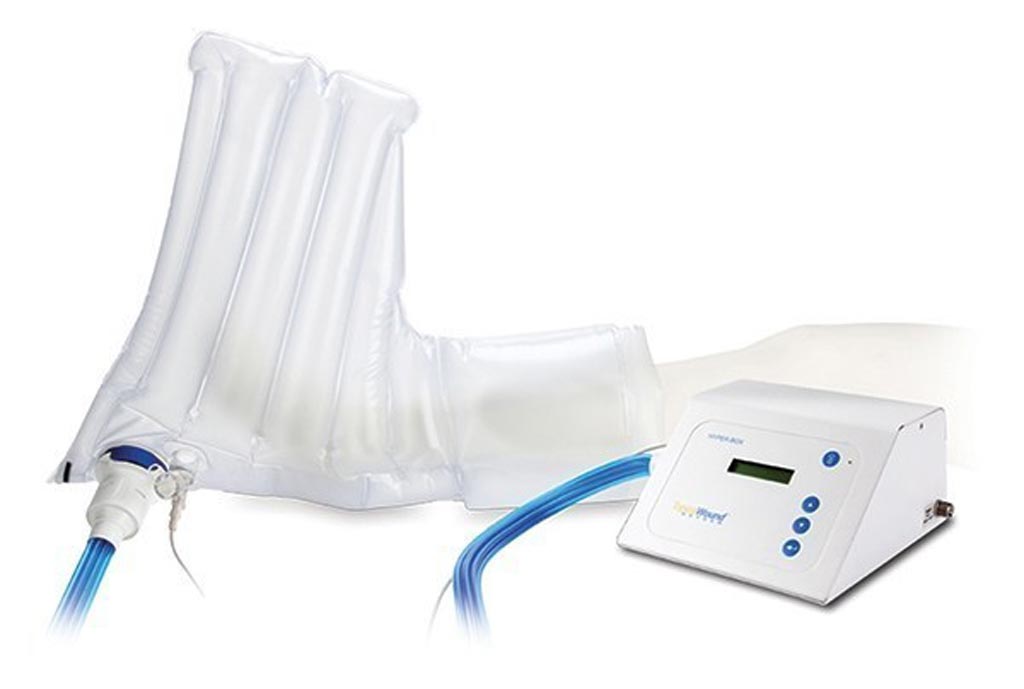 Providing targeted oxygen destroys anaerobic pathogens, increase leukocyte function, reverses localized hypoxia, and stimulates collagen synthesis by enhancing fibroblast activity and promoting angiogenesis. The synergistic activity causes wound bed granulation, collagen tissue formation, enhance antibacterial activity, and suppression of bacterial growth, thus leading to new, healthy tissue, and faster healing of the wound. The single-use devices are easy to set-up and operate, and can be disposed of between treatments, eliminating any need for cleaning between patients.
"We are pleased that healthcare professionals around the world are recognizing more and more the clinical benefits of adding TWO2 therapy to existing wound care best practices, and that by helping completely heal chronic wounds greatly reduce the total cost of care, but more importantly improve the patient's quality of life," said Mike Griffiths, CEO and president of AOTI. "We are delighted to have helped heal the wounds of so many patients within their homes, and look forward to even greater adoption of TWO2 therapy in the future."
Chronic ulcerations afflict 33 million people globally, with an ever-growing prevalence due to increasing diabetes and obesity rates, as well as an aging population. Wound types include venous leg ulcers (VLU) that can persist for decades, causing 70% of all leg ulcerations; diabetic foot ulcers (DFUs), which affect about 25% of diabetics during their lifetime; and pressure ulcers, which add a major burden both for the hospitalized patient and healthcare staff. Global expenditure for treating such chronic wounds is estimated to be in excess of USD 55 Billion annually, making it one of the most costly components of the health care system.
Related Links:
AOTI

Latest Critical Care News
Other channels