mHealth Device Identifies Heart Problems in Cancer Survivors
By HospiMedica International staff writers
Posted on 05 Jul 2018
A novel handheld platform can accurately detect cardiac dysfunction in childhood cancer survivors, according to a new study.
The Vivio device, developed at the California Institute of Technology (Caltech; Pasadena, USA), the University of Southern California (USC; Los Angeles, USA), and other institutions, is a handheld device that collects pulse waves and phonocardiogram data from the carotid artery and sends it wirelessly to an app on a compatible device, such as a smartphone or tablet. Using a specialized algorithm, left ventricular ejection fraction (LVEF) is calculated; an LVEF measure of less than 50% may indicate signs of abnormal heart function.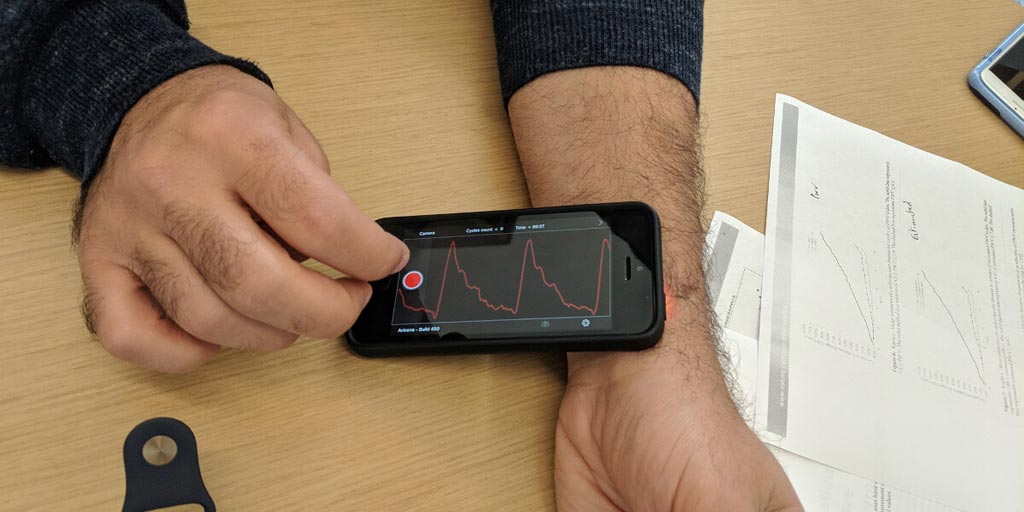 To test the accuracy of the device, researchers at the Childhood Cancer Survivorship Clinic (CCSC) at City of Hope (Duarte, CA, USA) conducted a cross-sectional study that compared LVEF using the Vivio wireless device, two-dimensional (2D) echocardiography, and gold-standard cardiac magnetic resonance (CMR) imaging in childhood cancer survivors exposed to anthracycline, who risk potential cardiac dysfunction from the exposure, which can often develop at a time when they are least engaged in long-term survivorship care.
In all, 191 consecutive cancer survivors participated in the study, with a median anthracycline dose of 225 mg/m². The researchers found that echocardiography overestimated mean LVEF by 4.9% compared with CMR, but no difference was seen between mean LVEF derived from the Vivio and CMR. Also, when compared with CMR, the detection of cardiac dysfunction via echocardiography was poor, but Vivio-based measurements had considerably better sensitivity. The study was published on June 21, 2018, in Clinical Cancer Research.
"The pediatric oncology community is becoming increasingly aware that there are new issues faced by many cancer survivors that may not manifest themselves until decades after their cancer treatment is done," said lead author pediatric hematologist/oncologist Saro Armenian, DO, MPH, director of the CCSC. "One of these issues is a higher burden of cardiovascular disease, which can result from exposure to anthracyclines as part of their cancer treatment."
"One possible implementation of Vivio could be for preliminary screening. If the patient's heart function is below a specific threshold as measured by Vivio, that patient could schedule an in-depth evaluation," concluded Dr. Armenian. "Vivio could keep these survivors engaged, and help to reduce the burden of inconvenient tests for individuals with a normal heart function as determined by the device. It could also pave the way for a mobile health-based care management program for childhood cancer survivors."
LVEF is the measurement of how much blood is being pumped out of the left ventricle of the heart with each contraction, and is usually expressed as a percentage. A normal LVEF ranges from 55-70%. An LVEF of less than 40% may confirm a diagnosis of heart failure. An LVEF of less than 35% increases the risk of an arrhythmia that can cause sudden cardiac arrest or death, and an ICD may be recommended for these patients.
Related Links:
California Institute of Technology
University of Southern California
City of Hope

Latest Critical Care News
Other channels