Risk Loci Linked to Immune System in Allergic Rhinitis
By HospiMedica International staff writers
Posted on 08 Aug 2018
Allergic rhinitis is the most common clinical presentation of allergy, affecting 400 million people worldwide, with increasing incidence in westernized countries. Allergic rhinitis, also known as hay fever, is a type of inflammation in the nose, which occurs when the immune system overreacts to allergens in the air.
Signs and symptoms of allergic rhinitis include a runny or stuffy nose, sneezing, red, itchy, and watery eyes, and swelling around the eyes. The fluid from the nose is usually clear. Many genetic contributors to allergic rhinitis appear to be scattered across parts of the genome that mediate immune pathways.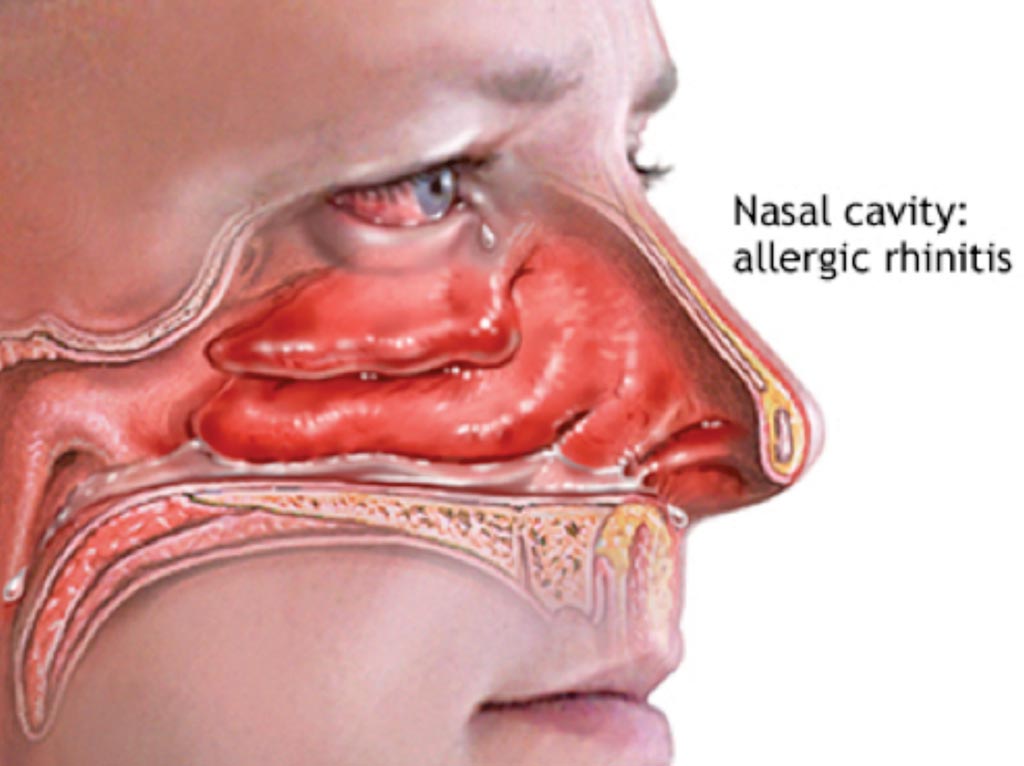 Scientists at Herlev and Gentofte Hospital (Copenhagen, Denmark) and their colleagues conducted an initial meta-analysis that included genotyping data for 59,762 individuals with hay fever and 152,358 without. They searched more than 16.5 million genotyped or imputed markers across the genome for variants that were overrepresented in cases. They tracked down more than two dozen suspicious sites in the genome, along with 21 known risk loci, prompting a replication analysis focused on 25 loci in another 60,720 cases and 618,527 controls.
After that analysis, the team was left with significant associations at 20 new disease-linked loci, which were folded in with known loci and examined in more detail using available expression quantitative trait locus, methylation quantitative trait locus, and enhancer-promoter data. At least 33 of the sites appeared to contain regulatory variants, including those influencing B cells, T cells, and other immune cell functions, though the variant set also highlighted more than 255 genes with possible roles in allergic rhinitis.
The team performed genome-wide association study (GWAS) analyses of allergic sensitization against inhalant allergens and non-allergic rhinitis, which suggested shared genetic mechanisms across rhinitis-related traits. The GWAS, based on data for more than 8,000 cases and 16,441 controls, led to 10 loci associated with allergic sensitization, with all but one of the allergic rhinitis-linked variants displaying comparable relationships to allergic sensitization. From thousands more non-allergic rhinitis cases and controls, they did not pick up significant individual risk loci, though there were further hints of overlap with allergic rhinitis.
Klaus Bønnelykke, MD, PhD, a Clinical Associate Professor and corresponding author of the study, said, "We expanded the number of established susceptibility loci for allergic rhinitis and highlighted the involvement of allergic rhinitis-susceptibility loci in diverse immune cell types and both innate and adaptive IgE-related mechanisms. The risk loci we have identified can help understanding the mechanisms causing allergic rhinitis and hopefully also to find targets for treatment and prevention." The study was published on July 16, 2018, in the journal Nature Genetics.
Related Links:
Herlev and Gentofte Hospital

Latest Critical Care News
Other channels