Smart Bandage Senses Wound Healing Evolvement
By HospiMedica International staff writers
Posted on 09 Aug 2018
A new study describes how an automated flexible wound dressing with temperature and pH sensors can monitor wound status in real‐time.
Under development at the Massachusetts Institute of Technology (MIT; Cambridge, MA, USA), the California NanoSystems Institute (Los Angeles, CA, USA), Tufts University (Medford, MA, USA), and other institutions, the flexible, programmable, microprocessor-controlled bandage senses pH levels and temperature at the wound site. The entire bioelectronic bandage is less than three millimeters thick, and resembles a standard hydrocolloid dressing.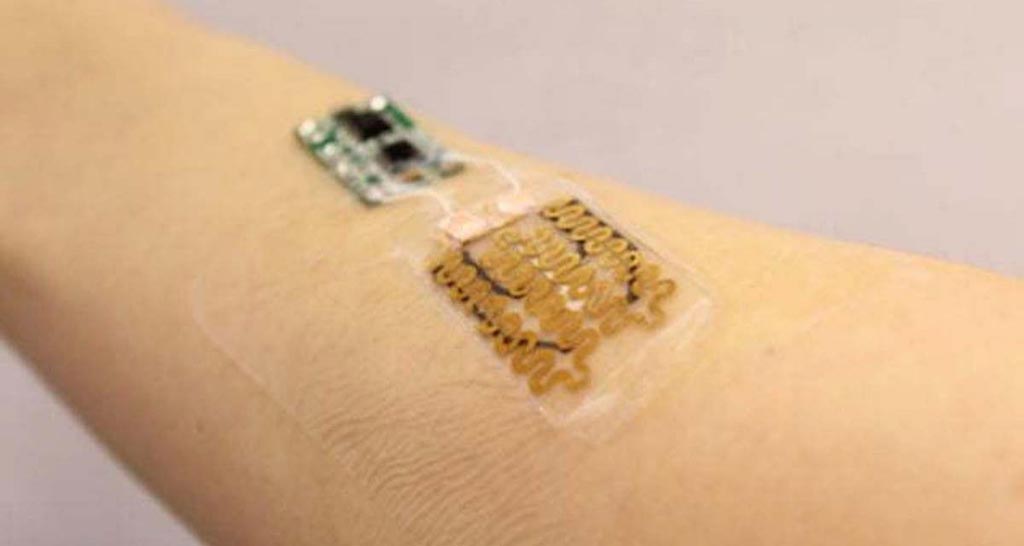 Moreover, a stimuli‐responsive antibiotic drug releasing system comprised of a hydrogel loaded with thermo‐responsive drug carriers and an electronically controlled flexible heater can also be integrated into the bandage in order to release drugs, as determined by an individualized drug release protocol. The flexible dressing is fabricated using screenprinting, without the need for expensive facilities, and the entire microelectronic circuitry can be reused, substantially reducing costs. The study was published on July 6, 2018, in Small.
"In the past, people have made dressings that can deliver drugs or have made bandages that can sense how they are healing; but never have we achieved a closed loop operation where sensors were used to monitor and then control drug delivery," said corresponding author electrical and computer engineer Professor Sameer Sonkusale, PhD, of Tufts University. "We are using existing drugs, which we deliver in a timely manner by sensing how our wound is doing. The new bandage forms a comprehensive wound-care solution. It will improve health outcomes and reduce cost of healthcare."
Chronic wounds are a major global health concern, affecting the lives of more than 25 million people in the United States alone. They are susceptible to infection and are the leading cause of non-traumatic limb amputations worldwide. Wound environment healing rate can be enhanced by administration of therapies at the right time, an approach that requires real‐time monitoring of the wound environment with an on‐demand drug delivery in a closed‐loop manner.
Related Links:
Massachusetts Institute of Technology
California NanoSystems Institute

Tufts University
Latest Critical Care News
Other channels