Novel Catheter Facilitates Vascular Access Procedures
By HospiMedica International staff writers
Posted on 08 Nov 2018
An inside-out arteriovenous (AV) access system reliably, safely, and repeatedly achieves central venous access in hemodialysis patients awaiting maturation of a permanent AV fistula.
The Bluegrass Vascular (San Antonio, TX, USA) Surfacer System is inserted through the femoral vein, and then threaded through the patient's venous system to an exit point in the right internal jugular vein. A central venous catheter (CVC) can then be reliably placed into the optimal location, the right atrium, using the Surfacer System as a guide. The so-called "inside-out" approach thus helps achieve access to the occluded right internal jugular vein, while preserving the viability of potential secondary central veins.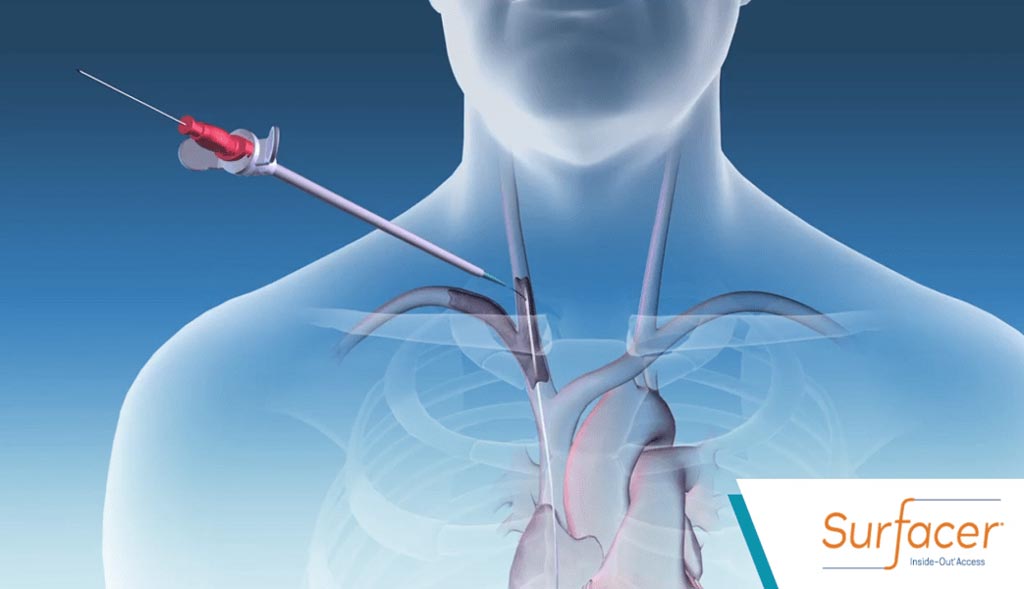 A new retrospective study of 32 patients conducted by researchers at the Medical University of Vienna (Austria) found that the Surfacer System had an impressive 97% success rate in all patients. There were zero device-related complications reported, including bleeding, hematoma, and catheter-related infection, and all patients displayed similar catheter function at three months. The study was presented as a poster session at the American Society of Nephrology (ASN) annual meeting, held during October 2018 in San Diego (CA, USA).
"The clinical application of the Surfacer System, as shown in this study, proves to be extremely positive," said lead author Roman Reindel-Schwaighofer, MD, a nephrology and dialysis fellow at the Medical University of Vienna. "The Surfacer System provides a safe and effective solution that both preserves and restores vascular access for patients requiring hemodialysis who otherwise have very limited options."
"The idea for the Surfacer was born from seeing many patients with obstructed central venous systems who needed life-saving vascular access therapies, whether that be pacemakers or defibrillators or dialysis access," said John Gurley, MD, founder of Bluegrass Vascular Technologies and inventor of the Surfacer. "Our unique system offers physicians an innovative yet simple solution. If the veins are obstructed and you can't put a needle in from the outside, you can now go inside the body and direct the needle out."
While an AV fistula remains the preferred access option for patients on hemodialysis therapy, these often can take four months or longer to mature, and a CVC is often required during this time period; but more than 40% of such patients develop a venous obstruction. Many patients, in fact, prefer a CVC over an AV fistula, for reasons that include inadequate preparation for dialysis, avoidance of surgery, or fear of needles (since the connection to the dialysis machine via a catheter does not require needles).
Related Links:
Bluegrass Vascular
Medical University of Vienna

Latest Critical Care News
Other channels