High Flow Ventilator Improves Respiratory Distress Care
By HospiMedica International staff writers
Posted on 03 Dec 2018
A comprehensive patient ventilation solution integrates noninvasive ventilation (NIV) and high flow therapy (HFT) in a single device.
The Royal Philips (Philips, Amsterdam, The Netherlands) V60 Plus ventilator offers both NIV and HFT on the same ventilator, limiting disruption and saving time. Designed specifically for noninvasive modalities, the V60 Plus delivers NIV performance with advanced delivery technologies and alarms. Philips proprietary Auto-Trak technology automatically adapts to changing breathing patterns and dynamic leaks, and includes auto-adaptive leak compensation, inspiratory triggering, and expiratory cycling for patients with a range of respiratory support needs.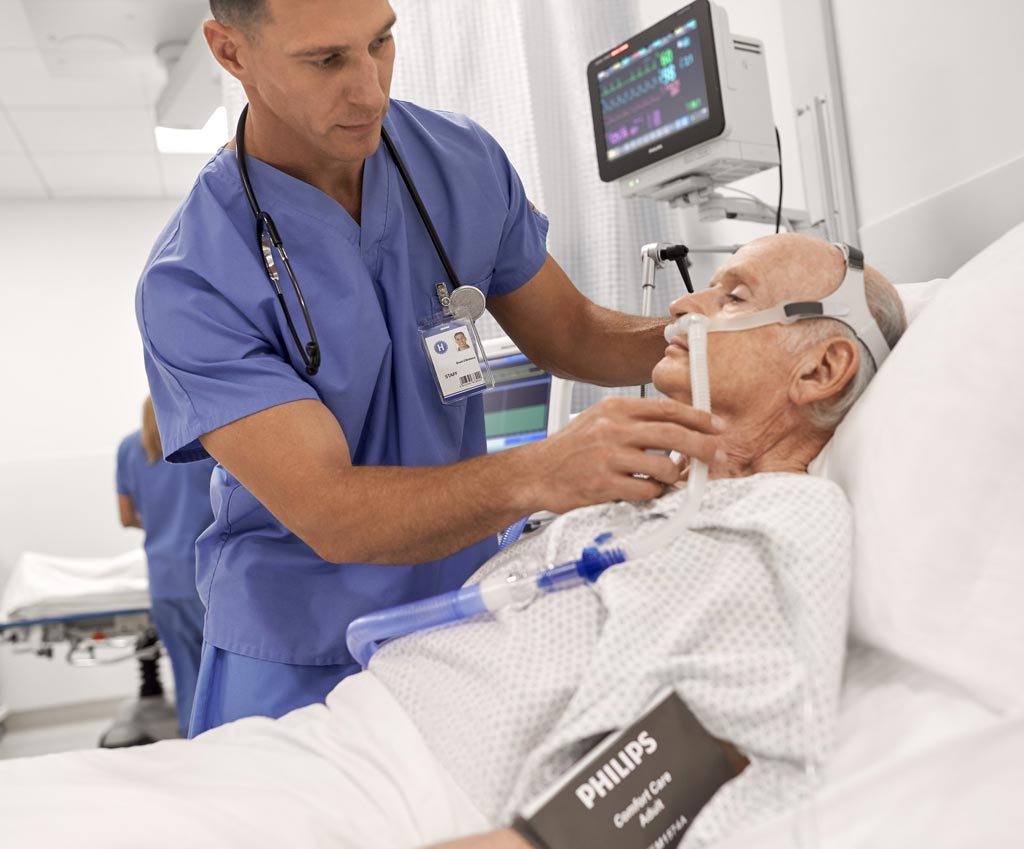 The V60 Plus includes HFT for patients in need of consistent and humidified oxygen when weaning from NIV; average volume assured pressure support (AVAPS), which targets tidal volume in a pressure-limited mode to provide extra reassurance, similar to volume-limited mode; pressure control ventilation (PCV), which can be used when full control of the patient's breathing pattern is required; and continuous positive airway pressure (CPAP) with a C-Flex option that offers three levels of flow-based expiratory pressure relief.
"When treating respiratory patients in intensive and emergency care settings, it's critical for clinicians to be able to wean efficiently or to quickly escalate care depending on their patient's condition and specific needs. This often means complex workflows and alternating devices in time-sensitive situations," said Jim Alwan, business leader of Philips hospital respiratory care. "We are excited to offer a comprehensive noninvasive solution that enables quick therapy and interface transitions, so clinicians can focus on providing for their patients while spending less time setting up equipment."
"We are delighted with the high flow function of the V60 Plus. It saves us a lot of time and space as we can use the same equipment for both NIV and high flow," said Peter Lindberg, RN, of St. Goran Hospital (Stockholm, Sweden). "When you need to wean patients from NIV to HFT, it is very simple with the one device. Additionally, the cannula is high quality, easy to adjust, soft against the patient's skin, and V60 flow is much quieter than our standalone high flow system."
HFT delivers respiratory gases at a high flow rate to assist patients' own spontaneous breathing. It does this by creating positive pressure in the airways, keeping them open. The high flow rate improves the effective exchange of gases by delivering oxygen and removing carbon dioxide (CO2), making breathing easier and relieving the patients' respiratory muscles. The respiratory gases can also be warmed and humidified to help clear secretions.
Latest Critical Care News
Other channels