Novel CVC Placement Technique Prevents Dislodgement
By HospiMedica International staff writers
Posted on 09 Jan 2019
A new study describes a central venous catheter (CVC) placement technique that could help prevent confused patients from pulling it out or dislodging it easily.
Researchers at Beth Israel Deaconess Medical Center (BIDMC; Boston, MA, USA) and Boston University School of Medicine (BUSM; MA, USA) published a case report of a 77-year-old patient with waxing and waning mental status who required dialysis for chronic kidney failure. The patient was in a confused state of mind and repeatedly pulled out his hemodialysis catheters. Since he was unsuitable for an arteriovenous fistula (AVF) access and the medical literature offered no solution, the physicians developed a novel technique.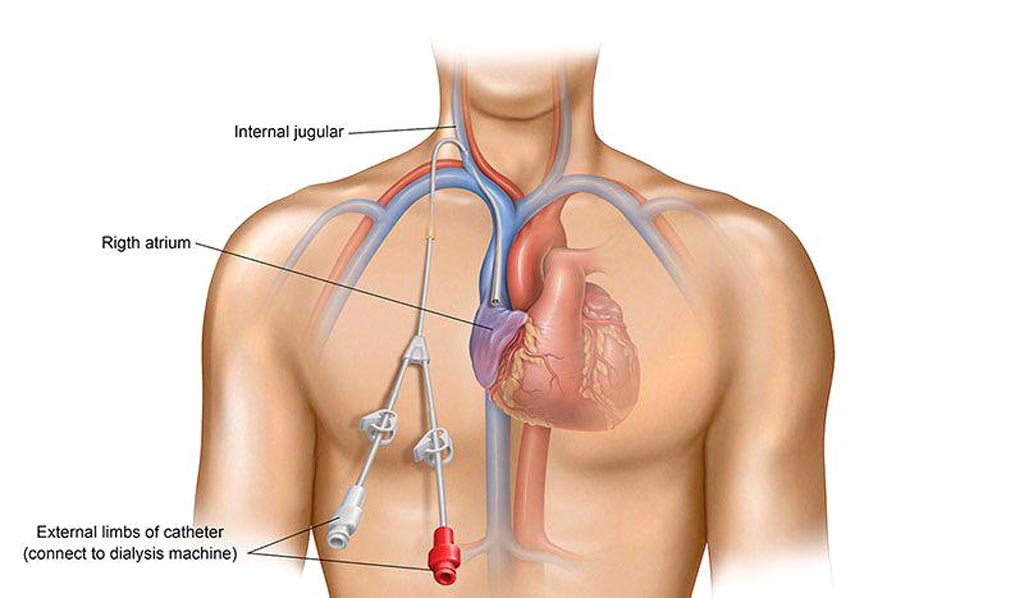 They placed a right external jugular vein CVC, tunneling subcutaneously to exit from the patient's upper back, near the midline, just below the neck. It was out of reach to the patient, but not in an area where it would cause pressure on the skin when lying on his back. As a result of the successful placement, the researchers suggest that clinicians should consider the new technique when patients, and in particular confused patients, are at risk for central line dislodgement. The study was published on December 25, 2018, in Annals of Internal Medicine.
"Sometimes patients inadvertently dislodge or pull out central venous catheters; in other cases, they are removed intentionally by patients who are confused. Although this occurrence is uncommon, it is not rare, and it may have negative consequences," concluded study authors Robert Brown, MD, of BIDMC, and Ducksoo Kim, MD, of BUSM. "For example, removing a catheter this way carries the risk for serious bleeding and air embolism, and may interfere with hemodialysis, administration of fluid calories, and other critical care treatments."
CVCs can be placed in veins in the neck (internal jugular vein), the chest (subclavian or axillary vein), the groin (femoral vein), or through veins in the arm (when they are known as a peripherally inserted central catheter (PICC) line. They can be used to administer medication or fluids that are unable to be taken by mouth or would harm a smaller peripheral vein, obtain blood measurements, such as central venous oxygen saturation, measure central venous pressure (CVP), or for dialysis.
Related Links:
Beth Israel Deaconess Medical Center
Boston University School of Medicine

Latest Critical Care News
Other channels