Pen Needle Technology Optimizes Injection Technique
By HospiMedica International staff writers
Posted on 04 Feb 2019
A second-generation diabetes pen needle has been redesigned with a focus on ergonomics to provide more reliable subcutaneous injection depth.
The BD (Franklin Lakes, NJ, USA) Nano second generation Pen Needle is designed to help diabetics mitigate the risks resulting from injection force variability by implementing a contoured needle base that compensates for variable patient injection forces by first concentrating, then distributing the pressure closely around the injection site, in order to support a more reliable four mm target injection depth. The increased precision results in up to an eight-fold reduction in the calculated intramuscular injection risk.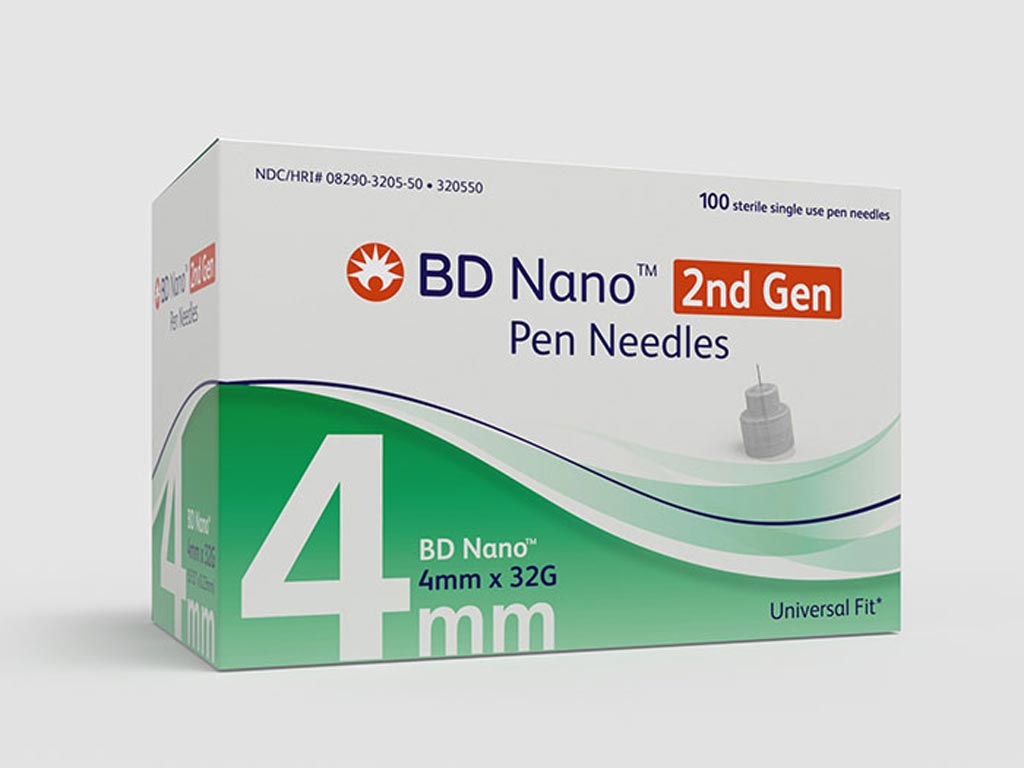 Additional features include a 5-bevel PentaPoint comfort design, which has been clinically shown to enter the skin more easily than 3-bevel needles, providing a smoother and more comfortable injection; extra thin wall EasyFlow technology that increases insulin flow rate, making injections easier and more convenient, including for people with hand-strength challenges; and an optimal technique that aids one-handed injection for all common sites, including the arms, thighs, abdomen, and buttocks, and without requiring a skin lift.
"The launch of BD Nano 2nd generation pen needles reinforces BD's commitment to providing the most advanced solutions possible for people with diabetes to help achieve better clinical management of insulin use," said Stanislav Glezer, MD, MBA, global vice president of medical affairs for BD. "In addition to the added clinical benefits the latest BD innovation brings, the new ergonomic pen needle features can help people feel more comfortable with their injection experience."
Average skin thickness ranges from 1.6 - 2.4 mm within the four most common injection sites. To be absorbed properly, insulin needs to be injected into the subcutaneous tissue layer, just under the skin; but if it goes deeper, the dose may go into the muscle, which will not only cause pain but also speed up insulin absorption, potentially leading to hypoclycemia.
Latest Critical Care News
Other channels