Respiration Device Helps Treat Carbon Monoxide Poisoning
By HospiMedica International staff writers
Posted on 28 Mar 2019
A novel emergency system purges carbon monoxide (CO) from the body by increasing the patient's rate of breathing.
The Thornhill Medical (Toronto, Canada) ClearMate device is a compact, portable system requiring only oxygen (O2) and a small cylinder of carbon dioxide (CO2). The device is totally pneumatic, with no electricity, batteries, or computers needed for it to work, and is ideal for rescue vehicles, hospital emergency departments, factories, and schools. When a person suffering from CO poisoning received the combination of O2 and CO2, ventilation is stimulated, and CO is eliminated through the lungs, increasing cure rate and decreasing the incidence of delayed psychoneural sequela.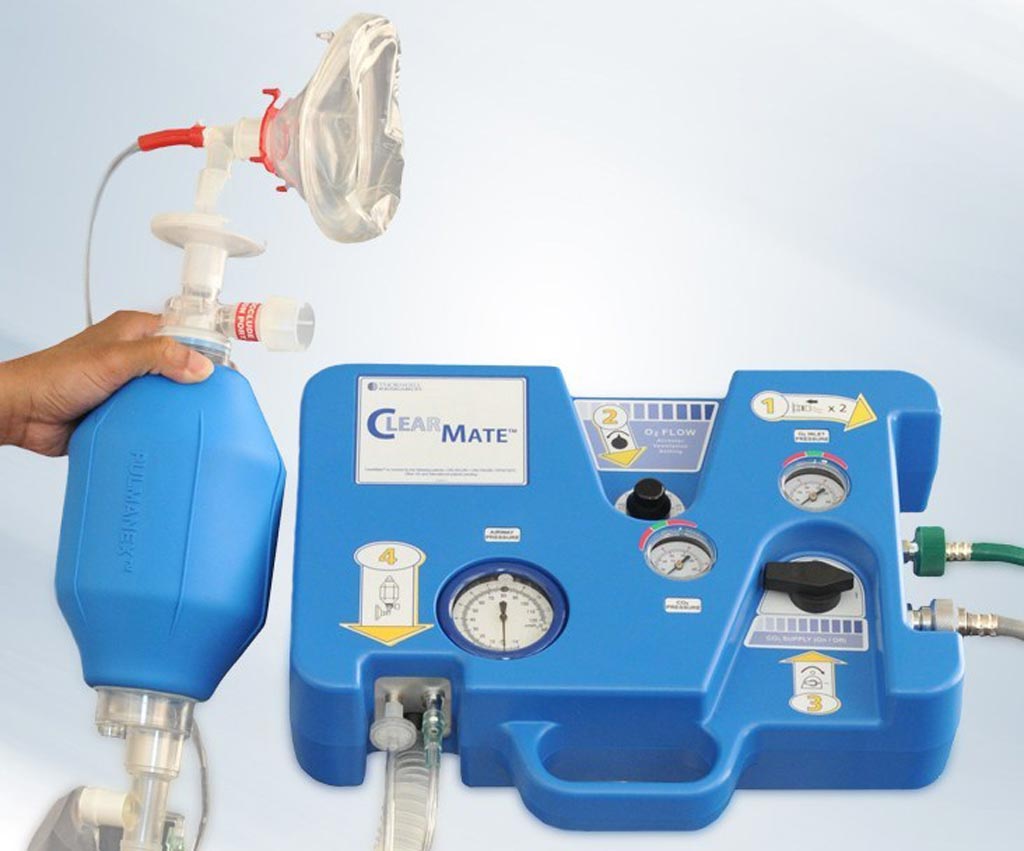 The system, which is comprised of a set of mask and hoses, constructs a common resuscitation breathing circuit. During treatment, the patient breathes in through a mask or endotracheal tube attached to the circuit. The inhaled CO2 causes an increase in breathing that helps CO washout at a rate three times that of O2 alone, and approaching that of a hyperbaric oxygen chamber. Since treatment starts much sooner, CO elimination is much faster, allowing a normal amount of O2 to attach to hemoglobin.
"Carbon monoxide poisoning is a serious issue, affecting thousands of people each year. While the current standard treatment of administering 100% oxygen through a mask can be done anywhere, hyperbaric treatment, which is necessary for severe carbon monoxide poisoning, is less accessible, because there are only 60 medical centers with hyperbaric units in the entire US," said Malvina Eydelman, MD, of the FDA Center for Devices and Radiological Health (CDRH). "ClearMate provides patients with access to a simple, yet lifesaving device that may minimize the delay of getting vital treatment, especially in severe cases of carbon monoxide poisoning."
CO is a colorless, odorless gas that is extremely poisonous and can kill within minutes, as it attaches to hemoglobin instead of oxygen, reducing the amount of oxygen carried to the brain and other tissues. Common symptoms of CO poisoning include headache, dizziness, weakness, upset stomach, vomiting, chest pain, and confusion. Nearly 500 people die annually in the US alone from unintended exposure to CO, due to poorly maintained heating systems, gas stoves, or gas-powered generators.
Related Links:
Thornhill Medical

Latest Critical Care News
Other channels