Implantable System Modulates Cardiac Contractions
By HospiMedica International staff writers
Posted on 02 Apr 2019
A novel device delivers non-excitatory electrical pulses to improve systolic contractions in severe and chronic heart failure (HF) patients.
The Impulse Dynamics (Stuttgart, Germany) Optimizer Smart implantable device works by delivering cardiac contractility modulation (CCM) signals to the heart muscle during the absolute refractory period (just after the heart's excitation), initiating biochemical and neurohormonal changes in the myocardium. As a result, the myocardium contracts more, with no associated increase in oxygen consumption, enabling the heart to operate more efficiently. The target population includes HF patients with a reduced ejection fraction who are in normal sinus rhythm, and are not indicated for a cardiac resynchronization therapy (CRT) device.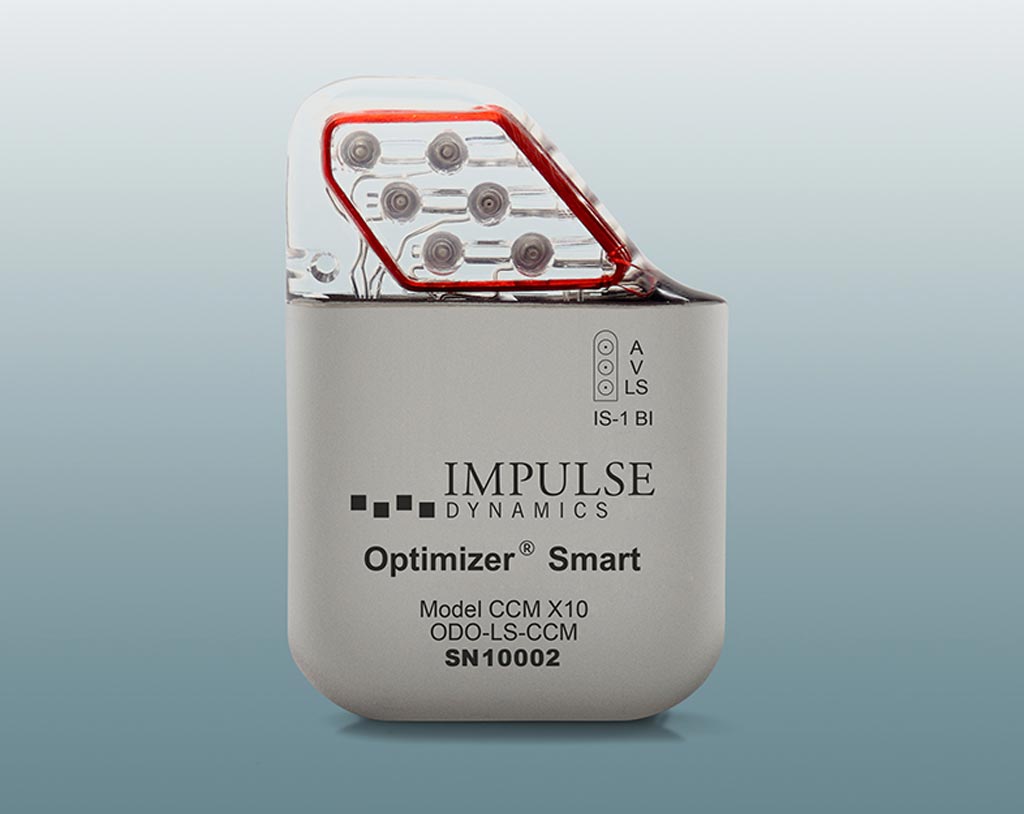 The system includes an implantable pulse generator (IPG) unit that both senses the heart's electrical activity and delivers CCM signals via two electrodes placed in the right ventricle. The IPG is recharged (without supervision) weekly using a home-based charger that also provides instructions and feedback to the patient on the charging process. A portable programmer allows medical personnel to customize and optimize signal parameters according to individual patient needs, with dynamic evaluations made using the patient's electrocardiogram (ECG) and marker channels.
"CCM technology meets a major need globally, and we are committed to demonstrating the value of CCM therapy to healthcare systems worldwide to benefit more patients with heart failure," said Simos Kedikoglou, MD, CEO of Impulse Dynamics. "We are extremely excited that the Optimizer Smart System with CCM therapy is now available in the United States. We look forward to growing our commercial presence in the US and globally."
"We finally have available an effective device-based therapy for advanced heart failure patients with mildly to moderately reduced left ventricular ejection fractions who are not eligible for CRT," said Professor William Abraham, MD, of Ohio State University (OSU, Columbus, USA). "The Optimizer System, along with guideline-directed medical therapies, can improve the lives of many heart failure patients in the US who previously did not have access to this therapy. As such, it represents a real game-changer for these patients."
Related Links:
Impulse Dynamics

Latest Critical Care News
Other channels