Displacement Ventilation Systems Reduce Hospital Infections
By HospiMedica International staff writers
Posted on 08 Apr 2019
A new study suggests that a displacement ventilation strategy can renew the air in isolation rooms and eliminate exhaled pollutants efficiently.
Researchers at the University of Córdoba (UCO; Spain) and the University of Valladolid (UVA; Spain) conducted an experimental study of displacement ventilation as a means to reduce dangerous airborne pathogens and pollutants in a hospital room. The ventilation strategy literally displaces the air at low speeds into the treatment area; it then rises to the upper part of the room, where it is expelled through vents. The displacement procedure thus works like a piston, moving air out of the way in the area where the patients and health care workers are located.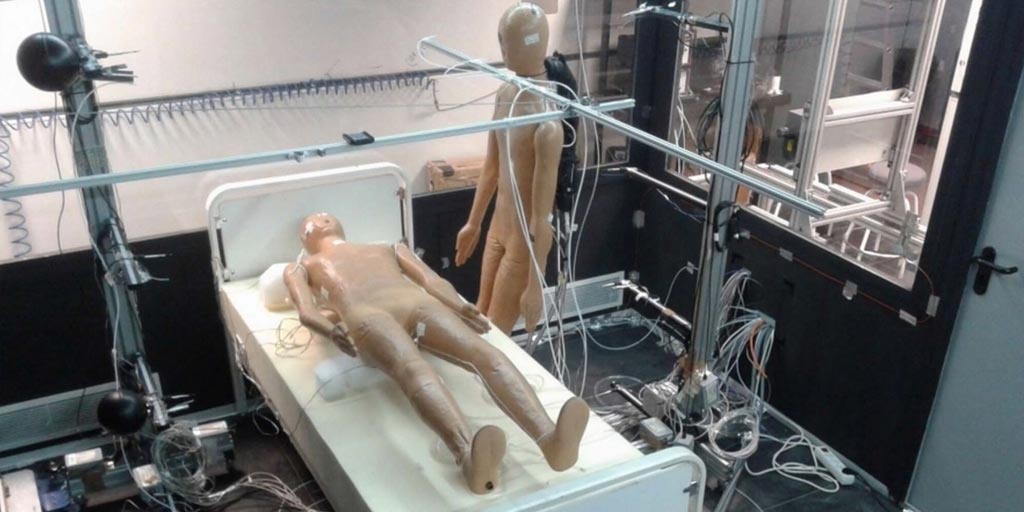 For the study, the researchers used a thermal breathing manikin lying on a bed to represent the source patient, and another thermal breathing manikin to represent the exposed individual facing the patient at bedside. After evaluating air change efficiency, contaminant removal effectiveness indices, health care worker inhalation of contaminants exhaled by the patient, exhaust vent positions, and radiant wall exposure, the researchers concluded that displacement ventilation can reduce the risk of exposure to airborne pathogens compared to traditional ventilation systems. The study was published on January 30, 2019, in PLOS One.
"This is a ventilation mechanism that comes from the Nordic countries, countries where because of climate conditions, people spend a great amount of time indoors," said senior author Ruiz de Adana, PhD, of the UCO department of physical chemistry and applied thermodynamics. "However, it is not normally used in hospitals, and a study on this scale and for this specific use had not been performed before."
According to regulations established by the U.S. Centers for Disease Control and Prevention, ventilation systems should refresh all the air in a hospital room 12 times an hour in order to reduce airborne infections. With a displacement ventilation system, however, it would only be necessary to refresh the air only nine times an hour, without the risk of infection changing, meaning that in addition to health benefits, the system will also reduce energy use.
Related Links:
University of Córdoba
University of Valladolid

Latest Critical Care News
Other channels