Viscoelastic Heart Patch Treats Myocardial Infarction
By HospiMedica International staff writers
Posted on 01 May 2019
An adhesive epicardial patch could increase the mechanical integrity of damaged left ventricular tissues following a heart attack, claims a new study.
Developed by researchers at Brown University (Providence, RI, USA), Fudan University (Shanghai, China), Soochow University (Suzhou, China), and other institutions, the ionically crosslinked transparent gel-point adhesive patch (GPAP) is a viscoelastic material that combines both fluid and solid properties. The fluid properties are retained up to a certain amount of stress, at which point the material solidifies and turns stiffer, which can accommodate the cyclic deformation of the myocardium and left ventricular remodeling following acute and subacute myocardial infarction (MI).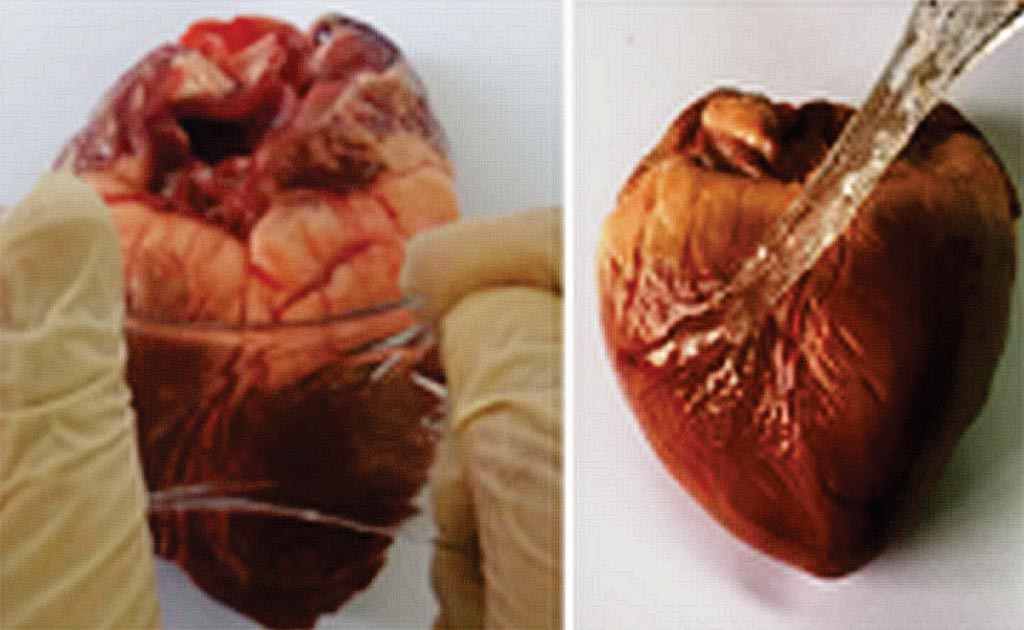 To determine the optimum mechanical properties of the GPAP, the researchers developed a computer model of the beating heart of a rat, which captured the mechanical dynamics of both the heart itself and the patch when fixed to the heart's exterior. After analyzing simulated modelling data, the researchers developed a GPAP with a low dynamic modulus that provided nearly optimal mechanical support to the remaining cardiomyocytes. The patch also outperformed other patches whose mechanical properties had been selected on an ad hoc basis. The study was published on April 15, 2019, in Nature Biomedical Engineering.
"Part of the reason that it's hard for the heart to recover after a heart attack is that it has to keep pumping. The idea here is to provide mechanical support for damaged tissue, which hopefully gives it a chance to heal," said senior author professor of engineering Huajian Gao, PhD, of Brown University. "It remains to be seen if it will work in humans, but it's very promising. We don't see any reason right now that it wouldn't work."
Cardiomyocytes carry out the contractile function of the heart, and the majority of them are terminally differentiated post-mitotic cells that exhibit very limited regenerative potential, and as a result the heart has insufficient regenerative capacity after injury or in diseased states, such as after a MI.
Related Links:
Brown University
Fudan University
Soochow University

Latest Critical Care News
Other channels