Hydrogen Inhalation Protects Brain during Circulatory Arrest
By HospiMedica International staff writers
Posted on 15 May 2019
A new study suggests that adding 2.4% inhaled hydrogen (H2) to the inspiratory gases administered during cardiopulmonary bypass diminishes potential neurologic injury.
Researchers at Boston Children's Hospital (BCH; MA, USA) and Harvard Medical School (HMS; Boston, MA, USA) conducted a study in neonatal swine that were cannulated to extracorporeal membrane oxygenation (ECMO; cardiopulmonary bypass) and then exposed to prolonged mildly hypothermic circulatory arrest (75 minutes at 25°C). The swine were then randomized to inhalation of inspiratory gas mixtures (with or without inhaled H2 gas) for 24 hours during and following an ischemic injury.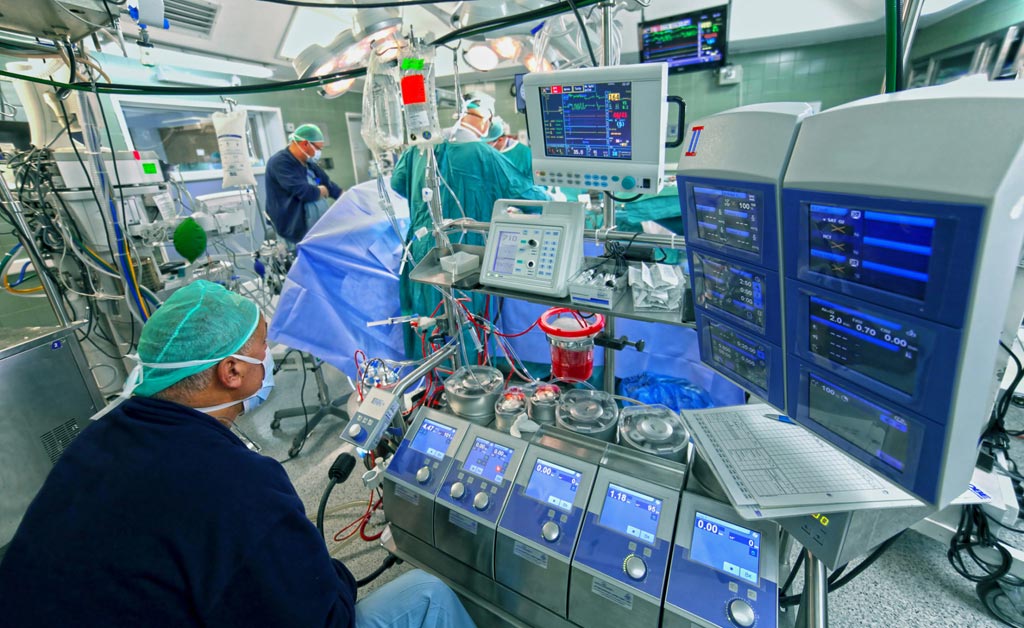 The results revealed that the H2-treated neonatal swine exhibited significantly decreased neurologic and renal injury compared to controls, as quantified by clinical examination, magnetic resonance imaging (MRI)-graded volume of injury, serology, and histopathology. The researchers suggest that in the future, inhaled H2 could be used to diminish the sequelae of ischemia that occurs in congenital heart surgery, cardiac arrest, extracorporeal life-support events, acute myocardial infarction (MI), stroke, and organ transplantation. The study was published on April 29, 2019, in JACC: Basic to Translational Medicine.
"We've gotten better at resuscitating patients and getting the heart to start beating, and even some emergency departments are putting patients onto ECMO; but during that time, the brain may be deprived of oxygen," said senior author cardiologist John Kheir, MD, of BCH. "During the reperfusion process, the cell mitochondria overreact and end up using oxygen to injure themselves. What we want to do is create an ancillary therapy that is cheap and easy to do that can mitigate injury in survivors."
ECMO is a form of veno-venous extracorporeal life support, an emerging therapy designed to infuse oxygen directly into the bloodstream using an oxygenator that acts as an artificial lung, optimizing gas exchange and reducing stress on the right side of the heart. When infants are placed on ECMO, the interrupted blood flow causes temporary hypoxia; the brain, a heavy oxygen user, is most susceptible to oxygen deprivation. But the most damage occurs during reperfusion, as oxygen is reintroduced. The sudden influx causes toxic reactive oxygen species (ROS), which damage DNA and cell membranes. H2 can buffer the effects of the ROS.
Related Links:
Boston Children's Hospital
Harvard Medical School
Latest Critical Care News
Other channels