Ambulatory Patch Advances Remote Cardiac Monitoring
By HospiMedica International staff writers
Posted on 20 May 2019
A patient-friendly cardiac patch provides non-invasive, diagnostically accurate, P-wave ambulatory arrhythmia detection and cardiac monitoring.
The Bardy Diagnostics (Bardydx; Seattle, WA, USA) Carnation Ambulatory Monitor (CAM) is an hourglass-shaped patch designed to be placed comfortably and discreetly on the center of the chest, along the sternum and directly over the heart, so as to provide optimum electrocardiogram (ECG) signal collection. The proprietary technology is combined with low-frequency and low-amplitude electrical signal detection to provide optimal, clear recording of the often difficult-to-detect P-wave, an ECG waveform signal that is essential for accurate arrhythmia diagnosis.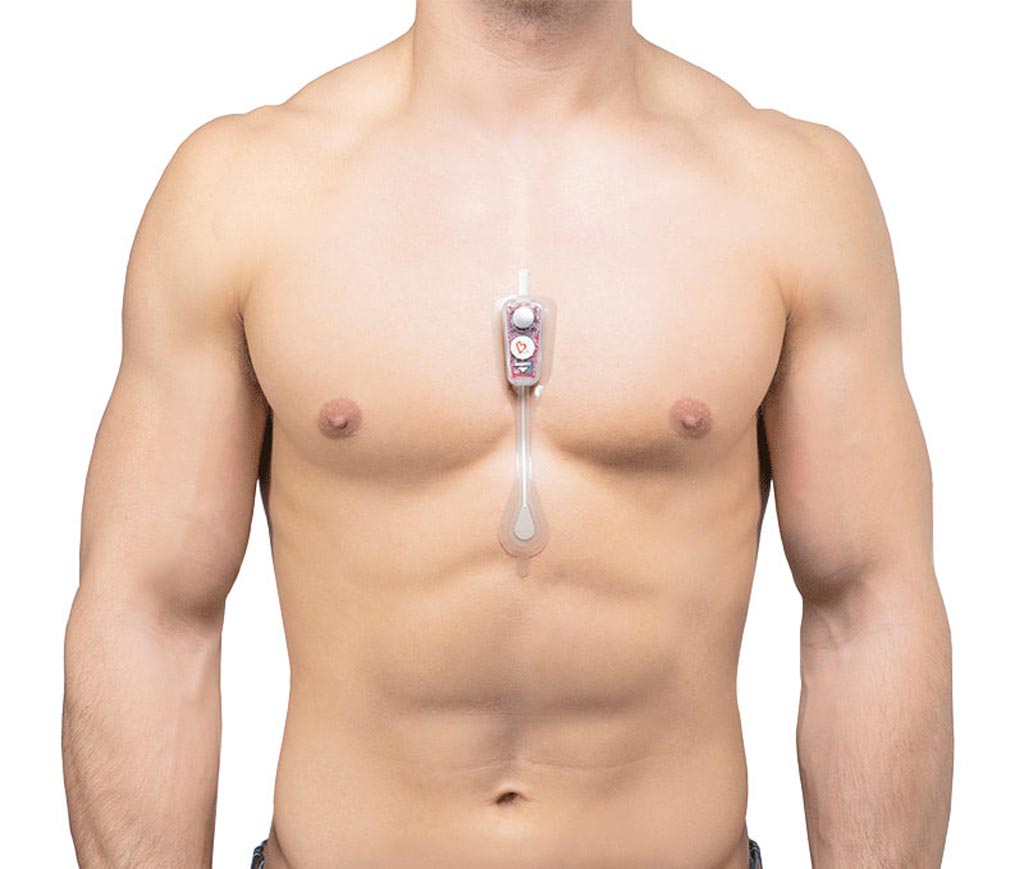 Advanced engineering and design allow detection of different concurrent arrhythmias, such as atrial flutter (AFL) and paroxysmal atrial fibrillation (PAF). With a typical monitor, AFL may be obscured by the presence of atrial fibrillation (AF), resulting in inadequate treatments and increased costs and risks to the patient. The slim, lightweight patch (17.5X0.94 cm in size, 13 grams in weight) enables use during activities of daily living, including exercising and bathing. In addition, the CAM form factor is specifically designed to be female-friendly and rest comfortably in the cleavage for up to seven days.
To further simplify diagnostics and reporting, BDxCONNECT, a companion patient management portal, provides healthcare professionals with a single system for creating, accessing, and managing patient CAM reports. BY linking the CAM patch to a suite of ECG analysis services and tools, BDxCONNECT can provide a single platform for sharing patient ECG data and reports, resulting in improved workflow and convenience for clinicians, an improved turnaround time, and real-time notifications and alerts when reports are ready.
"Recognition of the CAM patch and our P-wave centric platform as a breakthrough in ECG monitoring is a direct reflection of our team's dedication to developing and marketing inventive solutions that reveal the true message and meaning of a patient's cardiac rhythm, messages that are frequently ignored or missed using existing technologies," said Gust Bardy, MD, Founder and CEO of Bardydx, upon receiving the Frost & Sullivan award for technology innovation in remote cardiac monitoring.
The ECG P-wave is a summation wave generated by the depolarization front as it transits the atria, representing atrial depolarization. Normally the right atrium depolarizes slightly earlier than left atrium since the depolarization wave originates in the sinoatrial node, in the high right atrium and then travels to and through the left atrium. Depolarization originating elsewhere in the atria results in P-waves with a different morphology from normal.
Related Links:
Bardy Diagnostics

Latest Critical Care News
Other channels