Remote ECG Monitoring Solution Detects Elusive AF
By HospiMedica International staff writers
Posted on 21 May 2019
An innovative remote patient monitoring system records important physiological data such as heart rate, electrocardiogram (ECG), respiratory rate, and related activity for up to one month.
The Preventice Solutions (Houston, TX, USA) BodyGuardian Remote Monitoring System includes the BodyGuardian, a small, lightweight, wireless monitor that records vital signs and other important physiological data, and supplementary third-party connected sensors that capture further measurements such as blood oxygen saturation (SpO2), glucose levels, blood pressure (BP) and weight. Via Bluetooth connectivity to a smartphone, the system can connect between patients and their care teams, allowing physicians to monitor vital signs outside the clinical setting.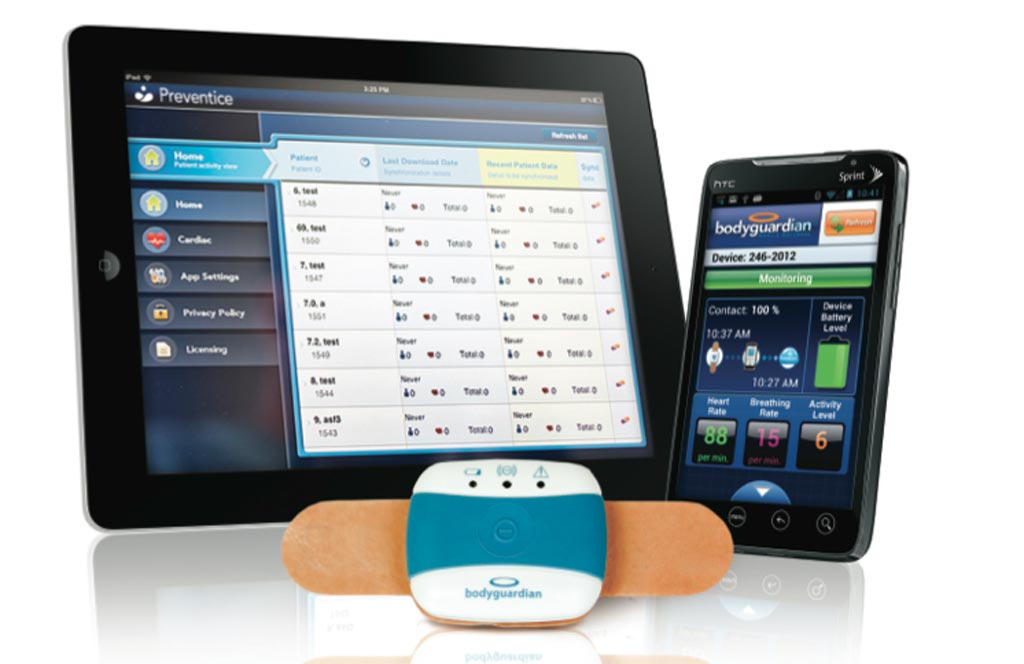 The system utilizes machine learning to remotely recognize atrial fibrillation (AF) and can integrate data into the electronic health record (EHR). In a study of the device in 25,457 patients designed to compare the incremental yield of AF detection over time, the results show at least one AF episode was present in 15.8% of patients during a 28-day monitoring period; 10.5% of these episodes would have been missed if the monitoring period had ceased at 14 days. The study was presented the annual Heart Rhythm conference, held during May 2019 in San Francisco (CA, USA).
"Medicine is moving away from the transactional approach, which involves the doctor only thinking about the patient when the patient is in the clinic," said lead author and study presenter Suneet Mittal, MD, of Valley Health System (Ridgewood, NJ, USA). "Remote monitoring is changing that paradigm because there is physiologic data that can be captured between visits and used to inform clinical decisions that will optimize care. It is critical to ensure the monitoring technology is fully leveraged to make an appropriate diagnosis and gauge the burden on the patient, which informs our treatment approach."
"We have developed the BodyGuardian Remote Monitoring System to address the critical needs of patients and physicians. We continue to understand, advance and validate the system based on clinical data," said Jon Otterstatter, CEO of Preventice Solutions. "Our technology was created with the full capability to monitor accurately and effectively for up to one month of data capture. This study shows the importance of leveraging full capabilities of the technology that can lead to complete actionable data and achieve the best outcomes for patients."
Growing clinical use resulting from increased incidence of cardiac disease and a rising aging population forces a greater reliance on algorithms in order to provide high-quality reporting in a timely manner. These factors are amplified in the case of mobile cardiac telemetry, where ECG is streamed directly to data processing centers, annotated, and may be used to quickly alert clinicians of potentially critical cardiac events.
Related Links:
Preventice Solutions
Valley Health System

Latest Critical Care News
Other channels