Electric Field System Offers Option for Treating Mesothelioma
By HospiMedica International staff writers
Posted on 04 Jun 2019
A novel tumor-treating fields (TTFields) device uses electromagnetic energy to disrupt cell division within malignant pleural mesothelioma (MPM) tumors that cannot be removed through surgery.
The Novocure (St. Helier, Jersey, United Kingdom) NovoTTF-100L system is a non-invasive, antimitotic cancer treatment that delivers TTFields to the region of the tumor. The system is intended for use in combination with Alimta (pemetrexed) and platinum-based chemotherapy as the first-line treatment of unresectable, locally advanced or metastatic, MPM. The system includes an electric field generator and four transducer arrays with insulated electrodes that produce alternating electrical fields on the upper torso that arrest the proliferation of tumor cells and destroy them.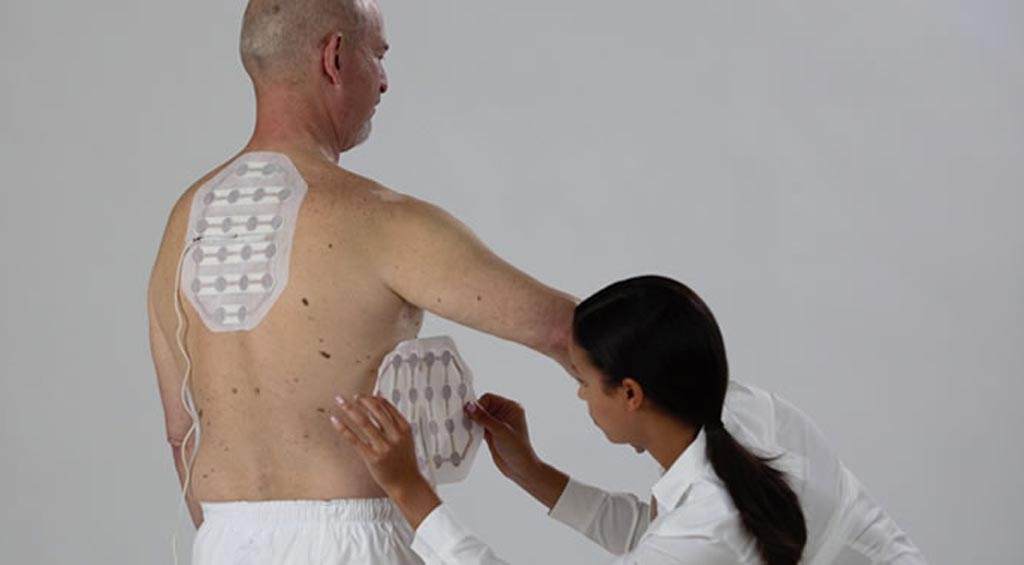 The TTField technology takes advantage of the characteristics and geometrical shape of dividing cells by altering tumor cell polarity at an intermediate frequency (on the order of 100-300 kHz), with the exact frequency specific to the cell type being treated. The intensities of the TTfields within the tissues are very small, and do not cause meaningful increase in tissue temperature. TTField thus has the advantage of being highly selective, and has not been associated with significant toxicity. The NovoTTF 1L also includes a power supply, portable battery, a charger, a connection cable, and a carrying case.
"Since 2000, we have been developing and commercializing tumor treating fields to extend survivals in some of the most aggressive forms of cancer," said Bill Doyle, executive chairman of Novocure. "FDA approval of NovoTTF-100L provides patients with the first treatment for MPM in more than 15 years and, as our first FDA-approved torso cancer indication, marks a major milestone for Novocure. We are thankful for the patients, caregivers and health care providers who partnered with us to make this possible."
"MPM is a devastating disease, with only 10-20%of patients being candidates for surgery to remove the tumor. Typically, mesothelioma patients who cannot have surgery receive palliative care to mitigate their symptoms," said Mary Hesdorffer, NP, executive director of the Mesothelioma Applied Research Foundation (Washington, DC, USA). "NovoTTF-100L provides unresectable MPM patients with a treatment option that may improve survival. We hope it is just the beginning of innovation in the treatment of this aggressive disease."
Mesothelioma develops from the mesothelium, with the most common area affected being the lining of the lungs and chest wall. Signs and symptoms include shortness of breath due to fluid around the lung, a swollen abdomen, chest wall pain, a cough, tiredness, and weight loss. More than 80% of mesothelioma is caused by exposure to asbestos, which can develop decades after exposure. Five-year survival is low, averaging about 8% in the United States.
Related Links:
Novocure

Latest Critical Care News
Other channels