Donor Kidney Transport System Preserves Organ Function
By HospiMedica International staff writers
Posted on 01 Jul 2019
A novel organ preservation and transport platform combines hypothermia and ultrasound to provide optimal conditions during transfer of a transplanted organ.
The Transplant Biomedicals (Barcelona, Spain) Vivian system is a single-use, disposable organ preservation device for kidney transport that is based on hypothermic ultrasound preservation technology (HUPT), a revolutionary proprietary and patented technology that leads to superior preservation of organs during ex-vivo conditions. HUPT works by activating intrinsic protective mechanisms that aid cell survival and tissue regeneration pathways during injury, as well as inducing preservation energy metabolism and inflammatory response reduction pathways.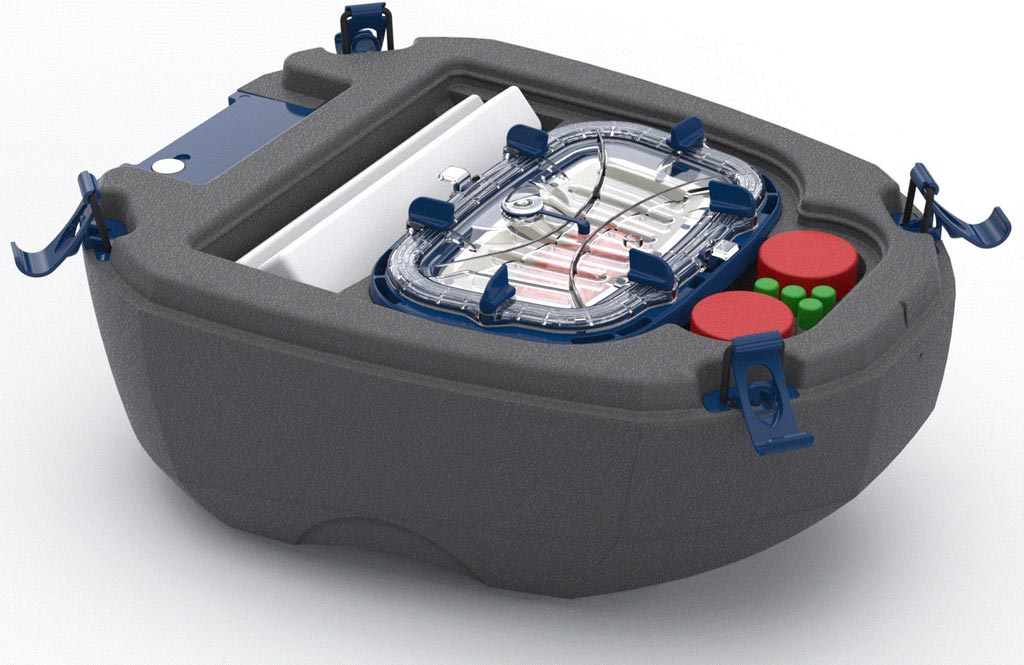 In the first-in-man safety and performance study of the system held at Hospital Clinic de Barcelona (HCB; Spain), results pointed to an excellent safety profile, with no events related with the device and no donor organs being discarded. Of the 32 patients enrolled in the prospective, single-arm, multi-center study who received a kidney from either brain death standard and extended criteria donors, Vivian was associated with a low (19%) overall rate of delayed graft function (DGF) at 30-days, with a short duration of DGF and length of hospitalization. No recipient suffered from graft primary non-function (PNF).
"A 19% rate of DGF is a remarkable achievement, in particular if we take into consideration the high proportion of cardiac arrest donors (61%) and the mean age (over 60-years) of the donor/recipient population included in the study," said senior author Fritz Diekmann, MD, head of HCB renal transplant unit. "These results are very encouraging for patients undergoing kidney transplantation, and surpass our clinical daily experience and those reported in the literature in comparison to static cold storage."
"We believe that Vivian is a platform with the profile of a true game changer in organ, tissue, and cells preservation market," said Joan Salgado, PhD, CEO of Transplant Biomedicals. "These interim results in kidney transplantation represent a boost to our mission of improving the outcomes in solid organ transplantation and to continue and accelerate further our development activities in cell and tissue preservation."
The cornerstone of traditional organ preservation is cold ischemic storage. Although this method is intended to reduce the extent of organ damage during transport, significant deterioration of the donated organ still occurs; the longer the organ is kept on ice, the greater the damage. Moreover, the cold storage technique does not enable any resuscitative assessment while the organ is being transported from donor to recipient.
Related Links:
Transplant Biomedicals
Hospital Clinic de Barcelona

Latest Critical Care News
Other channels