Injectable Cardiac Monitor Facilitates Arrhythmia Detection
By HospiMedica International staff writers
Posted on 17 Jul 2019
A novel injectable cardiac monitor (ICM) documents suspected arrhythmia or unexplained syncope, enabling faster diagnosis and appropriate treatment.
The BIOTRONIK (Buelach, Switzerland) Biomonitor III ICM is a remote monitor designed for highly accurate and reliable continuous detection of cardiac electrical events. The ICM comes pre-assembled in a one-piece injection tool device, which implants it under the skin with a very small incision, facilitating in-office treatments. The ICM comes fully integrated with the fully automatic, daily remote monitoring system developed specially for ICM devices, BIOTRONIK Home Monitoring. Due to automatic pairing, initialization, and data transmission no active patient involvement is required.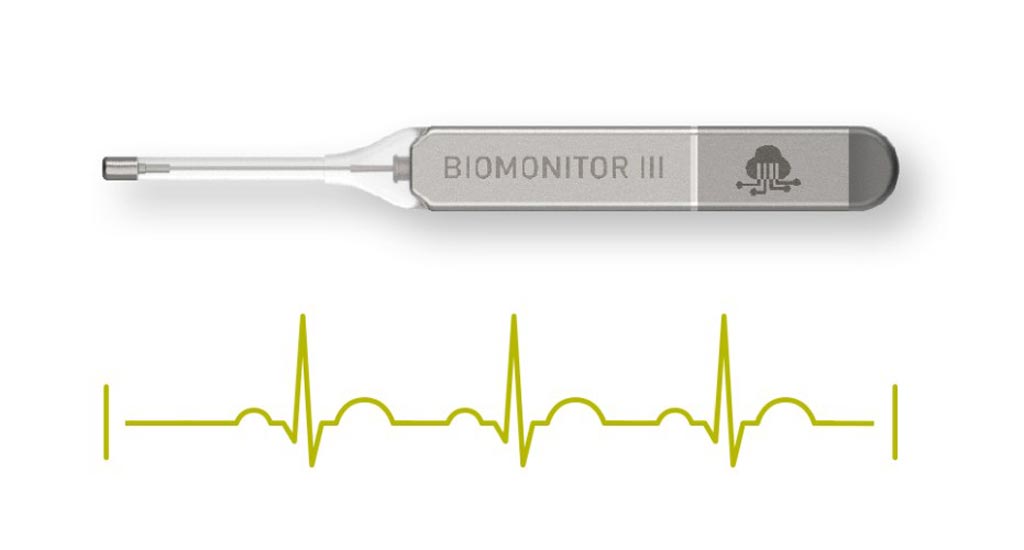 Biomonitor III also features BIOvector, a unique hybrid rigid-flexible footprint designed to improve sensing without sacrifice to patient comfort or cosmetic appearance, including a small and flexible sensing antenna. Biomonitor III also utilizes a lossless compression algorithm to ensure that high amplitude signal quality is available via the Home Monitoring system. Intelligent memory management prevents overwriting clinically relevant episodes in order to improve diagnostic workflow performance. In addition, a patient engagement app annotates symptoms, with automatic synchronization to BIOTRONIK Home Monitoring.
"This device maintains exceptional functionality in detecting arrhythmia, and its reduced size and novel delivery tool simplifies the injection procedure," said Ryan Walters, President of BIOTRONIK. "Physicians and patients can count on Biomonitor III to deliver timely and accurate data to identify potentially life-threatening cardiac arrhythmias faster and more confidently than ever before."
"Biomonitor ICMs have a proven track record for exceptional signal quality. Biomonitor III expands the existing diagnostic utility of these devices while simplifying the procedure," said Raul Weiss, MD, of Columbus (OH, USA). "Biomonitor III is an exceedingly small device with market-leading four year longevity. When physicians are not burdened by poor signal quality, clinically irrelevant data, inaccurate, or worse, missed detections, more time can be devoted to ensuring a timely and accurate diagnosis."
Biomonitor III is approved as magnetic resonance (MR) conditional for both 1.5T and 3.0T applications.
Latest Critical Care News
Other channels