Hydration Sensor Could Improve Kidney Dialysis
By HospiMedica International staff writers
Posted on 06 Aug 2019
A portable sensor can be used to accurately measure hydration levels using nuclear magnetic resonance (NMR) relaxometry, claims a new study.
Developed by researchers at the Massachusetts Institute of Technology (MIT, Cambridge, MA, USA), Massachusetts General Hospital (MGH; Boston, USA) and other institutions, the portable NMR sensor is designed to assess tissue fluid status in end-stage renal disease (ESRD) patients, who often experience swelling in the lower limbs due to excess extracellular fluid. The portable NMR sensor is based on the same technology as magnetic resonance imaging (MRI) scanners, but can be used to obtain measurements at a fraction of the cost and time, as there is no imaging involved.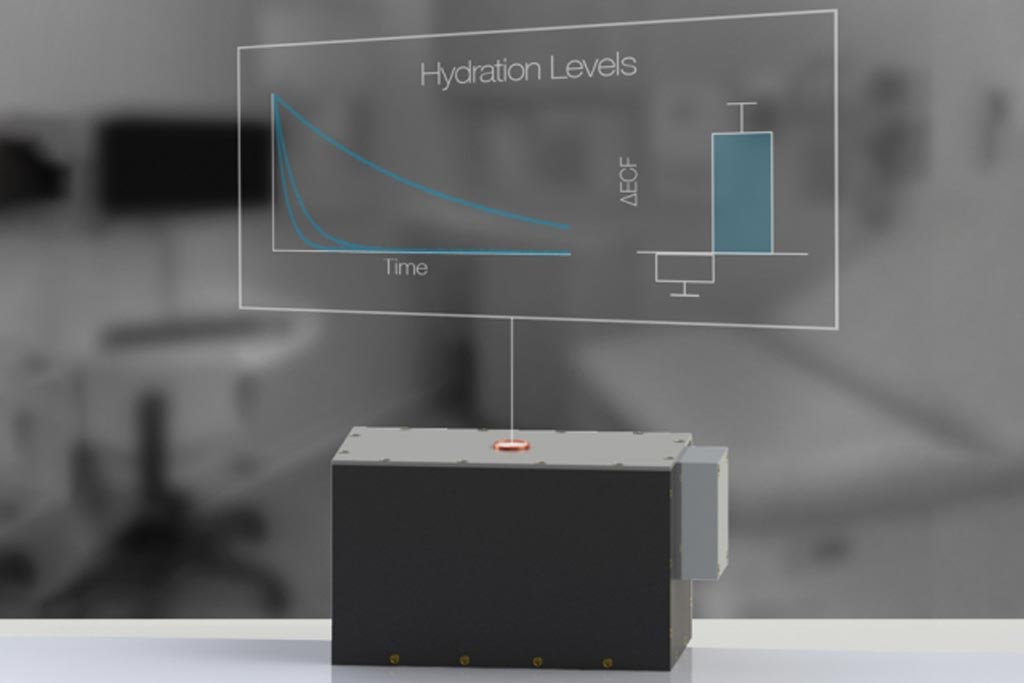 The sensor works by measuring hydrogen T2 relaxation time, which quantifies both the environment and quantity of hydrogen atoms (or water molecules). Study results showed that NMR relaxometry can distinguish healthy patients from those needing dialysis, and can also detect excess fluid in the body before traditional clinical signs are present. According to the researchers, the sensor could be used to determine when a patient reaches their true dry weight, and this determination could be personalized at each dialysis treatment. The study was published on July 24, 2019, in Science Translational Medicine.
"The beauty of magnetic resonance compared to other modalities for assessing hydration is that the magnetic resonance signal comes exclusively from hydrogen atoms. And most of the hydrogen atoms in the human body are found in water molecules," said lead author Lina Colucci, PhD, of MIT. "Such a device could be useful for not only dialysis patients but also people with congestive heart failure, as well as athletes and elderly people who may be in danger of becoming dehydrated."
"There's a tremendous need across many different patient populations to know whether they have too much water or too little water," said senior author Professor Michael Cima, PhD, of the MIT department of materials science and engineering. "Identifying fluid accumulation early has been shown to reduce hospitalization, but right now there are no ways to quantify low-level fluid accumulation. This is a way we could measure directly, in every patient, how close they are to a normal hydration state."
Related Links:
Massachusetts Institute of Technology
Massachusetts General Hospital

Latest Critical Care News
Other channels