Precision Device Tests All Defibrillators and Pacemakers
By HospiMedica International staff writers
Posted on 25 Sep 2019
A state-of-the-art defibrillator/ transcutaneous pacemaker analyzer tests and validates the functions of all semi and automated devices.
The Netech (Farmingdale, NY, USA) Delta 3300 combines the complete testing functions of a defibrillator tester, transcutaneous pacemaker analyzer, and a 12-Lead electrocardiogram (ECG) simulator into one compact, lightweight, and easy-to-use instrument. The analyzer measures both monophasic and biphasic waveforms, in external pacemakers, all defibrillators, and including automatic external defibrillators (AEDs). Functions include energy measurement, cardioversion measurement, peak discharge voltage and current, waveform storage and playback, simulation of 12-lead ECG, and arrhythmia waveforms.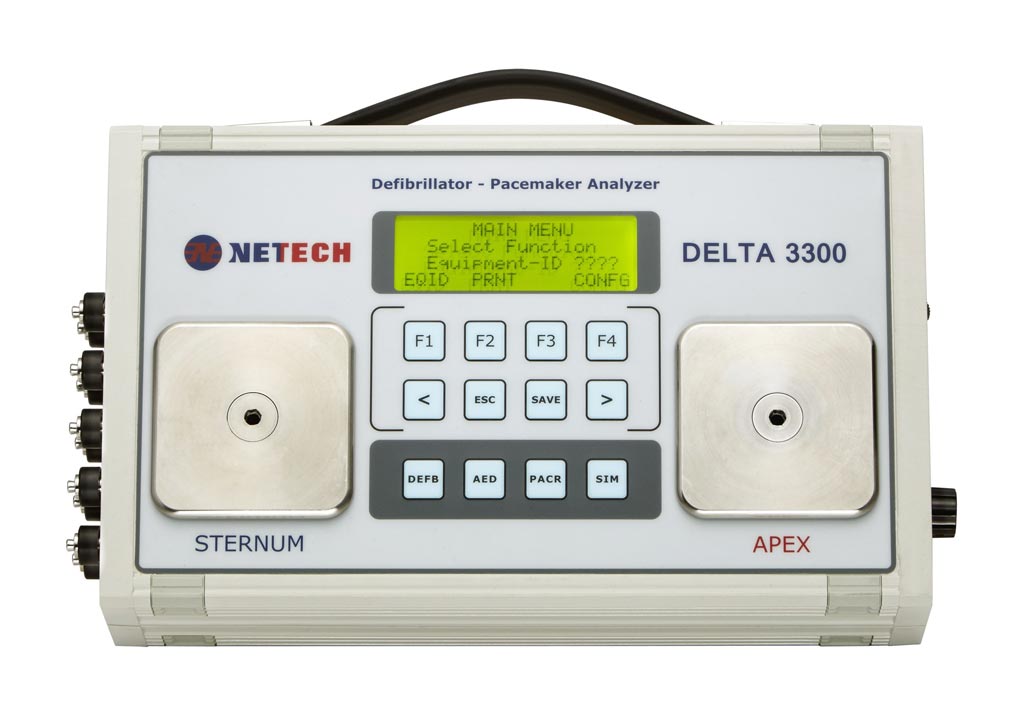 Transcutaneous measurement features of the Delta 3300 include pacer pulse rate, width, amplitude, energy, demand sensitivity, refractory period and immunity. Test results can be saved in the internal memory and uploaded to a PC and printed using ProComPrint software. Designed with field service personnel in mind, the Delta 3300 is housed in a compact ABS plastic case, with a large backlit liquid crystal diode (LCD) screen displaying clear and detailed results. A long-lasting, rechargeable Li-ion battery powers the device.
"For over 32 years, Netech has been a pioneer in designing innovative biomedical test instruments by consistently adapting to the changing needs of the industry. The Delta 3300 is the smallest and lightest defib analyzer in the market today," said Wijin Joe, national business development manager for Netech. "With a reputation for quality, reliability, and value, Netech's innovative products are designed using the newest technologies that demonstrate an unyielding commitment to the medical and other industries worldwide."
ECG simulation helps technicians and engineers analyze and service cardiac monitors and devices, train healthcare personnel, and as signal sources in the development process of new equipment. Advanced simulators provide full 12 lead ECG simulation, with features that include selectable rates varying from 30-350 BPM, and simulation of a range of arrhythmias, including ST elevation/depression, AV blocks, and ventricular and pacer waveforms.
Related Links:
Netech

Latest Critical Care News
Other channels