Pressurized Topical Oxygen Aids Diabetic Foot Ulcers Heal
By HospiMedica International staff writers
Posted on 13 Nov 2019
Topical wound oxygen (TWO
2
) therapy can lead to a fourfold increase in chronic diabetic foot ulcer (DFU) healing, according to a new study.
Researchers at Northwick Park Hospital (London, United Kingdom), Midwestern University (Glendale, AZ, USA), Montpellier University Hospital (France), and other institutions conducted a study involving 220 patients to assess the efficacy of multimodality cyclical pressure TWO
2
home care therapy in healing refractory DFUs that failed to heal with standard of care alone. Patients with diabetes and chronic DFUs were randomized to either active TWO
2
therapy or to sham control, which was operatively identical, apart from the delivery of oxygen.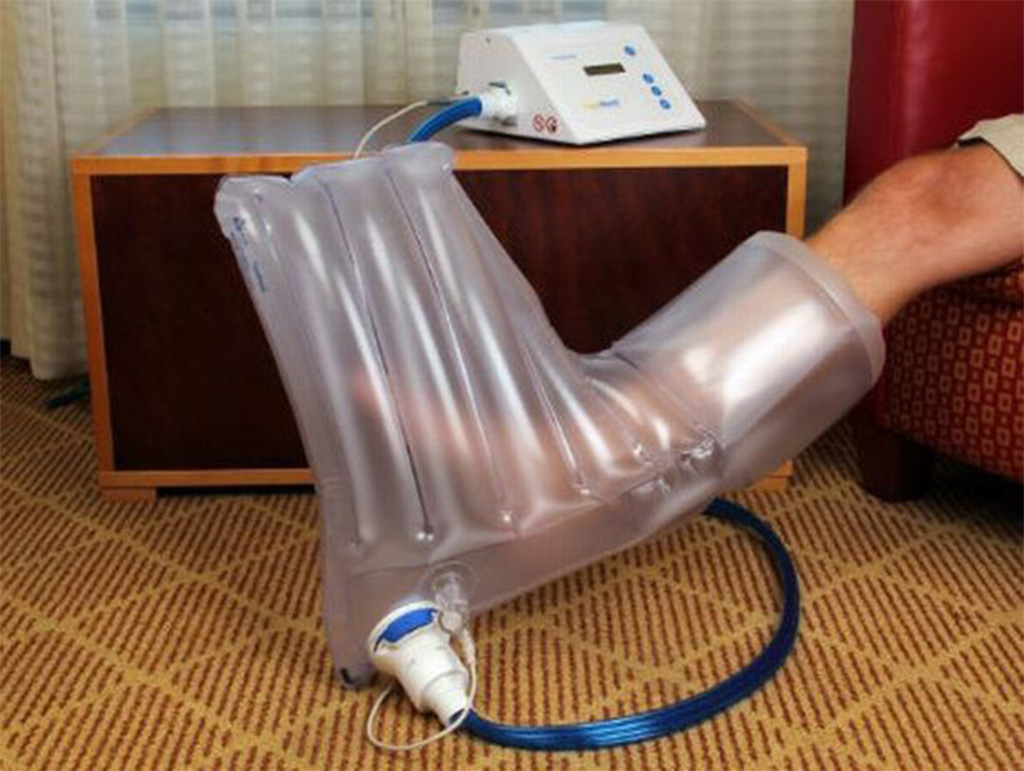 After training, the patients treated themselves at home for 90 minutes, five times per week for 12 weeks or until the wound healed, with dressing changes performed by the patient themselves or by caregivers. The patients also visited their local study center every week for wound assessment, debridement, and photography, during which diary cards recording therapy delivery and daily off-loading compliance were verified. The primary outcome was 100% healing at 12 weeks.
The results showed that active TWO
2
was superior to sham, with a closure rate of 41.7% at 12 weeks, as compared to 13.5% with standard care. After treatment was completed, the patients were followed for a maximum of 38 weeks, at which point wound closure assessment and quality of life questionnaires were administered. At that time, only one (6.7%) of 15 healed ulcers in the active arm recurred at 12 months, compared to two (40%) of five healed ulcers in the sham arm. Two patients in the active arm and three in the sham arm underwent index limb amputations. The study was published on October 16, 2019 in
Diabetes Care.
"TWO
2
should be made available for all chronic foot ulcers that are stalled and are not healing with standard care," said lead author Robert Frykberg, DPM, MPH, of Midwestern University. "You would never use an advanced therapy such as this on an acute wound initially, unless that wound had already failed a number of other treatments. Generally, you try well-accepted standard wound care for four weeks or so before you start considering advanced therapies, which is what this is."
Diabetes patients often suffer from nerve and circulation problems in the feet, which reduce their perception of pain. The nerve pathways that ensure that weight is automatically transferred from one foot to the other during prolonged standing are disrupted, and as a result, diabetics do not notice that their toes, heels, or the balls of their feet are too heavily loaded. The foot receives no relief, and DFUs, pressure sores, and infections may go unnoticed. Serious cases may even lead to amputation.
Related Links:

Northwick Park Hospital
Midwestern University
Montpellier University Hospital
Other channels