Sprayed Electrospun Fibers Bandage Wounds In Situ
By HospiMedica International staff writers
Posted on 20 Nov 2019
A new study describes how a portable electrospinning (ES) device can safely deposit bandages and drugs directly onto biological surfaces.
Developed by researchers at Montana Technological University (Butte, USA), the new portable electrospinning device utilizes combined electrostatic and air driven (EStAD) technologies to spray micro-to-nanoscale polymer fiber mats out onto a biological surface, like a can of spray paint. The combined EStAD system also contains a completely enclosed electric field, allowing safe and predictable deposition, since ES requires very high voltages; making direct deposition of the ES fibers onto biological material is dangerous due to the shock hazard it creates.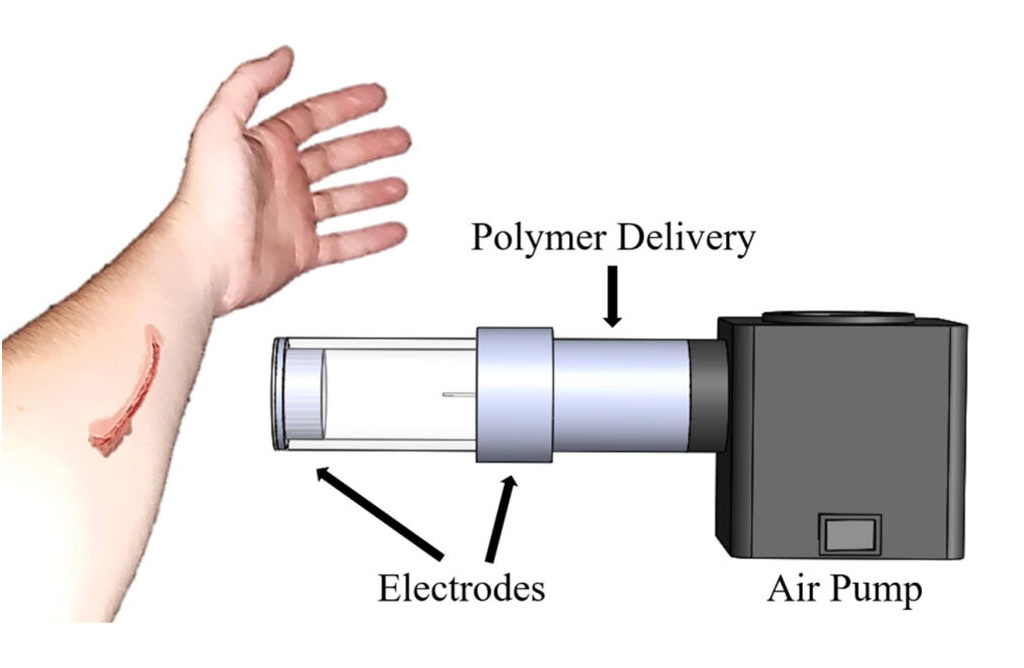 Biomedically relevant ES materials made using the EStAD device were tested on a porcine skin incision, as well as on a gloved human hand, showing successful deposition and use of antibacterial nanoparticle releasing fiber bandages. According to the researchers, the versatile nature of the EStAD device allows the deposition of the materials safely and predictably on charged and uncharged surfaces that are flat or complex, further broadening the applications of ES and providing ease of access to nanomanufacturing of electrospun materials. The study was published on November 12, 2019, in
Journal of Vacuum Science & Technology B.
"In spray painting, pressurized gas forces particles toward a surface, creating a deposited material. Like spray painting, the EStAD device is used by directing its nozzle at the desired surface during operation, causing a fiber mat to be deposited onto that surface," said lead author mechanical engineering graduate student Lane Huston, MSc. "By applying this spray paint-like mechanism, this device can be used to cover wounds and provide controlled drug release over time. The deposited fibers adhere to materials containing internal moisture, such as human skin."
Electrospinning technology allows tight control of matrix characteristics, including shape (flat, tubular, or contoured); size (length, width, and thickness); fiber diameter; pore size; and porosity (0%-95%). Both natural materials such as collagen, chitosan, or DNA can be used, as well as stable or biodegradable polymers, such as polylactic-co-glycolic acid (PLGA), poly-L-Lysine (PLL), polyvinyl alcohol (PVA), and other. Many additives can be incorporated as well, such as drugs and nanoparticles, either inside, on the surface, or between the fibers. The final product can be formed as a single or multilayer mesh, a film, gels, or coatings, and either transparent or opaque.
Related Links:

Montana Technological University
Other channels