Integrated Airway System Reduces Ventilation Complications
By HospiMedica International staff writers
Posted on 26 Nov 2019
A comprehensive multi-purpose airway management system protects the lungs and tracheal tissues from infections and tissue injury.
The Hospitech Respiration (Kfar Saba, Israel) AnapnoGuard system is designed to provide persistent monitoring of leaks around an endotracheal tube (ETT) cuff and adjust cuff pressure automatically to ensure sealing at minimal pressure, minimizing induced pressure on the trachea tissue. In addition, the system evacuates subglottic secretions by simultaneous suction and rinsing. The system includes the ETT, a cuff pressure monitor, a carbon dioxide (CO2) monitor, and additional irrigation and secretions evacuation modules. There is therefore no direct or indirect contact between the secretions and any of part of the control unit.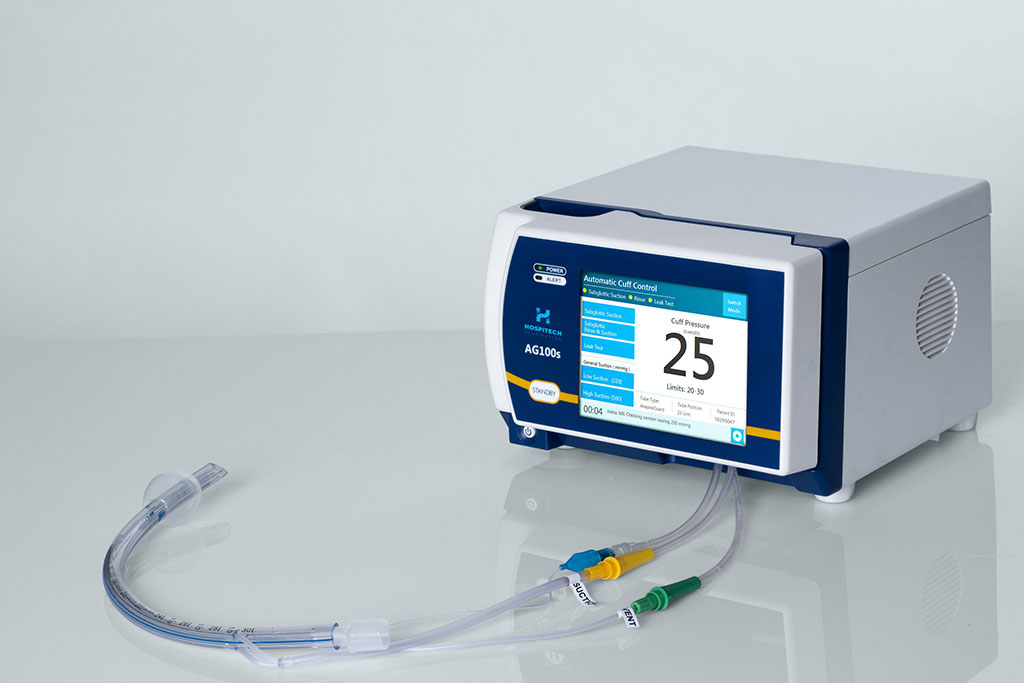 The AG100s unit, which controls all functions, includes components that monitor leaks between the ETT cuff and the trachea by measuring local CO2 levels in the subglottic area (every millisecond) through a dedicated lumen in the ETT. It also adjusts cuff pressure within the envelope of pressure limits defined by clinicians, or alerts them to decide if adjustment of cuff pressure if needed. The device is designed so that secretions pass only through a disposable, single use connection kit, and the opening and closing of the silicone piping is controlled by external pressure via pinch valves.
"The AG100s Control Unit serves as an integrated, multi-purpose airway management system, highly effective in protecting the lungs and tracheal tissues from infections and tissue injury," stated the company in a press statement. "The AnapnoGuard Endotracheal Tube provides an advanced solution to well-known complications related to prolonged mechanical ventilation, which prevents potential infections and injury of the trachea and vocal cords."
The principal function of the ETT cuff is to seal the trachea from leakage of gas or secretions around it. Isolation of the lower airways enables efficient lung ventilation and reduces the risk of aspiration around the cuff and the consequential ventilator associated pneumonia (VAP). Intra cuff pressure is influenced by airway anatomy, cuff location, cuff material and structure, size and volume, and by peak inspiratory pressure, and should be dynamically adapted to changing conditions such as patient and head position, mucosal edema, tracheal mucosa perfusion pressure, tracheal elasticity, and ventilation pressures.
Related Links:

Hospitech Respiration
Other channels