Next-Generation Patient Monitor Promotes Proactive Care
By HospiMedica International staff writers
Posted on 05 Dec 2019
A new vital signs monitor calculates risk-based alerts that allow clinicians to identify subtle signs of patient deterioration.
The Royal Philips (Amsterdam, The Netherlands) EarlyVue VS30 vital signs monitor is designed to enhance workflow efficiencies by capturing and displaying patient data at the bedside, and securely transmitting it directly into the hospital's electronic medical record (EMR), supporting gap-free patient records. When conditions require closer attention, the VS30 can be switched from spot check to automatic (programmable) interval monitoring of critical vital signs such as noninvasive blood pressure, oxygen saturation (SpO
₂
), pulse, CO
₂
, and respiration rate. The monitor also includes Masimo (Irvine, CA, USA) rainbow SET options.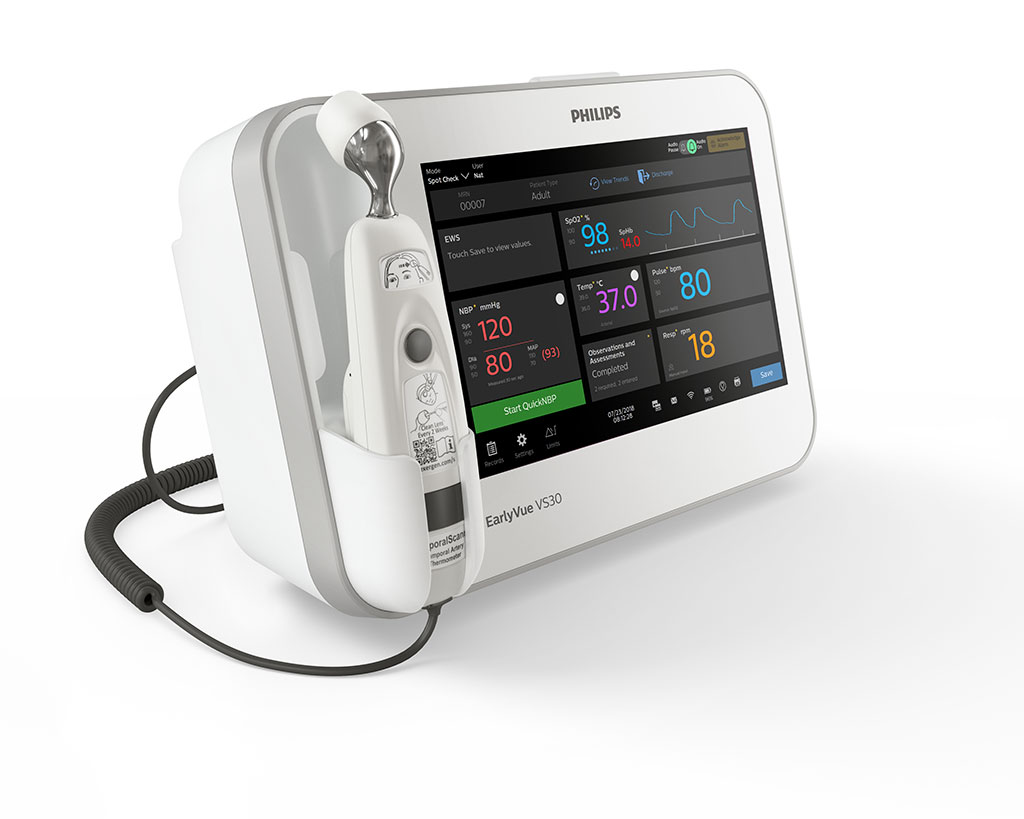 Full patient assessments can be configured with up to 35 customizable fields using QuickCapture, which is linked to the automated Early Warning Scoring (EWS) algorithm, thus expediting timely interventions and improving patient care and ensuing outcomes. EWS works by issuing QuickAlerts whenever vital signs deterioration is identified. A monitor-to-monitor data sharing feature helps notify doctors, nurses, and other staff members across the healthcare facility that a QuickAlert has been issued.
An intuitive user interface and 10" touchscreen display help shorten staff learning curves and reduce training time. Features include auto-population of user and patient demographics with a license-free barcode scanner, reducing the potential for manual transcription errors. EarlyVue VS30 streams patient data directly to the EMR or the hospital information system (HIS) via HL-7 or IntelliBridge Enterprise protocols. A risk-based, in-depth security approach unites Linux OS, secure Wi-Fi with optional FIPS 140-2, and a variety of configuration choices to protect the privacy of patients and the integrity of their data.
"With preventable patient adverse events and clinical workflow issues on the rise, it's imperative that the healthcare industry looks for ways to alleviate these challenges," said Peter Ziese, business leader of monitoring and analytics at Philips. "Integrated technology with smart algorithms, like EarlyVue VS30, can benefit both clinicians and patients by limiting transcription errors and providing early risk-based alerts for timely interventions – allowing clinicians to confidently and proactively deliver care."
The EarlyVue VS30 Philips integrates with the Philips Device Management Dashboard, a convenient tool that offers central management of all Philips network-capable devices from a remote location, including monitor configuration, software upgrade installations, monitoring of device performance, battery life management, and more.
Related Links:

Royal Philips
Masimo
Latest Critical Care News
Other channels