ECMO Effective in COVID-19 Respiratory Failure Patients
By HospiMedica International staff writers
Posted on 01 Sep 2020
A new study finds that extracorporeal membrane oxygenation (ECMO) for COVID-19 patients' suffering from severe respiratory failure is safe and effective.
Researchers at Rush University Medical Center (Chicago, IL, USA) and Advocate Christ Medical Center (Oak Lawn, IL, USA) conducted a retrospective study of 40 consecutive COVID-19 patients with severe respiratory failure between and who were supported via ECMO. A single-access, dual-stage right atrium-to-pulmonary artery cannula was implanted, following which ventilation was discontinued while the patient continued to receive ECMO. Primary outcome was survival following safe discontinuation of ventilatory and ECMO supports, with emphasis on early extubation.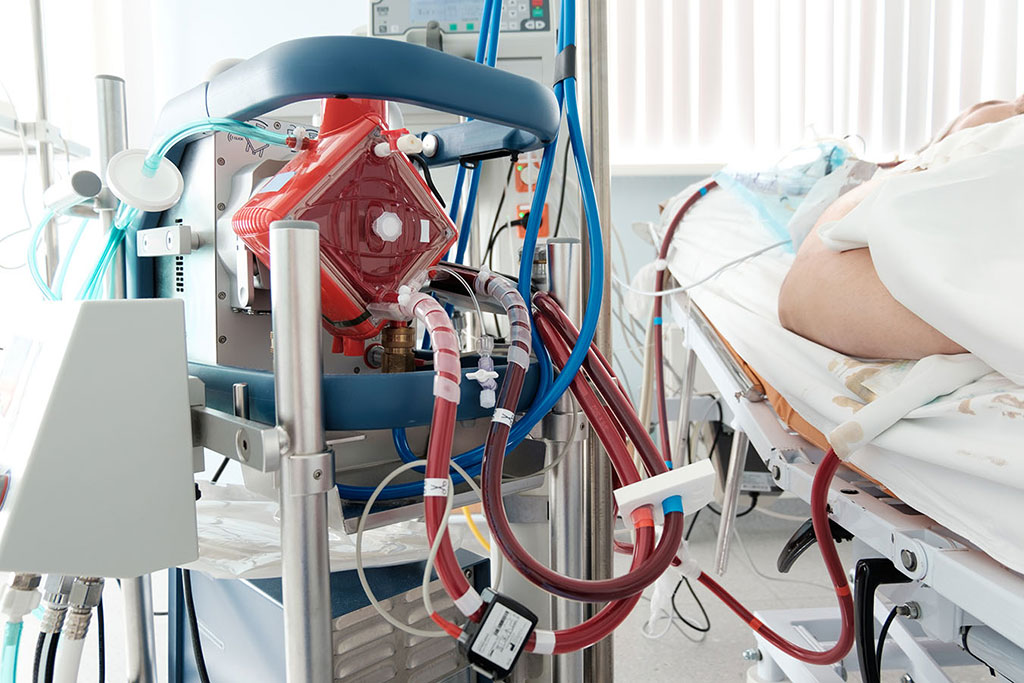 Demographic data revealed that mean age was 48.4 years, 75% were men, 40% were African American, and 35% were Hispanic. Obesity was the primary preexisting condition in 70% of patients. All patients reached maximum ventilator support, with 90% placed in a prone position, paralyzed, or both; 11 patients could not be placed in a prone position because of increasing hemodynamic instability and/or worsening oxygenation or ventilation with pronation. All patients demonstrated considerably elevated levels of inflammatory markers, such as D-dimer and ferritin, prior to ECMO use.
The three-month results showed that ventilator support was successfully discontinued in all patients, resulting in a mean time of 13 days from ECMO initiation to extubation, at which time 80% of the patients were no longer receiving ECMO care. Complications were minimal, with no ischemic strokes, inotropic support, or tracheostomies performed. Mortality was 15% (six patients in all). The study was published on August 12, 2020, in
JAMA Surgery.
"The single-access, dual-stage cannula offered several advantages: direct pulmonary artery flow, thus improving oxygenation and ventilation; early mobility once off the ventilator; minimal cannula-associated complications or revisions; and finally, support of the right side of the heart in case of right ventricular dysfunction," concluded lead author Asif Mustafa, MD, PhD, and colleagues. "Given the higher prevalence of associated mortality with acute cor pulmonale in patients with COVID-19, protecting the right side of the heart was critically important."
ECMO is a form of veno-venous extracorporeal life support (VV ECLS), an emerging therapy designed to provide a higher level of life support by infusing oxygen directly into the blood using an oxygenator that acts as an artificial lung. A tapered cannula provides omni-directional flow, optimizing gas exchange and reducing stress on the right side of the heart.
Related Links:

Rush University Medical Center
Advocate Christ Medical Center
Other channels