FDA Cleared Sepsis Test Becomes First in New Class of ED-Focused Diagnostic Tools
By HospiMedica International staff writers
Posted on 23 Jan 2023
Sepsis is a leading cause of death across the world and causes over 270,000 deaths annually in the U.S. It is caused by the body's overwhelming life-threatening response to an infection, which triggers a chain reaction and rapidly leads to tissue damage, organ failure, and death. If sepsis remains untreated, the risk of death from the condition increases by 8% every hour. Almost 80% of sepsis deaths can be prevented with rapid diagnosis and treatment - making early detection vital to improving clinical, operational, and financial outcomes. Now, a new test has received U.S. Food and Drug Administration (FDA) 510(k) clearance to aid in the early detection of sepsis for the 30 million adult patients who present to US emergency departments (ED) annually with signs and symptoms of the infection.
Cytovale's (San Francisco, CA, USA) IntelliSep sepsis test is the first FDA-cleared diagnostic tool to assess cellular host response to aid in identifying ED patients with sepsis and contribute to rapid life-saving decisions. The groundbreaking diagnostic tool provides test results in less than 10 minutes, helping clinicians to recognize sepsis and supporting critical time-sensitive clinical decisions. The first in a new class of ED-focused diagnostic tools that assess host response, the IntelliSep sepsis test is a simple, fast, and intuitive solution that provides actionable answers directly from a standard blood draw.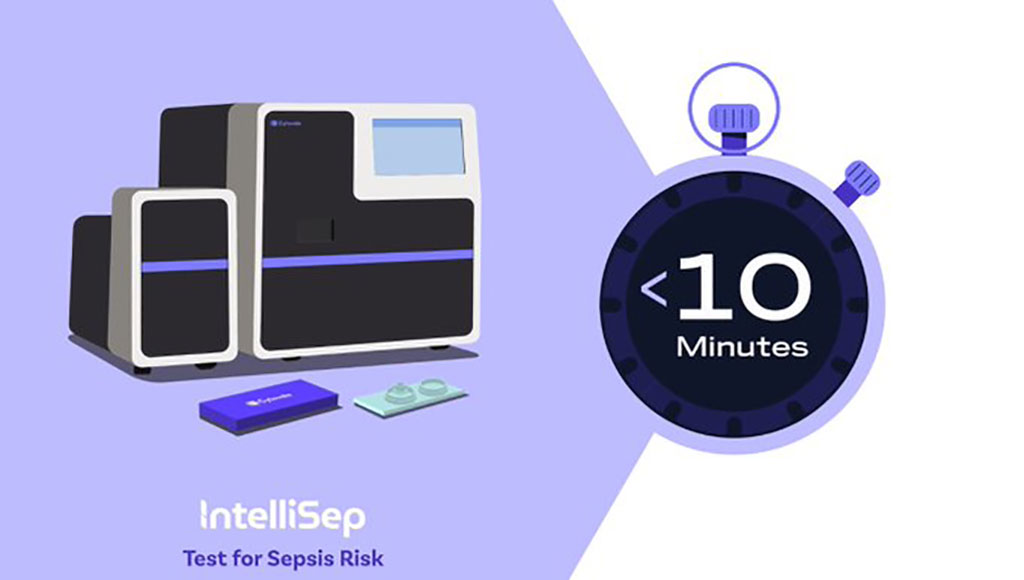 IntelliSep's innovative technology, which is run on the Cytovale System, assesses the body's immune response to an infection using immune cell morphology. The biophysical properties of white blood cells from septic patients demonstrate distinct changes when subjected to pressure that are captured in images and then characterized using a proprietary algorithm to produce a result. By applying pressure to tens of thousands of cells and observing their reaction, IntelliSep provides valuable new insights related to sepsis.
IntelliSep categorizes patients into three bands depending on their probability of sepsis, with Band 1 indicating a low probability of sepsis and Band 3 indicating a high probability of sepsis. The results can equip providers with a tool to optimize clinical outcomes and empower hospitals to improve resource utilization and achieve operational excellence. IntelliSep can also support hospital efforts to meet guidelines set by the Centers for Medicare & Medicaid Services (CMS) for timely sepsis treatment, known as SEP-1.
"This clearance is a pivotal step forward in Cytovale's commitment to early detection technologies to improve health," said Cytovale co-founder and CEO Ajay Shah. "Every minute is crucial in identifying sepsis, and IntelliSep has the potential to transform clinical approaches to sepsis triage and diagnosis and save countless lives."
Related Links:
Cytovale 

Visit expo >