First-of-Its-Kind Electronic Skin Patch Enables Advanced Health Care Monitoring
By HospiMedica International staff writers
Posted on 31 Jan 2023
For some time now, electronic skin (E-skin) patches have been used to monitor bodily physiological and chemical indicators of health. Such monitors, placed on the skin, are capable of measuring various parameters like body motions and temperature, skin hydration, different metabolic biomarkers, and brain and heart functionality (via electrocardiograms and electroencephalograms). A skin-sensing patch usually consists of a sensor layer, which converts physical information into electrical signals, positioned on top of a flexible, stretchable substrate layer that rests on the skin and is resistant to mechanical deformation. However, most current substrates have mechanical and biological incompatibilities along with poor breathability, thereby hampering multi-sensing ability and resulting in skin irritation and inflammation, particularly after long-term use. Additionally, most current substrates cannot be recycled or disposed off in an environmentally friendly manner.
Now, scientists from the Terasaki Institute (Los Angeles, CA, USA) have addressed these problems by using a novel gelatin-based, highly porous substrate to devise a first-of-its-kind E-skin patch for advanced healthcare monitoring. Using an optimum choice in materials and a novel fabrication method, the E-skin patch provides simultaneous, continuous monitoring of multiple bodily parameters, along with providing temperature-moisture management and breathability. By opting for gelatin methacryloyl (GelMA) to fabricate their substrate, the researchers managed to meet the need for biocompatibility, biodegradation, self-adhesion, and tissue-like mechanical properties.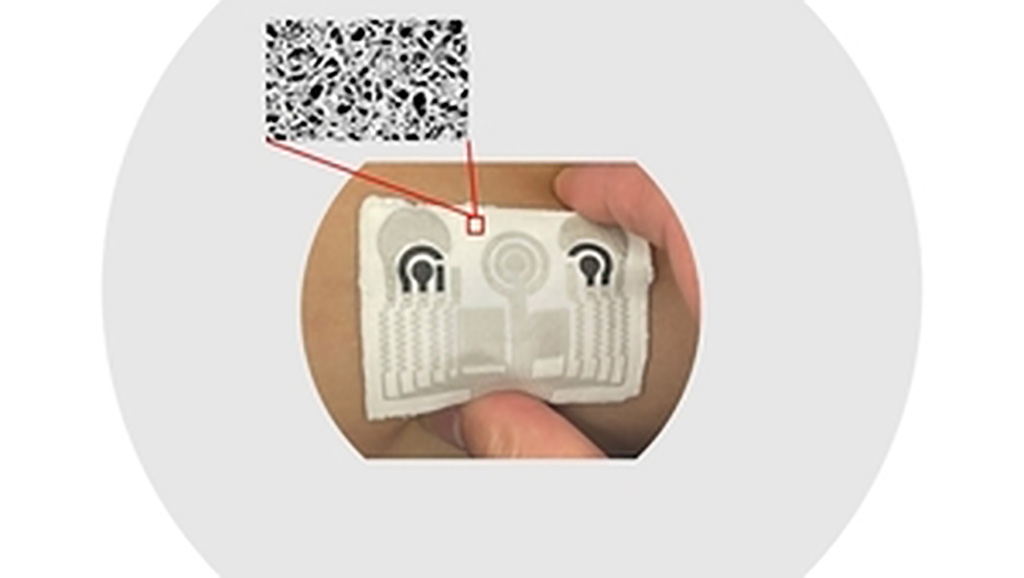 However, the need for breathability and moisture control still posed a challenge. It was possible to achieve permeability in GelMA by rendering it into a porous aerogel form, although the resultant aerogel was brittle, making it unsuitable for skin-sensing substrates. The TIBI researchers resolved this issue by carefully examining the effects of cryofreezing on GelMA flexibility and using their understanding to develop a novel method for overcoming the brittleness of GelMA aerogels. Their method led to the creation of a GelMA aerogel that is flexible, breathable, ultralight, and moisture/air-permeable, on account of its highly uniform and interconnected pores and their potential for three-dimensional capillary action. The substrate's enhanced capabilities also allowed the researchers to screen-print integrated multifunctional sensors onto the substrate, which could then be placed on the skin to simultaneously stimulate sweat excretion and extraction of interstitial fluid just below the surface of the skin. This enables continuous and multifunctional monitoring of bodily parameters like skin temperature and hydration levels, electro-cardiac measurements, and metabolic markers such as glucose, alcohol, and lactic acid.
The researchers validated these functions by using the new E-skin patch in a series of tests measuring the effects of glucose and alcohol-containing diets on subjects performing strenuous exercise. A comparison of the results against various individual commercial measurement devices showed that there was a good correlation. The researchers conducted further tests that validated the new E-skin's superior flexibility, thermal cooling abilities, and fluid absorption over conventional brittle aerogel substrates, and also demonstrated excellent biocompatibility and biodegradation without any skin irritation. Additionally, the E-skin is biodegradable, thus eliminating the need for environmentally harmful waste disposal. Such an innovative multi-sensing device can provide a more accurate, real-time patient physiological profile. It will also be particularly beneficial for patients having several interrelated health conditions, like those with insulin-dependent diabetes who are prone to severe effects from glucose and alcohol and need to closely monitor their consumption. The E-skin can also find other applications by using different approaches, such as integrating additional simultaneous physiological measurements, coupling with drug delivery systems for therapeutic indications, and incorporating a wireless system for increasing convenience for patients.
"The advancements described here pave the way for producing next-generation electronic skin devices," said Ali Khademhosseini, Ph.D., TIBI's Director, and CEO. "They will be valuable tools in healthcare management, offering the best in accurate, real-time monitoring for real-life situations."
Related Links:
Terasaki Institute
Other channels