Smartphone Diagnostic System Detects Anemia Using Simple Photos
By HospiMedica International staff writers
Posted on 10 Mar 2023
Anemia is a medical condition characterized by a lowered concentration of hemoglobin in the bloodstream. This condition impairs the efficient transport of oxygen throughout the body. It affects roughly two billion people worldwide and can have significant developmental consequences in children, including heightened vulnerability to infectious diseases and cognitive impairment. Iron deficiency is the most prevalent cause of anemia globally, but other conditions such as blood loss, malaria, and sickle-cell disease also contribute. Typically, diagnosing anemia requires blood samples to be drawn, which can be costly for both patients and healthcare systems. It can lead to disparities related to the expense of traveling to a medical center for a blood test. As samples must be transported between the clinic and the laboratory for analysis, families often have to make two trips, one to submit the blood sample and another to collect the results.
Now, researchers have developed a new non-invasive diagnostic method that predicts the presence of anemia in children using a collection of smartphone photographs. The screening tool could make anemia screening more widely available for children in regions with high rates of the condition as a result of iron deficiency, as it is much cheaper than the prevalent options and provides results in one sitting. The method was developed by researchers at University College London (UCL, London, UK) and University of Ghana (Accra, Ghana) who investigated the novel non-invasive diagnostic technique that utilizes smartphone photos of the eyes and face. This same research team had previously studied the viability of using an app called neoSCB to detect jaundice in newborn babies.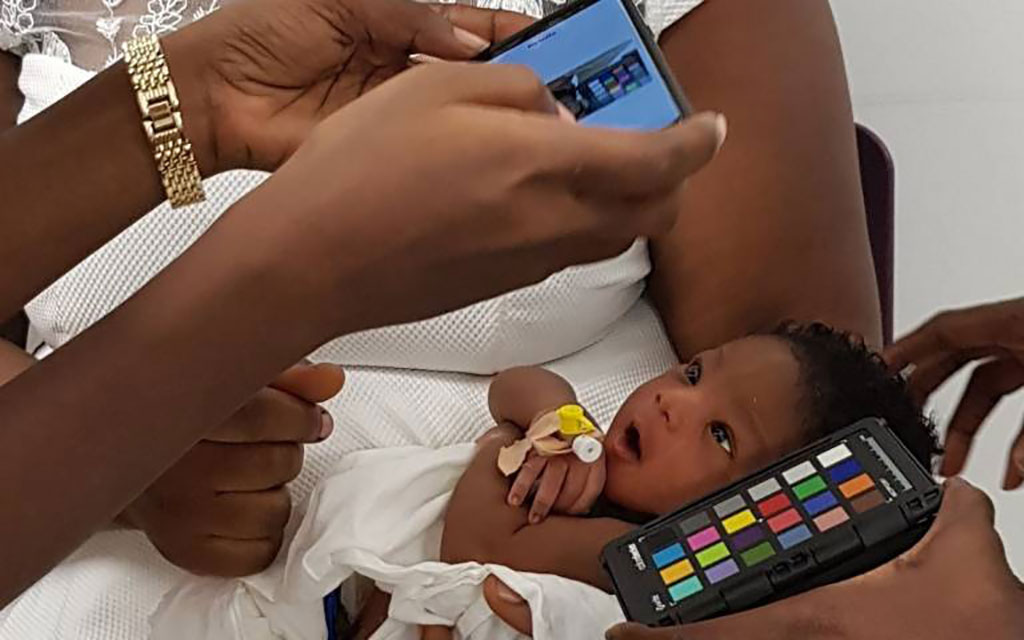 The research team aimed to devise a technique that could utilize smartphone photographs to identify the presence of anemia by exploiting the unique light-absorption properties of hemoglobin, which imparts a characteristic hue to it. They analyzed photographs taken from 43 children under the age of four, who had been recruited for the study in 2018. The photographs were obtained from the areas surrounding the eyes and lips, where skin pigmentation is sparse. The team discovered that by assessing these areas collectively to predict the hemoglobin concentration in blood, they were able to identify the most severe instances of anemia accurately. Additionally, this approach detected milder cases of anemia at rates that have the potential to be beneficial in clinical practice.
"Smartphones are globally popular, but research using smartphone imaging to diagnose diseases shows a general trend of experiencing difficulty when transferring results to different groups of people," said first author, PhD candidate Thomas Wemyss (UCL Medical Physics & Biomedical Engineering). "We are excited to see these promising results in a group which is often underrepresented in research into smartphone diagnostics. An affordable and reliable technique to screen for anemia using a smartphone could drive long-term improvements in quality of life for a large amount of people."
Related Links:
UCL 
University of Ghana 
Other channels