World's First Wireless, Wearable Doppler Ultrasound System Aids in Sepsis Management
By HospiMedica International staff writers
Posted on 15 Mar 2023
Timing is crucial when caring for patients with sepsis. Upon a patient's arrival at a hospital suffering from sepsis, the initial course of action is to provide them with intravenous (IV) fluids. However, not all patients benefit from this method, and in fact, some may experience negative side effects from excessive IV fluid use, even at the early stages of treatment. This excess fluid can lead to complications, such as a longer hospital stay and more complicated care. While current tools can measure fluid response, they are often inconvenient and time-consuming. Now, a first-of-its-kind first wireless, wearable Doppler ultra-sound system aids clinicians in better managing IV fluid therapy during the early stages of sepsis care.
FloPatch, an innovative new technology from Flosonics Medical (Sudbury, ON, Canada), monitors blood flow in real-time. The FDA-approved device offers a fast, simple, and reliable way to measure changes in heart function. The device is placed on the patient's neck and continuously assesses blood flow in the carotid arteries, which are the main arteries supplying blood to the face, brain, and neck. The data collected is then wirelessly transmitted to a secure iOS mobile application, providing clinicians with actionable and real-time data at the bedside. As an easy-to-use, hands-free device, the FloPatch can be deployed in less than one minute.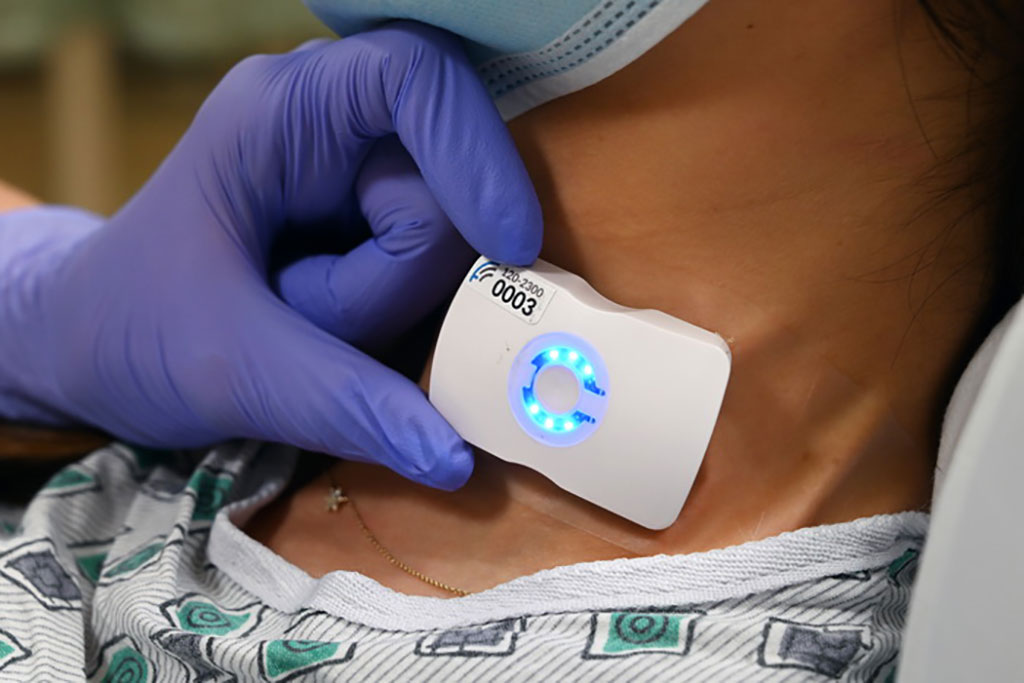 FloPatch's advanced analytics engine quantifies and displays changing metrics during an assessment, improving a clinician's ability to administer more precise fluid treatment and leading to better care for patients. A recent study demonstrated that four to five patients can avoid potentially dangerous fluid overload in the emergency department for every 10 FloPatch assessments performed, resulting in improved patient outcomes and significant cost savings.
"FloPatch is more than an innovative ultrasound system, it is a new paradigm linking physiology and resuscitation medicine," said Dr. Jon-Emile Kenny, chief medical officer at Flosonics Medical.
Related Links:
Flosonics Medical
Other channels