Crocodile-Skin-Inspired Omnidirectionally Stretchable Pressure Sensor Could Find Diverse Healthcare Applications
By HospiMedica International staff writers
Posted on 23 Mar 2023
Creating electronic skin with multiple senses is crucial for numerous fields, such as healthcare, rehabilitation, prosthetic limbs, and robotics. A critical element of this technology is stretchable pressure sensors that can identify different types of touch and pressure. A team of researchers has now achieved a significant breakthrough by developing omnidirectionally stretchable pressure sensors modeled after crocodile skin.
Researchers at Pohang University of Science and Technology (POSTECH, Gyeongbuk. Korea) and the University of Ulsan (Ulsan, Korea) were inspired by the distinctive sensory organ present in crocodile skin and created pressure sensors with microdomes and wrinkled surfaces. This innovative approach resulted in the development of an omnidirectionally stretchable pressure sensor. Crocodiles, fearsome predators that spend most of their time submerged underwater, possess an exceptional ability to detect small waves and determine the direction of their prey. This ability is facilitated by an extremely complex and sensitive sensory organ located on their skin that comprises hemispheric sensory bumps arranged in a recurring pattern with wrinkled hinges in between. When the crocodile moves, the hinges deform, while the sensory part remains unaffected by mechanical deformations, allowing the predator to retain an extraordinary level of sensitivity to external stimuli when it is swimming or hunting underwater.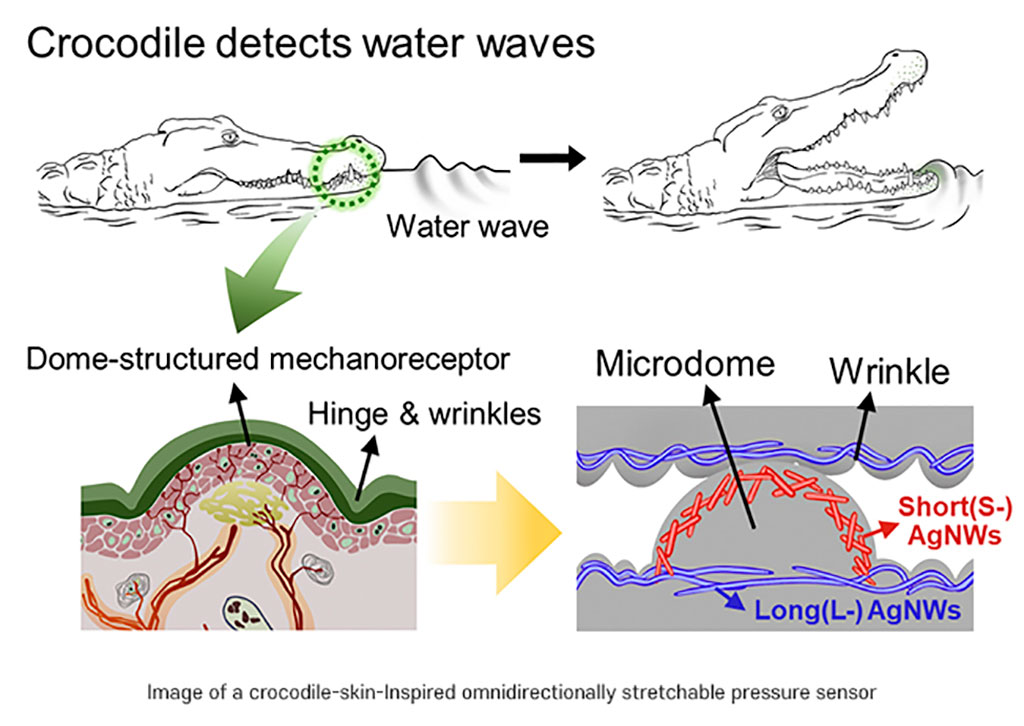 The research team successfully replicated the structure and function of the crocodile's sensory organ, resulting in a remarkably stretchable pressure sensor. To achieve this, they developed a hemispheric elastomeric polymer with intricate wrinkles, containing either long or short nanowires. This led to the development of a device that surpasses the performance of currently available pressure sensors. Other sensors lose their sensitivity when subjected to mechanical deformations, while the newly developed sensor retains its sensitivity even when stretched in one or two different directions. The delicate wrinkled structure on the sensor's surface enables it to maintain high pressure sensitivity, even when subjected to substantial deformation.
The sensor's wrinkled structure unfolds and reduces stress on the hemispheric sensing area that is responsible for detecting applied pressure when an external mechanical force is applied, allowing the sensor to maintain its pressure sensitivity even under deformations. This exceptional sensitivity to pressure allows the sensor to maintain its performance even when stretched up to 100% in one direction and 50% in two different directions. The new stretchable pressure sensor could be ideal for a wide range of wearable devices with diverse applications. The researchers tested the sensor's performance by mounting it on a plastic crocodile and submerging it in water. Surprisingly, the mounted sensor managed to mimic the sensing capabilities of a crocodile's sensory organ and detect small water waves.
"This is a wearable pressure sensor that effectively detects pressure even when under tensile strain," explained Professor Kilwon Cho who led the research team. "It could be used for diverse applications such as pressure sensors of prosthetics, electronic skin of soft robotics, VR, AR, and human-machine interfaces."
Related Links:
POSTECH
University of Ulsan 
Other channels