Unique Wearable Sensor Collects Multiple Sweat Samples for Direct Biomarker Analysis on Device
By HospiMedica International staff writers
Posted on 19 May 2023
Sweat is not merely an indication of strenuous exercise. It carries crucial health-related data related to dehydration, fatigue, glucose levels, and even severe conditions like cystic fibrosis, diabetes, and heart failure. Conventional sweat collection methods involve using absorbent pads or microbore tubes pressed against the outermost layer of the skin, the epidermis, with bands or straps to gather emerging sweat. However, these methods require expert staff, special procedures, and expensive lab equipment. While the recent advent of wearable sweat sensors has addressed some of these issues, such gadgets remain single-use only. Once the device is filled, it needs to be detached, and the sweat collection process has to be stopped. Now, a significant advancement in sweat analysis has been made with an innovative 3D-printed wearable sweat sensor, called the "sweatainer."
Researchers at the University of Hawaiʻi at Mānoa College of Engineering (Honolulu, HI, USA) have leveraged the power of additive manufacturing (3D-printing) to develop an enhanced wearable sweat sensor, the sweatainer, which broadens the capabilities of wearable sweat devices. Comparable in size to a child's sticker, this wearable device collects and evaluates sweat, showcasing the potential future of health monitoring. By integrating various sensors, the sweatainer can analyze sweat in a manner similar to previous wearable sweat-detection systems.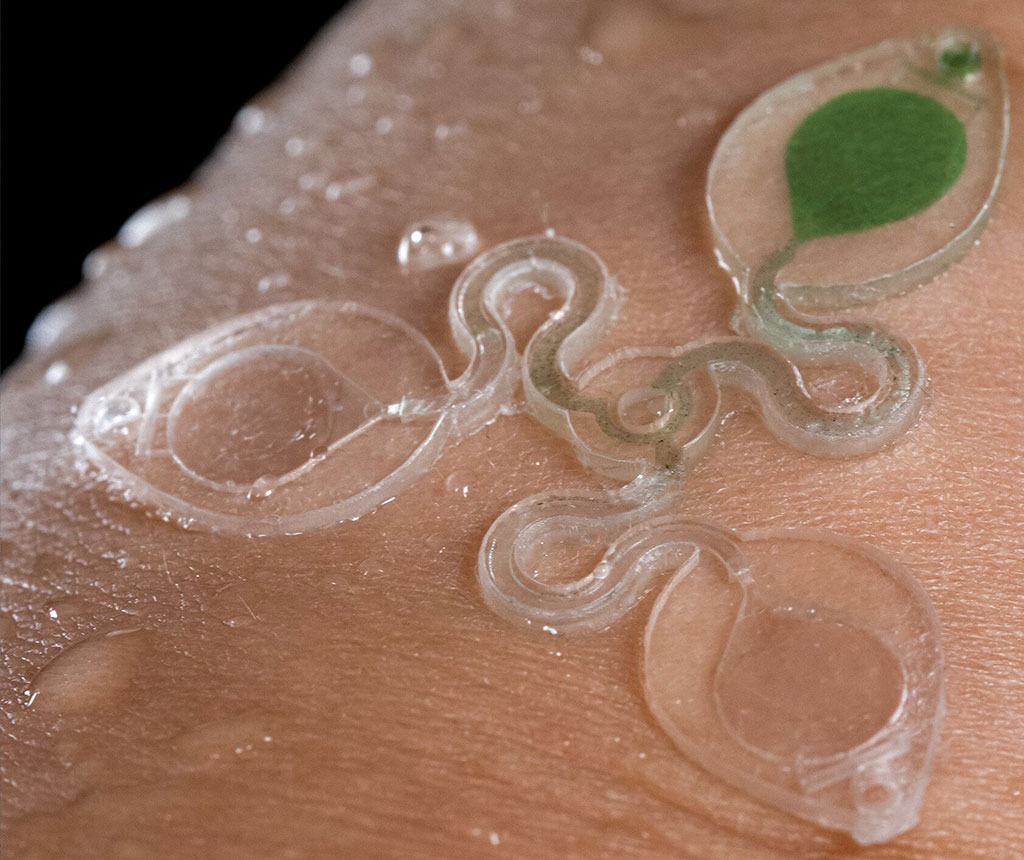 The sweatainer is uniquely equipped with a "multi-draw" sweat collection mechanism, enabling the accumulation of multiple, separate sweat samples for analysis, either directly on the device or dispatched to a laboratory. This advancement, inspired by the vacutainer employed for clinical blood sampling, not only improves the efficiency of sweat collection but also creates new opportunities for at-home testing, storage of samples for future research, and integration with current health monitoring techniques. Field trials of the sweatainer system have highlighted the potential applications of this revolutionary technology in the real world. The researchers believe that the sweatainer blueprint could spur further innovation, leading to a future where personal health monitoring is more accessible, convenient, and insightful.
"3D-printing enables an entirely new design mode for wearable sweat sensors by allowing us to create fluidic networks and features with unprecedented complexity," said Professor Tyler Ray, Department of Mechanical Engineering Assistant. "With the sweatainer, we are utilizing 3D-printing to showcase the vast opportunities this approach enables for accessible, innovative and cost-effective prototyping of advanced wearable sweat devices."
Related Links:
University of Hawaiʻi 
Other channels