Insertable Cardiac Monitor with World's Longest Battery Life to Aid Long-Term Monitoring of Heart Rhythms
By HospiMedica International staff writers
Posted on 23 May 2023
Arrhythmias, or irregular heartbeats, can be very random, complicating diagnoses for many patients. Insertable cardiac monitors (ICMs) – small devices with sensors that are inserted just beneath the chest's skin – aim to facilitate consistent, real-time heart monitoring to detect and identify arrhythmias that can trigger symptoms such as fainting, an irregular pulse, and shortness of breath. Now, an ICM boasting the world's longest battery life offers long-term monitoring and remote programming to enhance patient connectivity. The device delivers constant monitoring for abnormal heart rhythms and includes features intended to enhance data management and workflow within a physician's practice.
Most commercially available ICMs monitor an individual's heart rhythms for a couple of years, but Assert-IQ from Abbott (Abbott Park, IL, USA) presents two options with a minimum battery life of either three or six years, offering doctors a new level of flexibility in diagnostic monitoring. While the three-year option might be more suitable for traditional monitoring, such as diagnosing fainting, heart palpitations or detections of abnormal heart rhythms, the six-year battery life option allows physicians to monitor patients over an extended period. This longer-term monitoring can be crucial for individuals undergoing therapy, those who have recently undergone a cardiac ablation procedure, or those at risk of developing further arrhythmias like atrial fibrillation. Both options feature advanced algorithms to detect irregular heartbeats and provide clinically actionable data.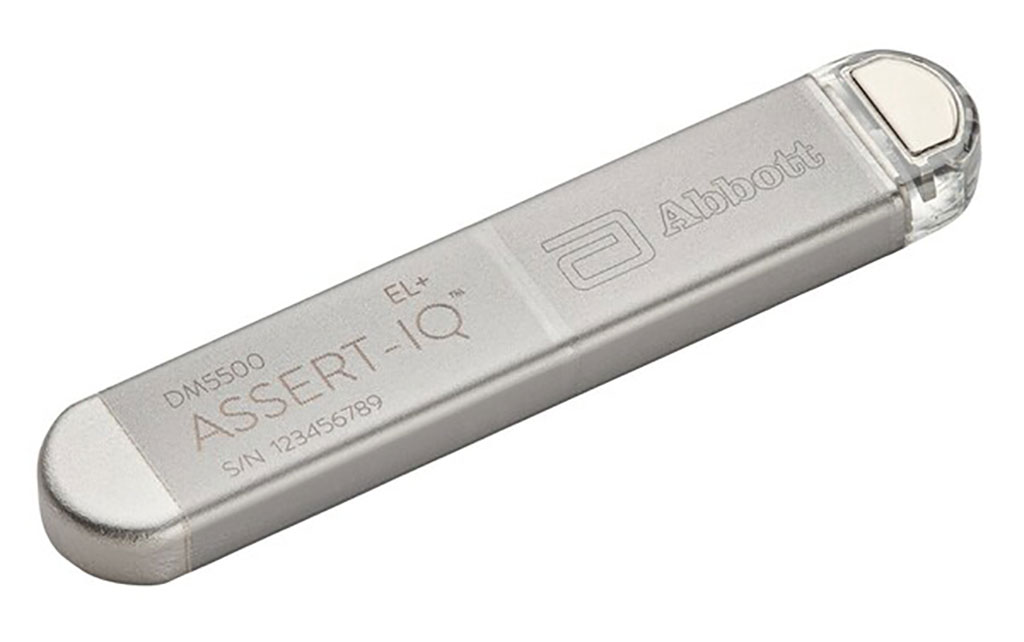 With the integration of Bluetooth technology, Abbott's Assert-IQ ICM is designed to stay connected to a transmitter – typically the patient's own cell phone – where it checks heart rhythms every 20 seconds, transmitting results in real-time to the clinic's portal. Furthermore, some Assert-IQ ICM models can be remotely programmed, allowing clinicians to tweak the device's settings, optimize performance, and reduce unnecessary alerts or transmissions – all without necessitating the patient's clinic visit. The Assert-IQ ICM also offers advanced diagnostic capabilities to furnish physicians with more clinically pertinent information about the patient's cardiovascular health, enabling healthcare providers to make faster clinical decisions. Abbott has secured clearance from the U.S. Food and Drug Administration (FDA) for its Assert-IQ ICM, providing physicians with a new alternative for diagnostic evaluation and long-term monitoring of individuals experiencing irregular heartbeats.
"As the incidence of abnormal heart rhythms like atrial fibrillation continue to rise, more doctors are turning to ICM technology to monitor their patients remotely to better detect the cause of symptoms that can impact overall health and quality of life," said Leonard Ganz, M.D., divisional vice president of medical affairs and chief medical officer of Abbott's cardiac rhythm management business. "Until now, insertable cardiac monitors have allowed for remote monitoring of patients but lacked the longevity needed to monitor them long-term. Abbott's Assert-IQ ICM offers physicians a connected health device that will help them provide the best care for their patients while making more accurate and informed treatment decisions."
Related Links:
Abbott
Other channels