Microneedle Skin Patch Enables Cancer Biomarker Sampling for Single-Molecule Measurement
By HospiMedica International staff writers
Posted on 18 Sep 2023
Patients suffering from melanoma, a severe form of skin cancer where cells that produce pigment grow uncontrollably, have mixed results with current immunotherapies. Over half of these patients do not respond to the available immunotherapy medications, and of those who initially do, many later develop resistance. Therefore, medical professionals need tools to identify which patients are likely to respond positively to the treatment from the outset and which ones will continue or stop responding. Given that skin tumors in melanoma patients are easily accessible, applying immunotherapies directly to the affected area, rather than infusing them through the bloodstream, could be more effective. Moreover, observing how the immune system responds to the treatment directly at the tumor location could lead to more personalized care for patients through continuous and accurate monitoring of various indicators that signal effective immune cell activation and the desired inflammatory response.
Now, a research team including scientists at the Wyss Institute at Harvard University (Boston, MA, USA) has developed an innovative technique that combines a minimally invasive, painless microneedle platform with an ultra-sensitive, single-molecule detection method known as Simoa. These microneedles can absorb fluid that contains biomarkers from deeper skin layers, while the Simoa technology can recognize these often elusive but crucial biomarkers with greater sensitivity than traditional methods. As a proof of concept, the researchers tested their approach in a mouse model of melanoma, treating the cancerous growths with a new kind of therapy. This novel treatment employs focused ultrasound to generate heat and instantly kill tumor cells at the lesion site, and it is paired with a specially designed nanoparticle that activates an inflammation-causing protein known as the stimulator of interferon genes (STING).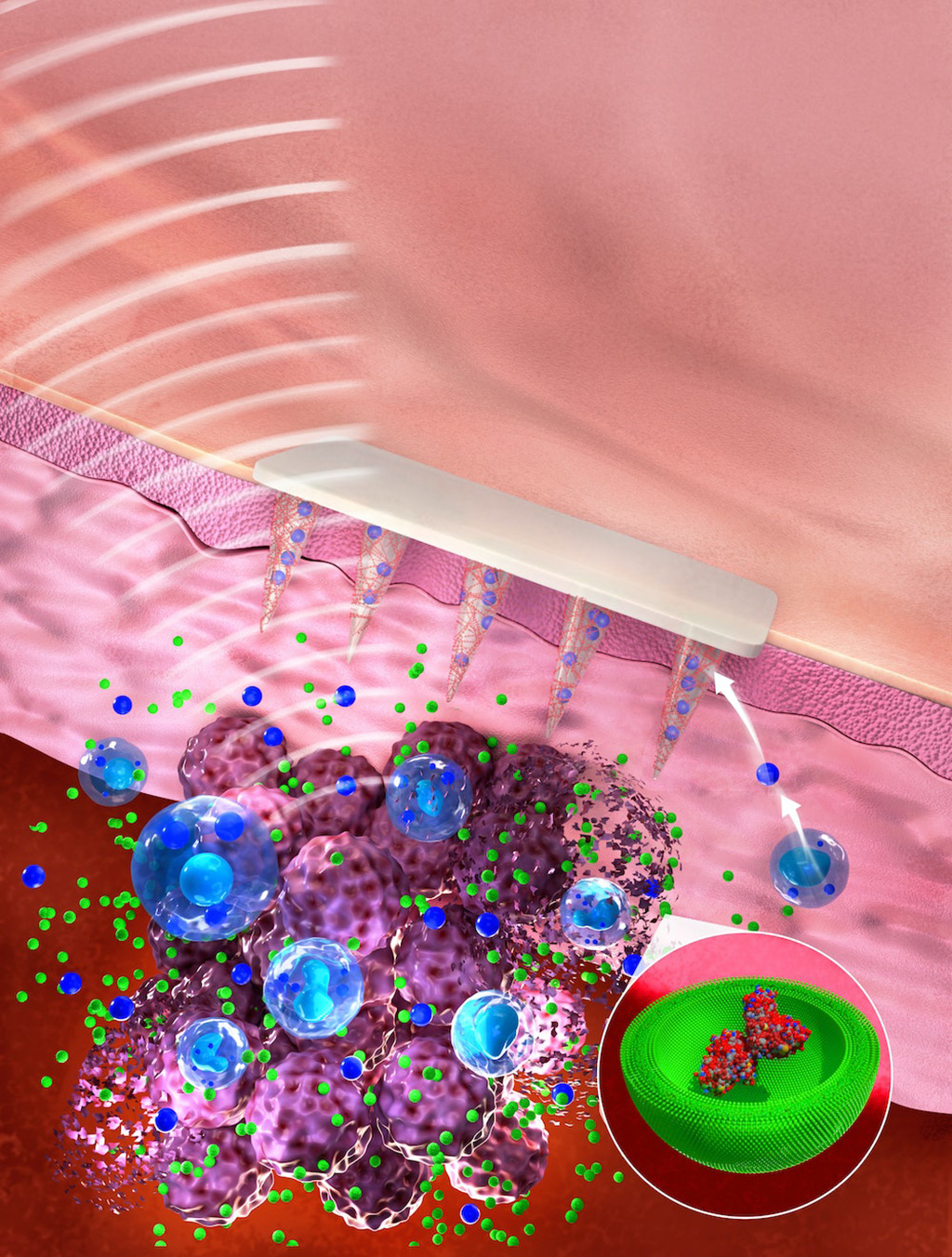 The team developed four different Simoa assays to detect molecules whose expression is activated by STING: interferon-b (IFN-b), MCP-1 and KC, which draw immune cells towards the tumors, as well as the broad inflammation marker, interleukin-6 (IL-6). This allowed the researchers to detect these biomarkers in fluid samples collected by the microneedles with sensitivities 100 to 1000 times greater than conventional tests. Importantly, these measurements were in line with other Simoa tests of the same biomarkers in blood samples. The study findings are reported in Advanced Functional Materials.
"Rapid readout of the responses to melanoma therapy using microneedles may enable effective drug screening and patient stratification to maximize therapeutic benefits," said Wyss Associate Faculty member Natalie Artzi, Ph.D., who led the study.
"The Artzi lab's remarkable microneedle technology containing engineered nanostructures, in principle, enables both, drug delivery and microsampling – a completely new concept for a theranostic, which provides an ideal, non-invasive and comprehensive solution to melanoma treatment," said Wyss Core Faculty member David Walt, Ph.D., who had previously developed the Simoa technology, which has ultrasensitive biomarker detection abilities.
Related Links:
Wyss Institute at Harvard University