Intravenous Needle Irreversibly Softens Via Body Temperature Upon Insertion
By HospiMedica International staff writers
Posted on 20 Nov 2023
Intravenous (IV) injections are a common medical procedure worldwide, known for their quick action and the ability to continuously administer medication by injecting drugs directly into the bloodstream. However, standard IV needles, made from hard materials like stainless steel or plastic, do not mechanically match the soft tissues of the human body, leading to various health concerns. These issues range from minor tissue damage at the injection site to more severe inflammations. The rigid nature of traditional IV devices also poses risks, such as the unethical reuse of needles to cut costs, increasing the spread of dangerous blood-borne diseases like HIV and hepatitis B/C. Additionally, accidental needlestick injuries frequently occur in healthcare settings, posing a significant risk of transmitting diseases, with IV needles being particularly prone to facilitating such transmissions.
To address these challenges, a collaborative research effort at KAIST (Daejeon, Republic of Korea) has developed a novel IV needle named Phase-Convertible, Adapting, and non-REusable (P-CARE) needle. This needle is designed to soften upon insertion, thereby reducing the risk of damaging blood vessels and tissues. Once used, it remains soft at room temperature, which helps prevent accidental needlestick injuries and discourages the unethical practice of reusing needles. An innovative feature of this needle is the integration of a thin-film temperature sensor, which allows for the real-time monitoring of a patient's core body temperature or the detection of unintended fluid leakage during IV medication administration. This needle, with its variable stiffness, marks a significant advancement in patient health and medical staff safety.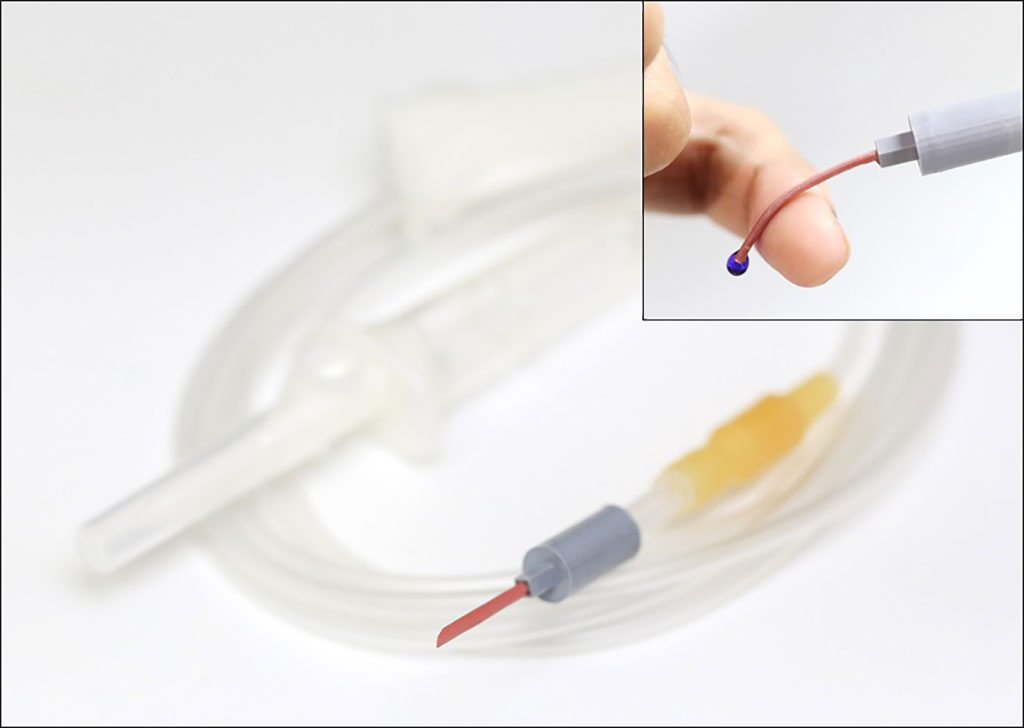 The unique softening IV needle comprises liquid metal gallium forming a hollow, mechanical needle frame, encapsulated within ultra-soft silicone material. In its solid state, the gallium is hard enough to puncture soft biological tissues. However, upon insertion and exposure to body temperature, it melts into a soft state, resembling the surrounding tissue, thus allowing for stable drug delivery without damaging blood vessels. After usage, the needle remains soft due to gallium's supercooling phenomenon, effectively preventing needlestick accidents and the issue of reuse.
The biocompatibility of this innovative softening IV needle was validated through in vivo studies on mice. These studies demonstrated significantly reduced inflammation when compared to standard IV access devices made of metal needles or plastic catheters. The new needle also proved to be as reliable as commercial injection needles in delivering medications. Additionally, the integration of a customized ultra-thin temperature sensor within the softening IV needle opens up possibilities for enhanced patient care. This sensor-needle device can monitor the patient's core body temperature or detect fluid leakage at the site of indwelling use, eliminating the need for additional medical tools or procedures.
Researchers believe that this groundbreaking IV needle has the potential to revolutionize clinical practices by redesigning other medical needles and sharp tools, thereby reducing muscle tissue injury during prolonged use. This technology promises to alleviate patient discomfort at injection sites and reduce the risk of blood vessel damage during IV medication. It also aims to mitigate the risks of blood-borne disease infections caused by accidental needlestick injuries or unethical reuse of syringes, as the deformed needle remains permanently soft after being retracted from the injection site. In a global context where an estimated 16 billion medical injections are administered annually, not all of which are properly disposed of, as reported by the WHO in 2018, this softening IV needle could play a crucial role in enhancing patient safety and healthcare standards.
"We've developed this special needle using advanced materials and micro/nano engineering techniques, and it can solve many global problems related to conventional medical needles used in healthcare worldwide," said Jae-Woong Jeong, Ph.D., an associate professor of Electrical Engineering at KAIST and a lead senior author of the study
Related Links:
KAIST 

Visit expo >